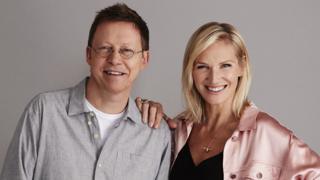 The Radio 2 Drivetime show with Simon Mayo and Jo Whiley is to end after simply a few months on air.
Mayo is leaving BBC Radio 2 wholly but will continue to present his 5 Live film show with Mark Kermode.
Whiley will remain on the station but move to the 7-9pm slot, which entails Drive will get a brand new presenter.
Mayo has fronted Drivetime for eight years, but the station added Whiley as a co-host in May – a move which led to a huge backlash from listeners.
BBC News understands Mayo will not be moving to a contender broadcaster, despite some media reports indicating he was leaving to host a breakfast prove on a commercial station.
Whiley's addition to Drivetime came after Radio 2 was criticised for its lack of female presenters.
Mayo wrote on Twitter on Monday morning: "I'll continue with the( flagship) movie display on 5 Live with Mark Kermode and, beyond that, other radio escapades beckon!
"But for now it's merely the sadness of leaving. Radio 2 has been a wonderful place for me – my happiest radio I suppose. Our listeners are really quite extraordinary."
Mayo and Whiley show unpopular with listeners Image caption Simon Mayo has presented Drivetime for eight years Image caption Zoe Ball will take over from Chris Evans in January