PMs keynote speech interrupted by P45 prankster as she pledges cap on energy bills and 2bn investment in affordable housing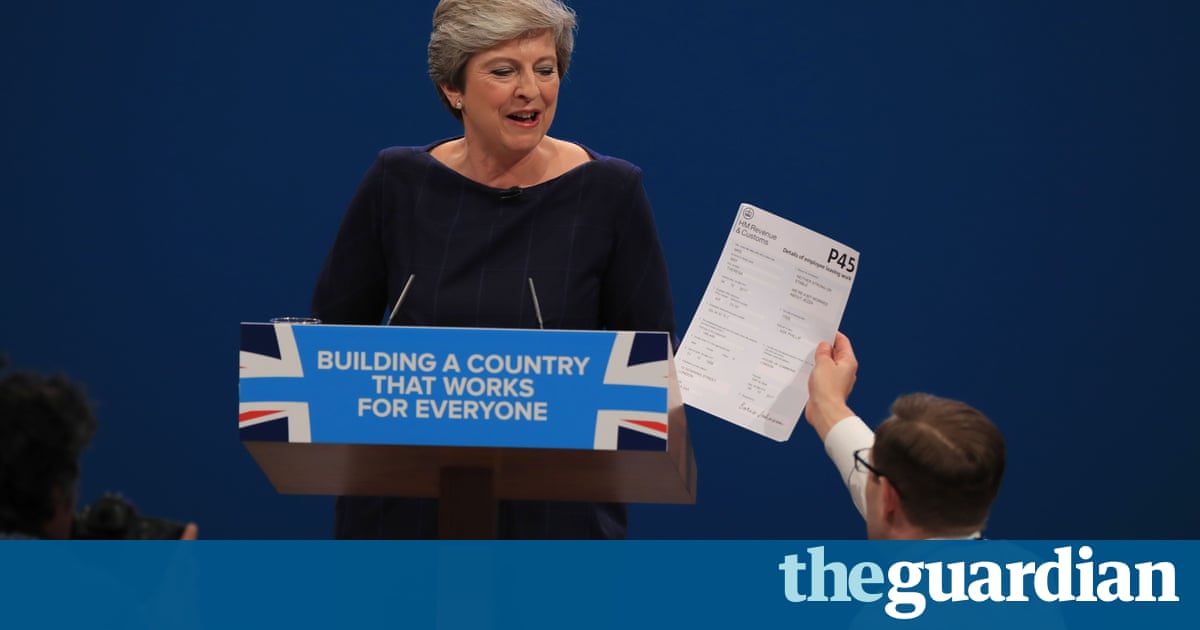 Theresa May sought to relaunch her premiership on Wednesday by offering voters the "British dream" but the most personal speech of her premiership was overshadowed by a prankster handing her a P45, an incessant cough, and problems with the backdrop.
The prime minister attempted to shift the focus from Brexit infighting to domestic policy on energy bills and council housing, but at times struggled to deliver her words as her voice faltered. After accepting a glass of water and a cough sweet from the chancellor, Philip Hammond, May ploughed on with a conference speech that was designed to set out her credo but ended with questions about her future.
With the Conservatives already weakened by the loss of a parliamentary majority in June's snap election, the accident-prone presentation made some in the party question how long the prime minister could carry on. One MP said colleagues were asking: "Is it going to improve over the next 18 months?" and added: "It's hard to see how it can."
The Tories launched an investigation after the comedian Simon Brodkin was successfully accredited and able to hand the prime minister a mocked-up P45, saying that Boris Johnson had told him to do it. He was evicted and subsequently arrested for breach of the peace.
May accepted the form, which stated in the reasons for termination box that she was "neither strong or stable" and "We're a bit worried about Jezza". but then quipped that Corbyn was in need of a P45.
As the cameras focused on Brodkin, May's cough worsened and she began to have difficulty speaking. At one point the conference floor rose to a standing ovation, their applause intended to help her voice recover, although Amber Rudd appeared to criticise Boris Johnson for not rising to his feet quickly enough.
Read more: www.theguardian.com