Fighting with your spouse about the Republican nominee? Youre not alone. Exclusive poll finds increase in deep divisions since last presidential election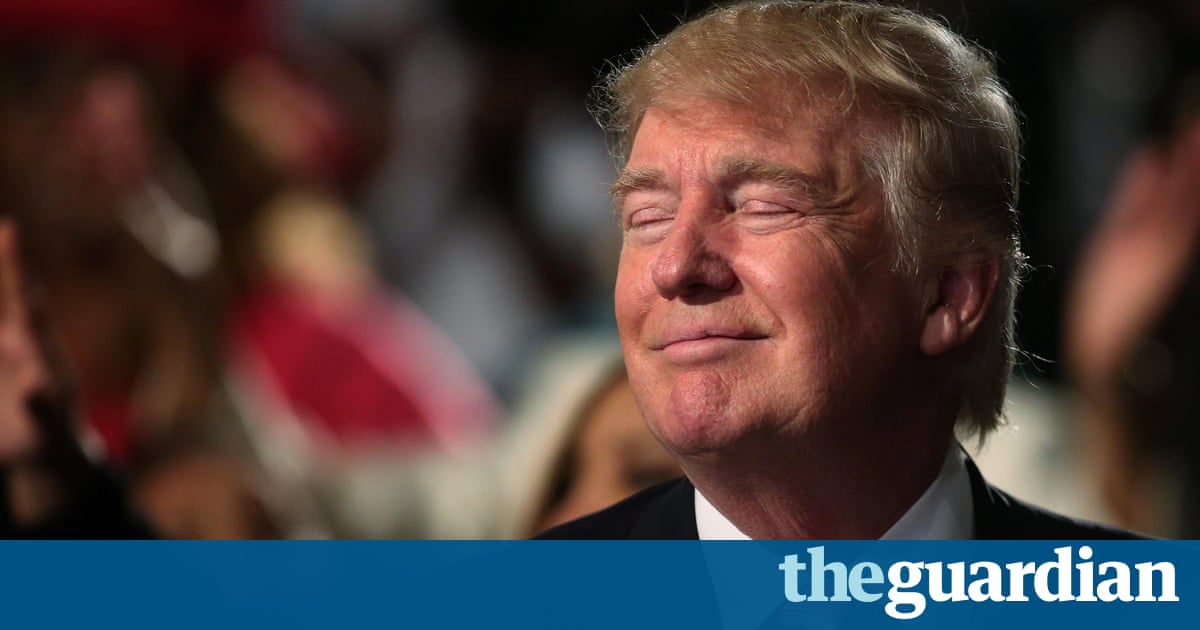 Donald Trump shared some marital advice at a recent campaign stop in Virginia: If your wife got angry with you, he said, say: Im just sorry, Charlotte, Im going out to vote for Trump.
As his poll numbers are cratering among every demographic except white men, support for the Republican nominee is dividing couples at a level far beyond the last presidential election. A new poll exclusive to the Guardian reveals that in households across the US, Trump is fueling a deep split among married couples.
In the online poll of 1,249 adults who have been in a relationship since at least 2012, polling firm Ipsos Public Affairs asked whether spouses political leanings had diverged in the last four years.
The results provide evidence that the most pronounced divisions were found in households where both spouses consider themselves politically independent.
We can say, with some caveats, that many Trump voters are really not confident that their spouses are going to support Trump, said Chris Jackson, an Ipsos pollster.
While only one in 10 people supporting Hillary Clinton thought their spouses would vote another way, one in five supporting Trump expect their spouses to vote for someone else. Among men and women who supported Trump or Clinton, men voting for Trump were the least confident that their spouses would do the same.
The results may come as no surprise after 13 months of campaigning in which Trump has made a number of sexist remarks. In the most memorable example, at the first Republican debate in 2015, Fox News host Megyn Kelly challenged Trump to explain several disparaging comments about womens looks.
Youve called women you dont like fat pigs, dogs, slobs and disgusting animals, she said. You once told a contestant on Celebrity Apprentice it would be a pretty picture to see her on her knees. Does that sound to you like the temperament of a man we should elect as president?
These remarks from his past, including the suggestion that he would date his own daughter if they were not related, have shadowed his candidacy for over a year. Clintons team has tried to capitalize, highlighting reports that Trump once said of women, You have to treat em like shit.
Between married men and married women, there is a record gender gap right now, said Celinda Lake, head of the Democratic polling firm Lake Research Partners. Married women, a group won by the Republican Mitt Romney in 2012, are currently supporting Clinton by about 12 points, Lake said.
We have a situation where Donald Trumps personal style is just so offensive to women, and it is much more salient to women than it is to men.
Some husbands seem less than thrilled by this dynamic. In voter interviews, Lake has noticed an unusual number of married women reporting that their husbands have pressed them to vote for Trump.
Weve had it come up in our focus groups extensively, Lake said. That always happens toward the end, but its coming up in this election much sooner than usual.
In Columbus, Ohio, three door-to-door canvassers for Working America, a group affiliated with the labor federation AFL-CIO, reported similar versions of the same story: after leaving a house where the husband planned to vote for Trump, the wife chased the canvasser down the street to say that under no circumstances would she do the same.
Were certainly picked up tensions between husbands and wives before, but this kind of manifestation was really stunning to our field staff, said Karen Nussbaum, executive director of Working America, which is campaigning on behalf of Clinton and other Democrats.
This level of passion around the candidates, and then the big divisions between men and women is at a different level than weve seen in the past.
Even in a typical election year, more women tend to vote Democrat than men, and households split between the major parties are not uncommon. Same-sex couples make up too small a share of respondents to be represented in most national polls.
But there is evidence that the split is particularly acute in 2016. In the Ipsos poll, only about half of those who said their household was split this year believed they and their spouse voted differently in 2012.
That is the position in which George Kraft, 68, finds himself. Kraft, of Bullhead City, Arizona, said he and his wife both voted for Romney in 2012. This fall, he plans to vote for Trump. His wife, however, wants nothing to do with the partys inflammatory standard-bearer.
She thinks hes too outspoken, too abrasive toward other people, Kraft said. The same controversies dont bother him. Maybe thats what we need.
Although the most drastic splits have surfaced between independent couples, Trump is also faring poorly among Republican women, married or not. In some recent polls among women who identify as Republicans, he has run nearly 20 points behind Romney, John McCain (the 2008 nominee) and George W Bush (2004).
Romney and Bush won 93% of Republican womens votes and McCain in 2008 won 89%.
One respondent from Utah, Cheryl Steele, 36, voted without reservations for Romney but said she did not like the way Trump attracted accusations of racism and bigotry. I dont even want my child to listen to his speeches, she said, and yet hes supposed to be my president?
Trumps unpopularity with women, Nussbaum said, is reflected in a dynamic her canvassers have seen over and over in the field. Men who love Trump love women who love Hillary. Or at least, they dont hate Hillary, she said.
Susan, 62, who lives near the border of Massachusetts and New Hampshire, did not wish to give her last name. She plans to vote for Clinton, repulsed by reports that Trump stiffed many of the contractors who helped build his casinos.
I have no use for a man like that, she said.
But her choice is causing strife between her and her husband, who she called a victim of talk radio. She believes he will be voting for Trump.
I dont recall us ever arguing about an election before this one, she said. Ill come out with Trump said this and well have a fight.
To avoid any more quarrels, Susan has begun skirting talk of the election altogether. Were too old for that, she said.
Lake believes many couples try to excise politics from their relationships, and not just in the heated final months of the 2016 race. Several years ago, her firm conducted a survey in which 72% of men but only 49% of women said with confidence that their partners would vote the same way they did.
We called it the, Sure, honey factor, Lake said. Guys just assume who their wives are voting for. And I think some women go, Sure, honey.
Read more: www.theguardian.com