UN Development Programme to lift suspension of Russian tennis star when her ban for taking prohibited substance expires in April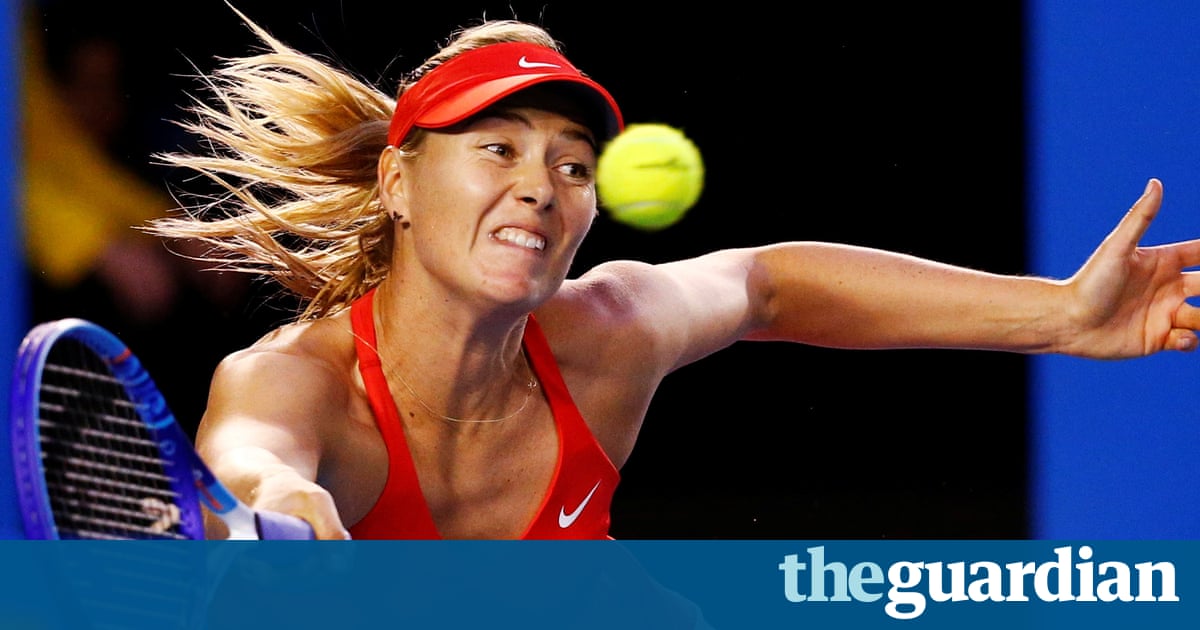 Maria Sharapova will be reinstated as a UN goodwill ambassador when her suspension from tennis expires next April, the Guardian has learned.
The UN Development Programme, which works to eradicate poverty and inequality, discontinued its nine-year relationship with the Russian in March after she admitted taking the prohibited substance meldonium at this years Australian Open. Sharapova was subsequently banned for two years by an International Tennis Federation tribunal, but an appeal to the court of arbitration for sport resulted in a reduced suspension of 15 months, paving the way for Sharapova to return to competitive action before the French Open in May.
The five-time grand slam champion was swift to re-enter the public arena following the verdict, appearing at an Aids charity event in Las Vegas a week later, and her readmission to the UN fold is likely to accelerate her rehabilitation further. Several major sponsors who put promotional deals on hold when Sharapova was initially suspended have since resumed relations with her, Nike and Evian among them. But while those decisions will have been shaped by commercial considerations, UN goodwill ambassadors are appointed on the basis that they are persons of integrity who possess the personality and dignity required for such high-level representative capacity.
UNDP was glad to learn that Maria Sharapova can return to the sport she loves sooner than expected and we will lift the suspension of her role as our goodwill ambassador once the reduced ban expires in April 2017, said a spokesperson for the organisation.
We understand that Ms Sharapova will be focused on resuming her tennis career and we look forward to discussing her role and engagement with UNDP at an appropriate date.
The UNs softened stance, doubtless made easier by the lifting of sponsor suspensions, marks a significant upturn in the fortunes of an athlete whose career was thrown into jeopardy by her admission that she had taken meldonium, a drug that increases blood flow, for a decade. The substance, which Sharapova said she took due to a magnesium deficiency and a family history of diabetes, was added to the World AntiDoping Agencys banned list on 1 January.
Article 17 of the UN guidelines for the designation of goodwill ambassadors stipulates that they must Refrain from any activity incompatible with the purposes and principles of the United Nations. Article 32 warns that the arrangement will be terminated if the ambassador engages in any activity incompatible with his/her status or with the purposes and principles of the organisation.
Despite suspending Sharapova, the UNDP left the door open for a rapprochement by expressing its gratitude for the former world No1s support and stressing that her activities were being put on ice pending the outcome of her case.
With a Cas panel having determined that her transgression was not about an athlete who cheated, it appears the 29-year-old will now be free to resume what she hailed on her appointment in 2007 as one of her proudest contracts ever. The position earned Sharapova a symbolic $1 salary, a modest addition to the glut of highly lucrative contracts that, prior to her ban, made her the worlds highest-paid female athlete for 11 successive years until she was deposed by Serena Williams this year.
Read more: www.theguardian.com