A Lionel Messi free-kick won the match for Barcelona but their spirit and sacrifice is what saw them past Atltico Madrid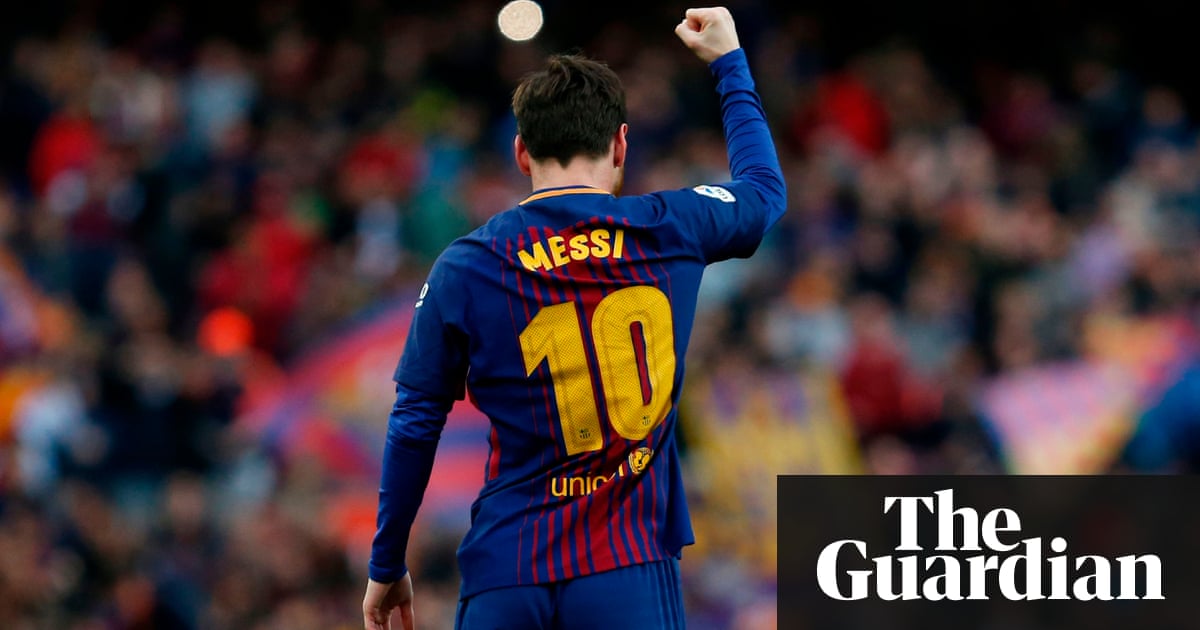 Diego Simeone was sitting under the main stand at Europe's largest stadium but for a moment, he was back in a playground 10,000km away. There two kids stand a few metres apart and edge towards each other, one step at a time, in turn, heel to toe, "bread" and "cheese" accompanying every tiny advance. Eventually one treads on the other – the winner now and, let's face it, the winner in the game too.
"Pan."
"Queso."
"Pan."
"Queso."
"Pan."
"Queso."
"Pan. I'll have Leo."
"Balls."
It was the game they said would decide the Spanish league title, played in front of 90,356 people and broadcast across the world, a huge clash between Atlético Madrid and Barcelona, two of the biggest clubs on the planet, whose budgets together go beyond a billion euros. Simeone, though, said it was "like the barrio."
"Only one person gets to pick the best player. And the best player, well, he's with them," Atlético's manager said after Barcelona had defeated them 1-0 at Camp Nou. "If we took the Barcelona shirt off Messi and put him in an Atlético shirt, we might have won," Simeone said.
"I don't know what would have happened," the Barcelona manager, Ernesto Valverde, responded then quickly added: "I don't want to imagine it either."
Valverde didn't have to imagine it; he's been there, "suffering", as he put it. The moment that ultimately decided the game, and perhaps the title, came in the 26th minute. Messi dashed inside and was brought down by Thomas Partey. Twenty-five yards out, he placed the ball. Another free-kick. He'd already scored four of them in 2018 – as many as the rest of the league put together – and two in a week, against Girona the Saturday before and in Las Palmas barely 70 hours earlier. It was some way out, a little to the right, and the man facing it, peering round Ivan Rakitic, Sergio Busquets and Gerard Piqué, was Jan Oblak, the goalkeeper with the best record in Spain. Yet still the anticipation was palpable. Almost as if he should score. On the touchline, Valverde watched and waited.
"When I was on the other team, I always thought he was going to score," he said afterwards. "Now, you stand there with that touch of hope: 'let's see'. Maybe it's that fear is stronger [than optimism], but you are pushing, willing him to score, although you're better to just leave him to get on with it, because he does it wonderfully." Against Girona, Messi hit the free-kick under the wall; against Las Palmas, he hit it hard and fast, bending it a bit too; against Atlético, Piqué, Busquets and Rakitic held each other, seemingly trying to open a gap to the left where Koke stood, but Messi struck it a long way up and a long way down too, the ball swinging and curling towards the near top corner. In the wall, Diego Costa and Saúl jumped – high – but couldn't stop it; behind them, Oblak dived, seeing the ball spin off the ends of his fingers. Messi's third free-kick in three games, a record in La Liga, was the 600th goal of his career and the only goal of the game.
Read more: www.theguardian.com