Some of Latin Americas leading literary figures gathered at the Oaxaca International Book Fair and discussed the president-elect and what lies ahead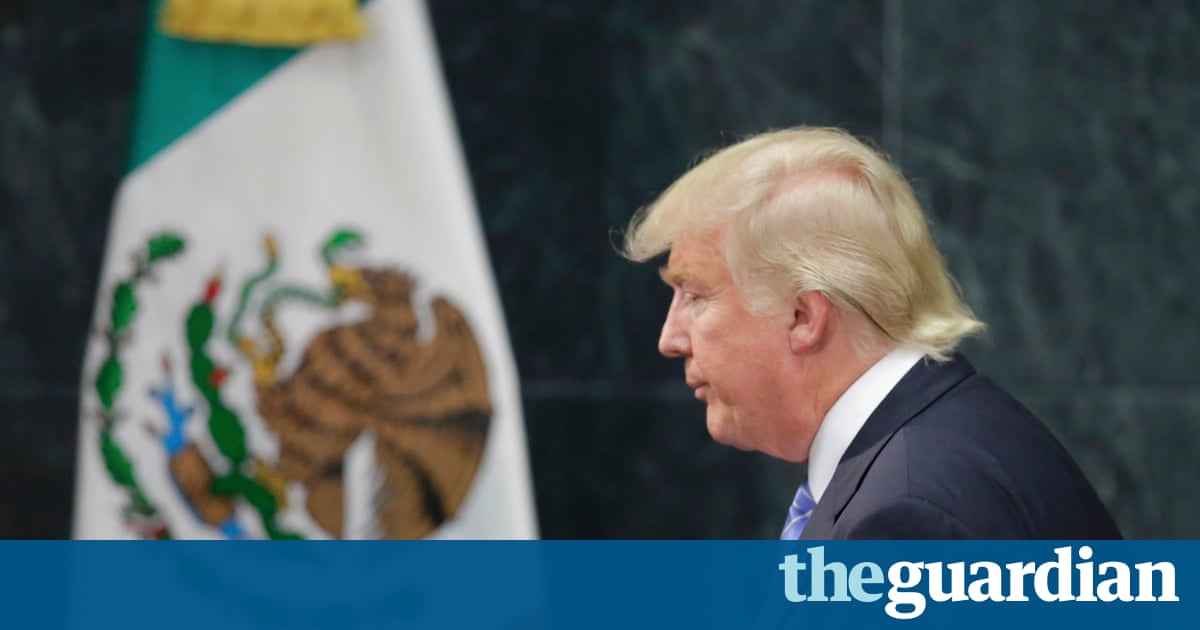 At the 36th edition of the Oaxaca international book fair in Mexico, Donald Trumps name was on everyones lips. Not a single of the festivals readings or panels went by without some mention of the uncertainty that Latin America faces during the presidency of a man who kicked off his campaign by characterizing Mexicans as criminals, killers and rapists. A man who said they must be walled out of the country, and who has since pledged to deport up to 3 million immigrants within his first days as president.
I just cant believe it, poet and essayist Tedi Lpez Mills said at the festivals opening dinner. Mexican novelist lvaro Uribe invited me to sit beside him, unless you voted for Trump. Then you have to sit by yourself. Such jokes quickly gave way to generalized despair at the uncertainty of what a Trump presidency would mean for the Mexican economy as well as for more personal matters, like visas to visit the United States.
Many of the festivals participants have firsthand experience of the censorship imposed by authoritarian regimes, and felt that Trumps treatment of journalists and detractors, especially his threats to open up libel law, was a bad omen for what could come. The Chilean poet Ral Zurita, who was the festivals guest of honor, recounted his 21-day imprisonment and torture in the cargo bay of a ship at the beginning of the Pinochet dictatorship, for being considered a potential threat because of his intellectual engagement as a university student.
Several writers expressed concern at the recent spate of post-election violence toward minorities. For Margo Glantz, 86, the news recalled vivid childhood memories of the attempted lynching of her father, a Jewish immigrant to Mexico, by Mexican fascists in 1939. We live in the era that will be characterized by the death of bees and the rebirth of fascism, she read.
Others believed that Trumps ascendency was less surprising, more a bubbling to the surface of latent ideas and values than a sudden new development in US politics. JM Servn, who began his career as a writer during his decade as an undocumented immigrant in New York, said: That Trump has won the presidential election shows that even a powerful democracy can engender totalitarian aberrations with millions of followers. Trumps victory is a blow to the arrogance of those who think that democracy is a virgin who could never lay eyes on a brute.
Servn recounted his own experience as a Mexican immigrant in his memoir For the Love of the Dollar, how he thought the Trump presidency might affect immigrants. I dont think that Trump is going to harm Mexican immigrants more than their own government has been for many decades now. Trump will just wind up reminding them that theyre alone. As long as it doesnt occur to him to suspend the Super Bowl and shut down Disney World, the world will continue functioning as normal.
Vctor Tern, a poet who writes in the indigenous Isthmus Zapotec language of southern Oaxaca, and who has been involved in political activism for decades, went further. The voters picked an insensitive machista and racist, a madman, an egoist who at any moment can press the button and say, to hell with everyone. Should we wait for catastrophe to strike or should we start organizing and mobilize ourselves to defend the little we have left?
One of Trumps other specific mentions of Latin America during the campaign season was his disapproval of President Obamas rapprochement with Cuba. Yoss (whose real name is Jos Miguel Snchez Gmez), a Cuban science fiction writer and metal singer, thinks a Trump administration could hurt the recently thawed relationship between the US and Cuba. Trump is a businessman. Cuba is an open market, a natural destination for tourism and North American investments, he said.
The new Republican government will continue the United Statess rapprochement with Cuba, but Cuba wont like it, because it wont be accompanied by the conciliatory, depoliticized rhetoric of Obama. So Ral Castro could wind up blocking it. We have yet to see how bad the Trump era will be for Cuba, but it wont be good, thats for sure.
In his opening remarks to the festival, organizer Guillermo Quijas championed the power of literature to transform minds and inspire action. On the winding path that we have traveled as humanity, we know that we are here because we have learned to intermingle, migrate, and adapt. We will continue to stake that the book is the best and most refined artifact of memory that mankind had ever created. Without memory, he added, we have no future.
Though the mood is somber, the writers in Mexico have yet to cede their hopes for a more positive relationship with the US, and they seem willing to do their part in speaking out against what they see as abuses of power. If Trump does indeed make good on his promise to build his big, beautiful, powerful wall, we writers on both sides of the border seem determined to build literary bridges that are even bigger and more powerful.
Read more: www.theguardian.com