Comics, including Stephen Colbert, Trevor Noah, and Jimmy Kimmel, addressed Trumps latest tweets about North Korea, global warming, and airline safety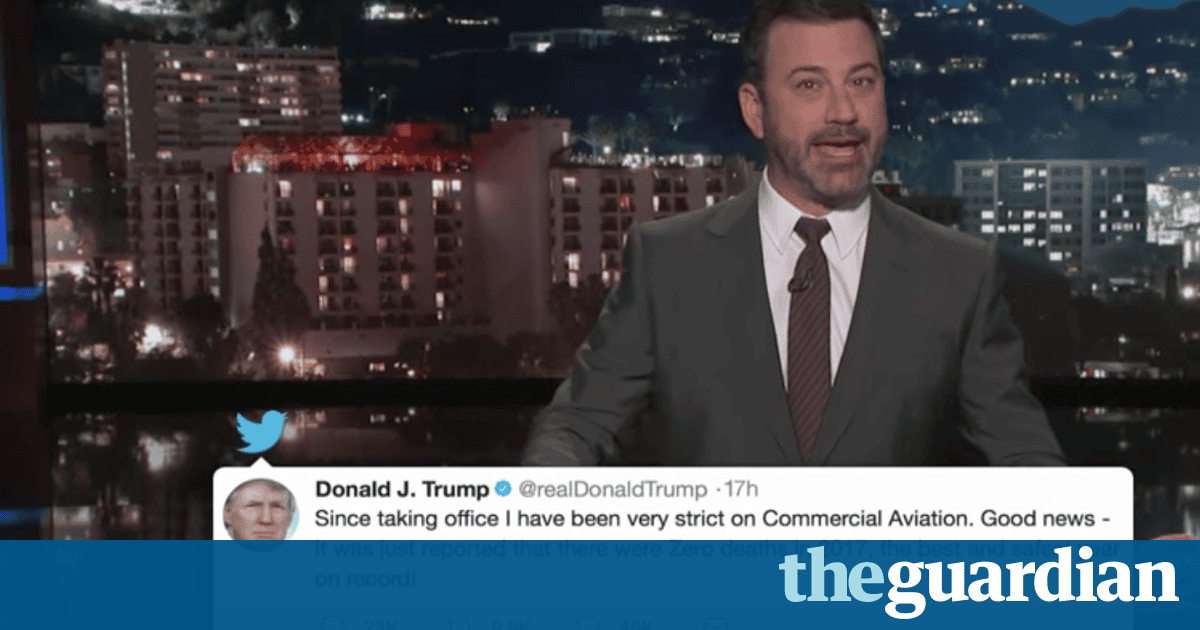 Late-night hosts on Tuesday discussed the stream of tweets with which Donald Trump began the new year, touching on topics such as the North Korean nuclear threat, commercial aviation and global warming.
"Brutal cold is tormenting the US, and reports say the worst is yet to come," Stephen Colbert began. "'The worst is yet to come' was also the theme of my New Year's Eve party. The National Weather Service has warned that we're in a prolonged period of much-below-normal temperatures. For my younger viewers, that's what we used to call winter."
"Speaking of new lows: Donald Trump," Colbert continued, referring to the president's tweet about the cold weather. "Donald Trump tweeted, 'In the East, it could be the COLDEST New Year's Eve on record. Perhaps we could use a little bit of that good old Global Warming that our Country, but not other countries, was going to pay TRILLIONS OF DOLLARS to protect against. Bundle up!'"
"You see the logic here," the host joked. "Because Donald Trump's cold right now, that's evidence that the Earth is not getting warmer."
Colbert moved on to Trump's more recent posts, including one in which he called for the prosecution of the former Hillary Clinton aide Huma Abedin and referred to the Department of Justice as the "Deep State".
"I think grandpa is reminiscing again," Colbert said. "I just want to take a moment here to point out this is the president of the United States tweeting. And in the tweets, he describes the justice department as a Deep State entity because it is so corrupt it is unwilling to throw his political opponents in jail. This is a serious charge you can never make lightly, and of course never take back."
"I'm kidding," Colbert joked. "Today, the White House insists Donald Trump does not think the DoJ is Deep State, despite tweeting otherwise. Sarah Huckabee Sanders said that this afternoon."
"Who got to her?," the host quipped. "Could it be … the Deep State?"
Meanwhile, Trevor Noah discussed the anti-government protests in Iran and the possibility of diplomatic talks between North and South Korea.
"2018 is not just going to be big for the US," he began. "It looks to be a momentous year in many countries around the world. For instance, Russia is having its presidential election in March. Spoiler alert: Putin wins."
"And in Iran, they may not have been planning to hold elections, but it doesn't seem like the citizens are willing to wait," Noah continued, showing footage of Iranian citizens protesting against the regime. "These are the largest anti-government protests in Iran since 2009. In case you're wondering what drove these people into the streets, it wasn't that George Soros was paying them. It was that after the US lifted sanctions on Iran in 2015, the Iranian government promised a big economic boom for everyone. While the rich in Iran are getting richer, ordinary Iranians aren't noticing the benefits."
"I know this Third World stuff is hard for some Americans to relate to," Noah went on. "Just imagine if the US government promised tax cuts for the middle class, but then only the rich benefited. I know, that shit would never happen.
"Obviously, all the world's thoughts are with the people of Iran right now, but I can't say all of our attention is," the host said, referring to a speech given by Kim Jong-un in which he touted North Korea's nuclear capabilities and declared his desire to have the country participate in the 2018 Winter Olympics in Pyeongchang, South Korea.
"This is a big deal: North and South Korea now want to come to the table for talks that won't include the United States," Noah said. "That's the power of Donald Trump. No matter how far apart two adversaries are, they can always look at each other and say, 'We'd better sort this shit out before that guy gets involved.'"
Finally, Jimmy Kimmel addressed Trump's tweet about commercial aviation and his saber-rattling on Twitter about North Korea.
Kimmel, after mentioning that Trump played golf for seven consecutive days in Florida, the 91st time he's played as president, showed his alarming tweet from Tuesday night, which read: "North Korean Leader Kim Jong Un just stated that the 'Nuclear Button is on his desk at all times.' Will someone from his depleted and food starved regime please inform him that I too have a Nuclear Button, but it is a much bigger & more powerful one than his, and my Button works!'"
"Happy new year, everybody!" the host joked. "We have two maniacs with nuclear warheads bragging about who has the bigger button."
"Trump tweeted eight times before 8am. I know it's early, but this could be his tweet of the year," Kimmel continued, referring to another post that read, "Since taking office I have been very strict on Commercial Aviation. Good news – it was just reported that there were Zero deaths in 2017, the best and safest year on record!"
"Not since Harrison Ford was president have we felt so protected," said the host. "If we're talking about the United States, it's true, there were no deaths in commercial aviation in 2017, which is great. But you know which other years also had no commercial aviation fatalities? 2016, 2015, 2014, 2013, 2012, 2011, 2010; in fact the last one was in 2009."
"So thank you, President Trump, for being so effective you actually went back in time to improve flight safety."
Read more: www.theguardian.com