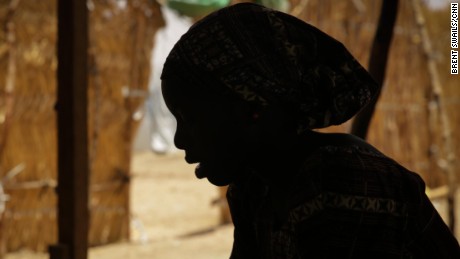 Minawao refugee camp, Cameroon (CNN)The question was always the same, she says. So, too, was the answer.
"They came to us to pick us," Fati recalls. "They would ask, 'Who wants to be a suicide bomber?' The girls would shout, 'me, me, me.' They were fighting to do the suicide bombings."
Young girls fighting to strap on a bomb, not because they were brainwashed by their captors' violent indoctrination methods but because the relentless hunger and sexual abuse — coupled with the constant shelling — became too much to bear.
They wanted a way out, she says. They wanted an escape.
"It was just because they want to run away from
Boko Haram
," Fati says. "If they give them a suicide bomb, then maybe they would meet soldiers, tell them, 'I have a bomb on me' and they could remove the bomb. They can run away."
Fati, 16, whose name has been changed to protect her identity, pauses and grabs the three gold bracelets around her wrist. They're a gift from her mother, her only connection to home after she became one of hundreds of girls kidnapped by the
world's deadliest terror group
, which forced them to marry its fighters.
Fati, meanwhile, is simply grateful to be alive. On the last day of March, she managed to get in touch with her mother by phone after she found a refugee from her same village in camp.
It took two days for her mother to get to Minawao.
"She had to collect money from people in the village so she could afford to make it here," says Fati. "Now that I have escaped, I thank God, and I am always praying to God that I was able to escape."
But she says many girls are still in Sambisa Forest, some volunteering to die so that they can perhaps live.
Read more: www.cnn.com