The success of the Thunder in the NBA had been a tonic for a state hit by natural and economic problems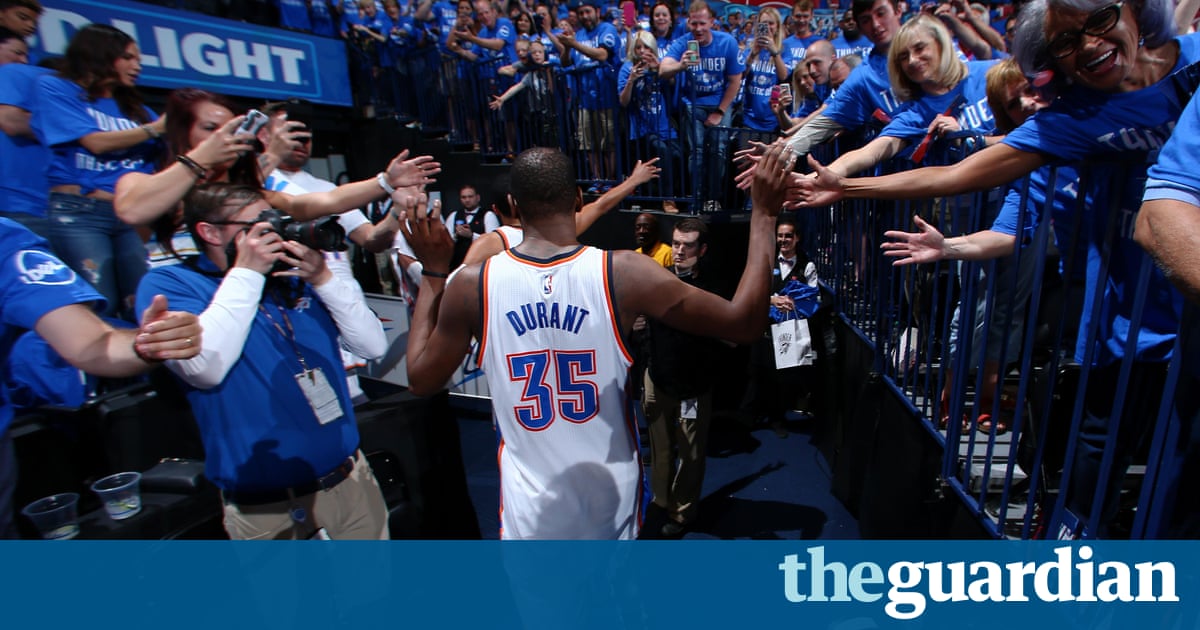 Throughout the 20th century, my home state of Oklahoma was known for misfortune: the trail of tears; the Dust Bowl; the Oklahoma City bombing; the Rogers and Hammerstein musical. Despite a penchant for producing country music superstars, Oklahoma remained a tragic diversion en route to greener western pastures. A bathroom stop on Route 66. Flyover territory.
This dynamic now applies to Kevin Durant in light of Mondays announcement that he will end a frustrating tenure with the Oklahoma City Thunder in order to pursue a title with a Golden State Warriors team that recently bested the only healthy playoff team OKC has had since the 2012 finals.
If the 20th century was rough on the Sooner State, the young 21st century had been shaping up unbelievably kindly. An oil and gas industry that had teetered on the verge of collapse for decades experienced a resurgence thanks to the advent of hydraulic fracturing (more commonly referred to as fracking) turning ghost towns into hubs replete with hotels and Outback Steakhouses. Flush with cash, a team of Oklahoma City energy billionaires purchased the NBAs Seattle Supersonics in 2006 under strict conditions not to move the team, a policy that was soon to be reversed.
Dizzy at the windfall, Oklahomans packed the Ford Center to watch exciting young players like Russell Westbrook, Serge Ibaka, James Harden, and Durant. Seemingly overnight, the most common conversation encountered by Oklahomans abroad ceased to be, Youre from Oklahoma? Ive seen your musical. Clayton Dorris, a digital marketer with Oklahoma Citys BigWing Interactive, noted that, It didnt matter which part of the world I was visiting, a mention of being from Oklahoma would elicit Oh, Kevin Durant!
To hear Oklahomans speak of the early days of the franchise is to hear variations on a singular sentiment: in contrast to other middling Plains states, the presence of a sports franchise filled with once-in-a-generation talent leant Oklahoma a sense of cultural validation. Kids around the world donned OKCs signature blue and orange.
Boom-bust economies are cyclical and residents understand this. Whats different about the 2016 cycle, however, is that this time the entire fraught dynamic of prosperity, promise and collapse has found expression in the words and actions of a single person: Durant.
With few exceptions, American popular culture is created on the coasts and trickles inland into the obscure places that serve as sacrificial spaces necessary to maintain the rest of the country. A genuinely American fear of living and working in obscurity drives the young and upwardly mobile from these places where culture is often preserved rather than created, preventing change and permeating communities with self-deprecating humility. The feeling of locational inadequacy is especially palpable in prairie towns where, as my grandfather, a born and bred Okie, put it: People shower after work, not before. Equally strong is the relief that arises within citizens once their overlooked home receives national recognition.
Read more: www.theguardian.com