Kate Berlant's right eye is twitching. As usual.
It's brief but powerful, at once voluntary and completely out of her control. Sarcastic with a hint of wistful self-deprecation. A comedic tic.
She's recalling her first audience. You see, Kate Berlant was a flasher when she was young, and apparently people found the sight of a little girl lifting her shirt hilarious. Looking back, it might not sound like the most tactful foray into performing. But hey. A laugh's a laugh, right?
Berlant's eye will twitch a few more times as we eat lunch on a sizzling Thursday in West Hollywood, just like it did when she parodied Marina Abramović on Netflix's "The Characters." And like it did when she and John Early ― her professional accomplice and platonic life partner ― aced a six-minute bit on "The Tonight Show" in which they feigned shock at being on "The Tonight Show." She also did it when they doled out holiday gift advice next to Jimmy Fallon, her eyes crossing before the right one shuttered. And again during a Comedy Central stand-up routine proclaiming that women should get to steal cosmetics. ("If you don't have certain creams, powders, lotions, the state won't recognize you.") In a YouTube video, she twitched while reminiscing about the french fries she'd devoured in Paris. And she twitched as a conceited, kiss-ass Hollywood agent in the satirical Vimeo series "555," produced by Adult Swim veterans Tim Heidecker and Eric Wareheim.
Somehow, she managed to avoid the twitch on "High Maintenance" and "BoJack Horseman" (animation helps) and in the fantastic new movie "Sorry to Bother You," which opens in theaters July 6 after being the toast of Sundance in January.
Berlant has been in showbiz only a few years, if we don't count her stand-up rounds as an undergrad at New York University or her line on "Lizzie McGuire" at age 15. But she already has a signature that perfectly accentuates her surreal brand of humor. The twitch says more about the world around her than it does about Berlant. It's a spasm that winks at the nutty words pouring from her mouth. It can make a harsh blow more palatable. It mocks anything too serious. It externalizes the reactions we typically muffle when faced with disappointment, embarrassment, marginalization, pretentiousness.
Not much thought goes into the twitch, Berlant swears ― the mark of a natural performer, someone who was raised around capital-A Artists with big personalities.
"Maybe I should think about doing it less," she half-jokes.
Kate's father is Tony Berlant, a pop-art baron known for found-object assemblages. His friends ― Frank Gehry, Angelica Huston, Robert Graham, Ed Moses, Chris Burden, Kenneth Price ― shuffled through the family home for festive dinner parties stretching past midnight. She grew accustomed to being the youngest person there, commanding attention from adults as they chattered through a haze of booze and weed, noirish Santa Monica sitting just outside the window.
An only child lacking an outsize rebellious streak, she maintained a certain loneliness, and the way to make her presence known was to subscribe to her parents' disposition: "They're big storytellers. I was raised around that, without really realizing it. Being entertaining was valued."
So Berlant entertained people, at home and at school, specifically by distorting her face and adopting zany accents ― "just trying to make myself hideous." It worked, so much so that her "feminine and beautiful and graceful" mother would gasp at her improvised deformities. Years later, when New York University handed Berlant money to pursue a master's in performance studies, she realized the implications of her self-imposed disfigurement.
"Feminist appropriations of the grotesque, that's what I was doing," she says as if singsonging a line from a textbook. "But that is what I was doing. I was like, 'I will be ugly. I just want to be ugly, so I don't feel like I'm assessing what I am.'"
For Berlant, everything is a character ― or at least it would be if she weren't so smart. Across our nearly two-hour lunch, she slips into about a dozen foreign tongues: Old Hollywood studio magnate, Valley Girl prepster, game-show emcee, snobby crosspatch, stilted robot. If any of these are meant to conceal her true self, I couldn't tell. At 30, Berlant is reflective about her life and the industry she's breaking into, able to annotate experiences with an articulate nonchalance. She's well-spoken without the signifiers that turn coastal kids touting graduate degrees in something as esoteric as performance studies into walking clichés.
Most important, she is fucking hilarious.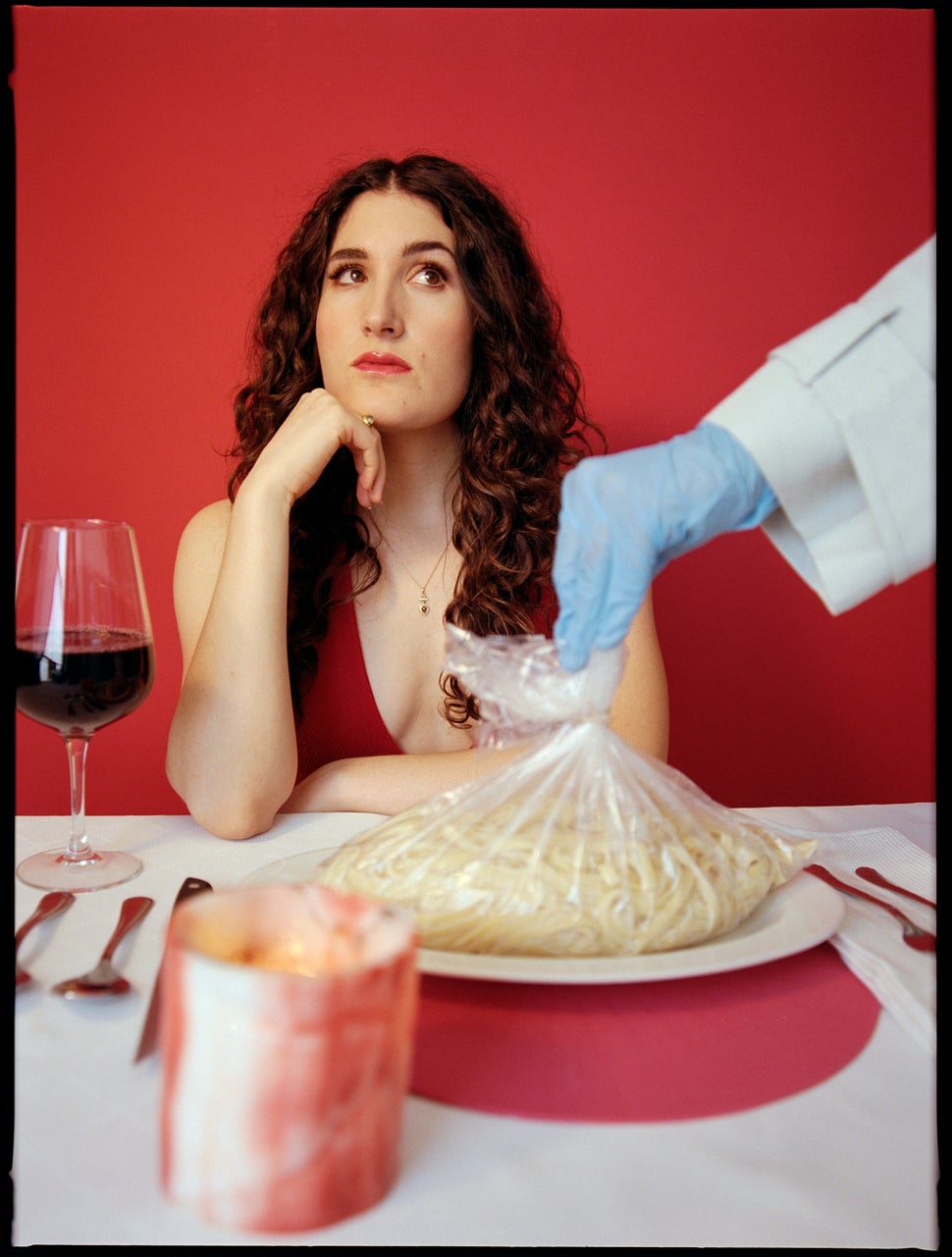 For a long time, Kate Berlant wanted to be Jim Carrey. That makes sense. It's easy to imagine Berlant, with her thatch of curly brown hair, stretching her features to squelch a fib like Carrey in "Liar Liar" or thrusting her chest against a prison partition like Carrey in "The Cable Guy." She'd make a hell of a pet detective.
Imagine her excitement, then, when Berlant auditioned for Carrey's new Showtime series, "Kidding," which reunites the actor with "Eternal Sunshine of the Spotless Mind" director Michel Gondry to play a Fred Rogers-type television host named Mr. Pickles. Berlant got a callback, meaning she went in to read for Gondry ― something any actor would die for. But nothing about auditioning is easy, not even parking.
"I just kind of left my body, and as it was happening I was like, 'I know what I'm doing,'" she says, pantomiming a cyborg.
Berlant didn't get the part, one of the few times missing out has gotten under her skin. ("I think because of my stand-up I'm engineered for rejection," she explains.) Another time was when she auditioned for Larry David in hopes of securing a gig on the latest season of "Curb Your Enthusiasm."
"But I didn't lose sleep," Berlant clarifies. Without skipping a beat, she launches into a bit, as if what she's said isn't gray enough for her liking. "Actually, one time I woke up in the middle of the night, and I was like, 'You are bad.' And then I went back to sleep. I rose up in bed, I was like" ― she makes a panting noise, like a wild dog ― "and then I fell asleep."
Even with a famous artist as your dad, laboring to find a place in the nebulous world that is Hollywood doesn't come easy, especially for someone trying to retrofit the experimental stage persona she developed as a teenager and twentysomething into screen work that manages to be both weird and marketable. As a teen, Berlant auditioned for potential agents by performing a deleted Parker Posey scene from Christopher Guest's community-theater satire "Waiting for Guffman," her favorite movie. The monologue begins with Posey explaining to some casting directors how various props would be positioned on the stage, after which she yammers to a redheaded doll about sexual assault.
That means Berlant was essentially auditioning in her audition. It was meta. She subbed the doll for a large stuffed fish. "They were like, 'What the hell is this 13-year-old girl doing?" Berlant recalls. The agency didn't sign her.
Around that same time, her best friend's mom was the casting director on "Lizzie McGuire," so she tried out for fun. Berlant landed a walk-on part, crossing Hilary Duff in the school hallway to say, "Hey, Lizzie, very cool pants." A different agency signed her right away, and suddenly she was being represented by "seedy child-actor agents" ― a woman and a gay man whose names now escape her. "They were like, 'Here's some candy, wear a tummy shirt, you're cute.' Just tacky, tacky, tacky."
They sent her on a horror-movie audition, but mainstream horror movies mostly cast women in buxom-blonde or obscene-ogre roles. Berlant is neither. "That's why I've always thought in my 40s I'd really take off," she quips. "In my 30s, I'm just waiting. […] It's still weird sometimes. Like, what are you? How do we categorize you? How do people metabolize your presence onscreen?"
She wore a tight shirt to the audition, as instructed, but didn't get the job. Then she "bombed" an audition for "That's So Raven." That was the final straw. Her agents dropped her immediately, at which point she lost whatever child-star bug had temporarily bitten her.
"I was hospitalized for two years," she jokes of handling the rejection.
Some 17 years later, auditioning isn't any less taxing ― she just has the cushion of maturity and the chutzpah to concoct her own material, assuming there's an audience to receive it. In high school, Berlant discovered there was indeed an audience. At an open-mic night in her school's basement, she performed her first stand-up set, scripting jokes on note cards that she would rearrange to form a complete routine.
Looking back at that material, she can see her absurdist leanings embedded in what was ultimately a confluence of Sarah Silverman, Eugene Mirman and the 2000s' alt-comedy heyday that counts John Mulaney, Chelsea Peretti and Wyatt Cenac as beneficiaries. She came out in a wheelchair, something she'd do again as a wannabe pop star in a Lynchian episode of "555." Except in high school, the joke flirted with absurdism: Out of nowhere, she stood up, twisted her face and laughed to the crowd.
When she settled in New York City for college, Berlant started improvising monologues at comedy-club open mics populated mostly by heterosexual white men with their arms crossed. "I can't imagine what it would have been like if I'd started stand-up and had there be more women, more queer people," she says. "I just can't even imagine. And now when I think about it, I think, holy fucking shit, how and why did I keep doing it? The hubris of being 20 only helps."
Reggie Watts, known for his improvised musical stylings, was the first celebrity to tell her she was good. "She loves absorbing, embodying and re-contextualizing a myriad of social and professional languages, and it's the best to witness," Watts told me, calling Berlant his "comedic sister."
In 2012, Watts asked Berlant to open for him at Webster Hall. She had never performed for longer than 15 minutes, and here she was doing 20 at a venue that fits 1,500 people. The results weren't as serendipitous as comedians hoped for in the olden days, when Johnny Carson's approval turned folks like Joan Rivers and Ellen DeGeneres into overnight stars. Nonetheless, Berlant eventually found herself sharing lineups with Silverman and Maria Bamford.
Bamford watched Berlant's act and invited her over for dinner. "I wish I had the stage presence and the ability to connect with the audience that she does," Bamford said of Berlant, who once deadpanned during a 2014 set, "There's somebody here who has the laugh of someone who deceived me."
"She doesn't ever seem tentative with crowd interaction," Bamford added, "and I'd love to be more that way."
Silverman, whose "Jesus Is Magic" special Berlant worshipped as a teen, has since become something of a mentor, like Garry Shandling was to Silverman. "She made my life possible," Berlant squeals during lunch, slipping into another mini-character. (Silverman once said the same thing about Shandling: "I'm who I am because of him.")
Last year, Berlant appeared on Silverman's Hulu talk show, "I Love America," leading a blunder-filled bus tour around Washington, D.C. "She is so totally in the moment," Silverman said. "I love her stream-of-consciousness style of performance. It's like the most sincere, earnest magic trick."
That's what's impressive about Berlant's rhythm: Whether doing stand-up, improv or scripted features, she appears to be operating off the cuff. Which is why auditions aren't her forte.
Today, her goal is less Jim Carrey, more winking "feminist icon." She isn't interested in sitcom-style punchlines ― she's never seen "Friends" or "Cheers" and has only caught some of "Seinfeld" ― or droll observations about social mishaps. Everything she does sits somewhere in the gray space between Kate and character, even though she's not one of those comics who has a battery of concepts sitting on ice. Before Netflix recruited her for "The Characters" in 2015, she'd never written a script. She didn't even have, well, characters. Instead, she had a synchronistic physicality that deconstructs the presentation of womanhood. Just like she learned in grad school.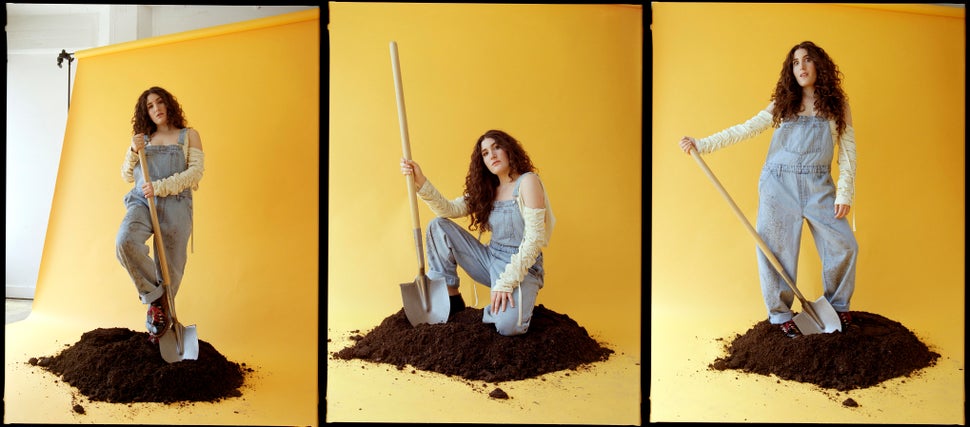 Berlant's life is a catalogof fits and starts. She's making a name for herself as a comedy auteur, but not without a trace of "That's So Raven"-era transience.
The thing is, comedy is at something of a crossroads right now. The voices who stoke critical intrigue and appeal to attention-strapped millennials ― Kumail Nanjiani, Issa Rae, Michelle Wolf, Ali Wong, Bo Burnham, Lena Dunham ― aren't the ones headlining basic-cable sitcoms or antics-laden blockbusters. They're originating their own stuff, from evanescent protests against Donald Trump on Twitter and trendy-for-a-minute specials on streaming services to genre-agnostic TV projects that produce lukewarm ratings. Fame, for young performers, is more splintered than ever before, and at the exact moment that young comedians are aggressively tackling the social rites of gender, race and sexuality.
Berlant found that out the hard way. Hulu dangled a carrot before her and John Early, who formed an instant bond back in 2012 when a mutual friend booked them on the same lineup. Quickly realizing she was the Dawn French to his Jennifer Saunders, they spent a few years developing a series called "This Is Heaven," in which they played ― what else? ― BFFs.
"When we shoot stuff together and we're getting up at 5 a.m. every day and driving together, we pick up our coffee and we're screaming laughing by 6 a.m. in the car," Early said. "That hopefully translates into the work. We're just at the point now where we just feel so desperate to get to do a major thing together."
In September 2017, Hulu ordered a pilot of what could have become their first major thing. Lorene Scafaria, director of "The Meddler" and "New Girl," helmed the episode, with backing from trendy indie studio A24. ("Though we will not tweet the link due to superstition, those who fail to widely circulate the announcement will be punished to the full extent of the law," Berlant and Early wrote in a statement when the news was reported.)
And then, after seeing what they cooked up, Hulu passed, as did every other network they shopped it to, including Netflix, where both had been previously employed ― "which shocked the nation," Berlant quips.
"We learned that once you shoot a pilot for a network and they pass on it, it's basically a scarlet letter," she says, having finished her avocado citrus salad with salmon. "Nobody wants it. And I understand that. If Hulu spent the money on it and they don't want it, it must not be good. It's basic psychology. […] I'm kind of smarter now coming off of that experience because the first time you're in a situation like that you just can't help but be like, 'Oh, this could really happen.'"
Now, Berlant feels "lucky" to have been given an opportunity that many aren't. But what gets at her is the same thing, more or less, that prevents, say, Issa Rae from ruling the tip-top of the A-list. (About a million people watch "Insecure" the night an episode airs on HBO, compared with 6 million for ABC's "Modern Family" and at least 12 million for CBS' "The Big Bang Theory.") As Berlant and Early tried to find "This Is Heaven" another home, they received the same "coded" feedback on their comedy, almost always from older, white, heterosexual men ― the same kind who crossed their arms when she was a young stand-up: "Make it less gay, make it less women-y and less weird."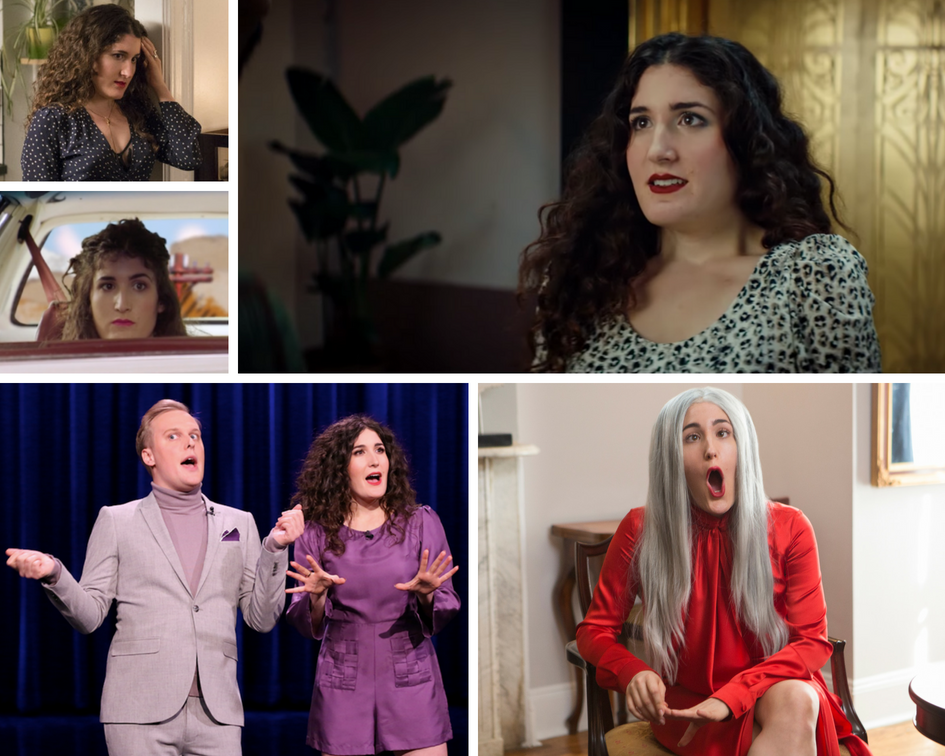 Berlant recognizes her own privileged background, having grown up white and affluent in beachy California, but she won't tamp down her identity to appease pop culture's sentinels. And anyway, Early insisted, the show wasn't even that weird. Compared to some of the other stuff they've done, it was downright sweet, even "optimistic."
"We got the same note everywhere, which is the note I eternally get, which is 'It's too rarified; it's too niche,'" Berlant says. "That was the only note: It's too niche. It's like, so we're supposed to make something that's appealing to everyone so in turn we can make something that's appealing to no one? We firmly reject all of that. I don't think the pilot was perfect — I'm not a freaking idiot. But I would never fundamentally change the DNA of the show we were trying to make. It's really that simple. If it doesn't appeal to a couple of fucking dudes or something, it just doesn't exist."
She believes it's the same anti-meritocracy that forced Samantha Bee to apologize for calling Ivanka Trump a "feckless cunt." And while Berlant does not relate to every groove of today's "woke comedy" moment ("Me weighing in on every fleeting horror isn't really doing much"), she is happy to rail against the gatekeepers ignoring voices that appeal to the 18-to-34-year-old demographic they dramatically covet. And she would know. After all, Berlant designed her own undergraduate program ("the cultural anthropology of comedy," as she once described it to The New Yorker) and wrote a thesis on deconstructionist milestones, like Roseanne Barr shrieking the national anthem at a San Diego Padres game. ("It's just so bold. It's the most punk-rock thing. It sucks that she's fucking stupid.")
Berlant has made her peace with the Hulu situation. People increasingly offer her work ("High Maintenance," "Search Party," the Rami Malek movie "Buster's Mal Heart"). She's a scene-stealer in the well-reviewed "Sorry to Bother You," one of the few auditions she knew she'd nailed. It helped that writer/director Boots Riley was familiar with her stand-up and told the movie's producers, who wanted to cast someone more famous, that he would pay her salary himself if needed.(The producers capitulated.) Berlant plays an imperious office coordinator at an Oakland, California, telemarketing conglomerate where a hard-up Lakeith Stanfield lands a job. Think Kristen Wiig in "Knocked Up," but weirder. In the movie's funniest moment, she teaches Stanfield to use the company's VIP elevator, reciting a secret code so long it's absurd.
"She makes a lot of critiques of society through her impressions," Riley said. "She's not there telling you, 'This is wrong' and 'This is right' ― she just makes fun of people from a direction you don't see very often. […] She's going to be a thing. She better get all the roles she can get real quick because people will start copying her style."
Berlant has at least five other projects in the works, including an indie family dramedy in which she plays the lead, with Fran Drescher as her mother and Justin Long as her brother ― Berlant's biggest film role to date. In addition to another pilot they're writing, she and Early just started penning a movie together (they want to make a cult classic that appeals to queer kids at sleepovers, Early said), and she's writing another one with Samy Burch, who cast "This Is Heaven" and the "Hunger Games" series. Berlant is also constantly developing ideas with her boyfriend, Andrew DeYoung, who directed "555" and the truTV mockumentary "Jon Glaser Loves Gear." And, as if that weren't enough, she's writing a stand-up special.
"It's like you constantly have to remind yourself you're never going to be ready," she said. "Just do it. The power of the amateur. I started stand-up like, 'I can't do this,' or, 'I don't know how to do this.' And I still am like, 'I don't know how to do this' all the time."
Whether or not this multi-hyphenate becomes the next Jim Carrey doesn't matter. Few comics arrive with mannerisms and timbre as confident as Kate Berlant's. And none boasts a twitch as distinct as hers.
Read more: www.huffingtonpost.com