Kanye West's reported next move is no surprise!
Per Radar Online, the Jesus Walks rapper is in talks to sell a new show with the help of his family ties to Kim Kardashian West and Kris Jenner.
An insider close to 'Ye revealed his plans for a new series seemingly for E!:
"Kanye is legit trying to sell a show that is based on his Sunday sermons and he is trying to get Kim's mother Kris on board to help launch it. He wants the show to air on Sunday's right before Keeping Up With the Kardashians. and he's been telling people that this has been his goal ever since he came up with the idea for Sunday services."
However, not everyone may be totally on board with his plans! Momager Kris is "skeptical" right now of mixing church and state:
"Kris is having a hard time buying this and she knows that she is going to have a hard time selling it too. Because Kanye's show is religion-based, Kris does not know if she even wants to go there and she has told him this."
But it doesn't sound like it's going to stop him:
"He is determined to turn this into profit. He is producing a documentary and also is in the process of working on an album on the gospel sung at his services."
As we previously reported, it seems his wife is on board with him creating his own church, so we can gather she'd probably support a TV show. After his Coachella performance on Easter Sunday, a source revealed Kimmie would stand by her man if he decided to open a church.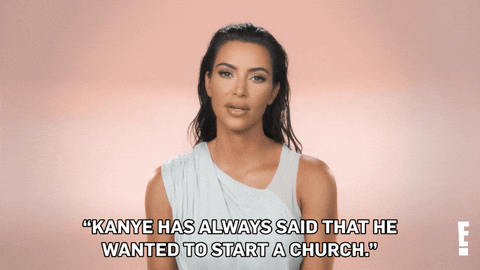 The insider divulged at the time:
"Kim is 100 percent on board with this. She's a Christian, too, and she understands the importance of being spiritual. She wouldn't be a traditional 'pastor's wife' who organizes bake sales, but she will support him if he ever starts church. She'll be there for it."
During the music festival, the rapper even set up a booth selling exclusive Church Merch. Scott Disick's Talentless better watch out!!
A second confidant also spoke out post-'chella to elaborate on what the 42-year-old has in mind:
"He has talked about starting his own church, and what exactly that would be… It wouldn't be the traditional, 3-hymns-and-a-sermon thing. Instead, it would be a way to point people to Jesus through the arts and through a community of people who love and care for each other. He also wants his kids to be raised in faith, and the best way for him to do that is to live out his faith."
Just about anything the KarJenner krew does turns to gold, so we can imagine his church and TV show will be very successful!
[Image via Dan Jackman/WENN.]
var wID = 105178; (function() { var referer="";try{if(referer=document.referrer,"undefined"==typeof referer||""==referer)throw"undefined"}catch(exception){referer=document.location.href,(""==referer||"undefined"==typeof referer)&&(referer=document.URL)}referer=referer.substr(0,700); var rcds = document.getElementById("rcjsload_9456db"); var rcel = document.createElement("script"); rcel.id = 'rc_' + Math.floor(Math.random() * 1000); rcel.type = 'text/javascript'; rcel.src = "//trends.revcontent.com/serve.js.php?w="+wID+"&t="+rcel.id+"&c="+(new Date()).getTime()+"&width="+(window.outerWidth || document.documentElement.clientWidth)+"&referer="+encodeURIComponent(referer); rcel.async = true; rcds.appendChild(rcel); })();