Girl band Red Velvet and others perform Sunday in Pyongyang

Music tour comes a month before historic summit of two Koreas
They've won over buttoned-up investors at a banking conference with their jingles about teenage love, but the K-Pop girl band Red Velvet is facing what may be its toughest audience yet: North Korea.
The chart-topping starlets performed Sunday in front of an audience including North Korean leader Kim Jong Un and his wife, with 10 other South Korean music groups, at the first of two concerts this week in Pyongyang, Yonhap News reported. It's the latest overture in Seoul's decades-long cultural diplomacy push, aimed at softening ties with its closed off and nuclear-armed neighbor.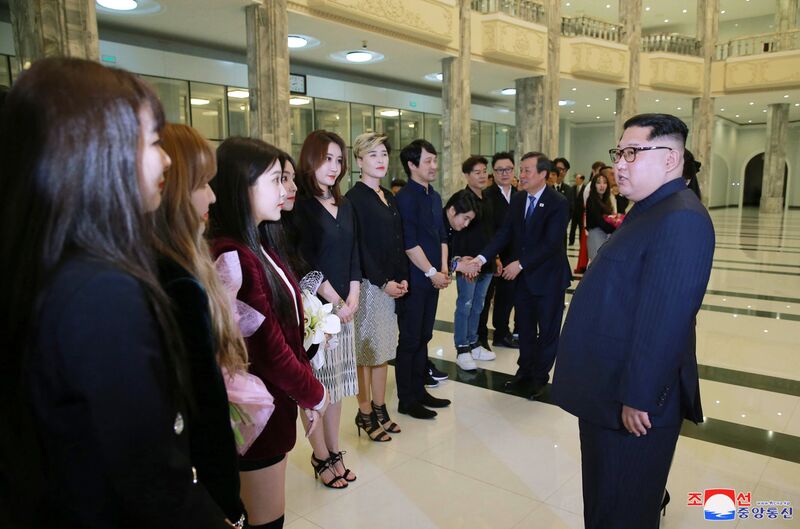 Taking place four weeks before an historic meeting between the two countries' leaders, the music tour could provide a test of whether North Korea's attitude to the rest of the world is truly thawing. As they belt out their dance tunes "Red Flavor" and "Bad Boy" to about 1,500 members of the North Korean elite at the East Pyongyang Grand Theater tonight, Red Velvet will be hoping for a less frosty reception than those that have gone before them.
"The whole purpose of cultural exchange is to open the gates for better relations between the North and the South, which have been strained for a decade," said Kang Dong-wan, a professor at Dong-a University and a leader of the Busan Hana Center, an institute that helps North Korean defectors in the South Korean port city of Busan. "There is a strong political motive to boost the mood ahead of the summit."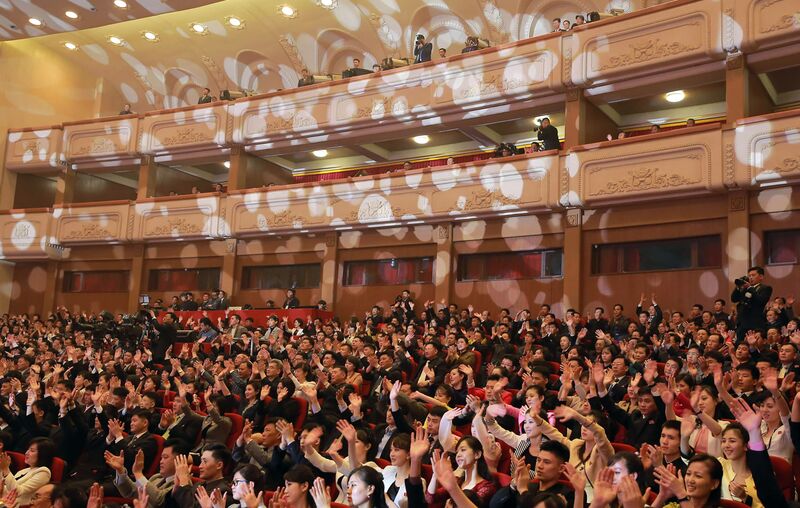 When K-Pop boy band Shinhwa performed in North Korea in 2003 as part of a similar cultural diplomacy venture, the audience — dressed in suits and traditional dresses — greeted them with silence and stony stares. One of the band members, Eric Mun, told reporters that they looked at the singers "with eyes like shooting lasers," according to Yonhap.
That year, North Korea withdrew from the nuclear Nonproliferation Treaty and threatened to test atomic weapons. U.S. President George W. Bush had labeled them a member of the "axis of evil" in 2002.
Fifteen years later, Kim is seeking to engage the region's major powers after advances in his nuclear program prompted the United Nations to tighten sanctions and President Donald Trump to threaten war.
During a surprise visit to Beijing last week, China said Kim indicated he was willing to talk with Trump about giving up nuclear weapons. Meanwhile, the summit planned for April 27 with President Moon Jae-in on the southern side of the border's demilitarized zone would make Kim the first North Korean leader to set foot in South Korea.
But it's the shifts in technology since the early 2000s that could make this musical extravaganza different, says Dong-a University's Kang. K-Pop — characterized by its manufactured melodies and slick approach to marketing — has penetrated into North Korea over the past 10 years. Smuggled across the border on USB sticks and bootleg DVDs, K-pop has spread widely among the families of North Korea's political elite, Kang said.
Red Velvet — which performed an invite-only concert at Credit Suisse Group AG's Asia investment conference last month — is being joined in Pyongyang by South Korean singer Baek Ji Young and rock band YB, according to the Unification Ministry.
The show on Tuesday will be a joint performance featuring acts from both Koreas and will take place at a stadium in Pyongyang that can hold 12,000 people.
The theme of the joint concert will be "Spring is Coming," Hwang Seong-un, a spokesman for South Korea's culture ministry said at a briefing in Seoul March 27. "Spring literally has arrived and it also presents our wishes for spring to come over our relationship between the North and the South."
Read more: www.bloomberg.com