The run-up in junk bonds is showing signs of returning to earth.
After a spate of bad news triggered sell-offs of a few big speculative-grade borrowers, the pain has spread and even led NRG Energy Inc. to pull a $870 million bond offering on Thursday. Exchange-traded funds that buy high-yield debt have plunged the most since August, with $563 million of retail outflows since the start of this week alone. Three of the biggest junk-rated borrowers, IHeartMedia Inc., CenturyLink Inc. and Community Health Systems Inc., posted disappointing earnings that sent their bonds plunging.
It's hard to say whether the sell-off will accelerate. Others like it have largely been treated as buying opportunities for yield-starved asset managers. But with more supply to come, investors may be less willing to take a chance on shaky companies, especially with yields at historical lows. Matt Eagan, a debt-fund manager at Loomis Sayles & Co., said he's not going to start buying until the market sells off by another 3 percent to 5 percent.
"It seems like buyers have simply stepped away from the market," Eagan said in an interview with Bloomberg Radio Thursday. "I wouldn't be buying the market."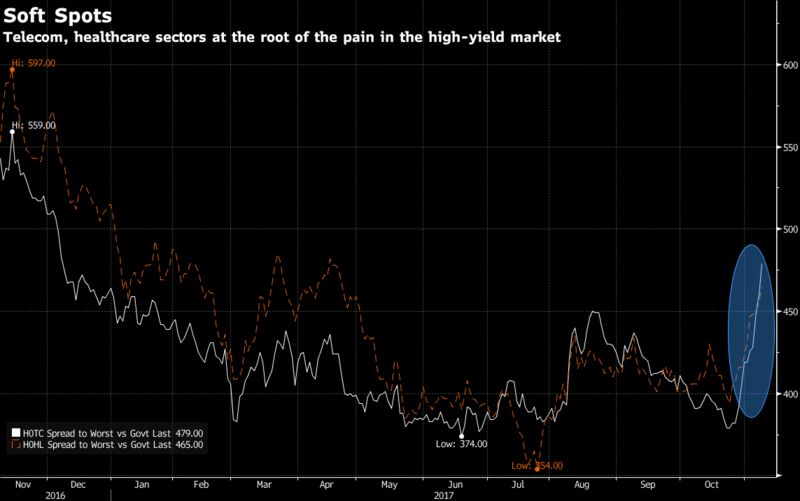 The telecom sell-off that was exacerbated by failed merger talks between Sprint Corp. and T-Mobile US Inc. has slowly crept into health-care bonds and the broader high-yield market as investors try to cash out before it's too late.
"It's only the beginning," said Jack Flaherty, a portfolio manager at GAM Holding AG who's been buying better-graded bonds to hedge high-yield risk. "We're starting to see a welcome correction," he said in an interview.
Investors are increasingly scrutinizing specific companies and rejecting their bonds when they see a problem. Alongside the earnings-driven sell-offs at Community Health and IHeartMedia, mega-deals from Staples Inc., Tesla Inc. and Netflix Inc. have traded below their face value. Tesla's benchmark bond fell to a new low of 93.5 cents on the dollar Thursday, according to data from Trace.
"It feels like it's spreading," Mike Collins, senior investment officer at PGIM Fixed Income, said in an interview. PGIM has been cutting its exposure to high-yield debt since the beginning of the year, especially BB rated companies. 
"It's starting to reverberate through the credit markets more," Collins said. "If you have more dispersion, you're going to have more losers."
Easy Money
It's hard to overstate the easy-money conditions that allowed U.S. high-yield bond markets to thrive the past eight years. The debt has returned more than 14 percent on average every year since 2009 as the Federal Reserve dropped overnight rates to near zero and bought billions of dollars of bonds. Junk-bond yields are still three percentage points below the two-decade average, but the Fed is raising rates at a faster pace and other central banks are hinting they may reduce stimulus in the near future.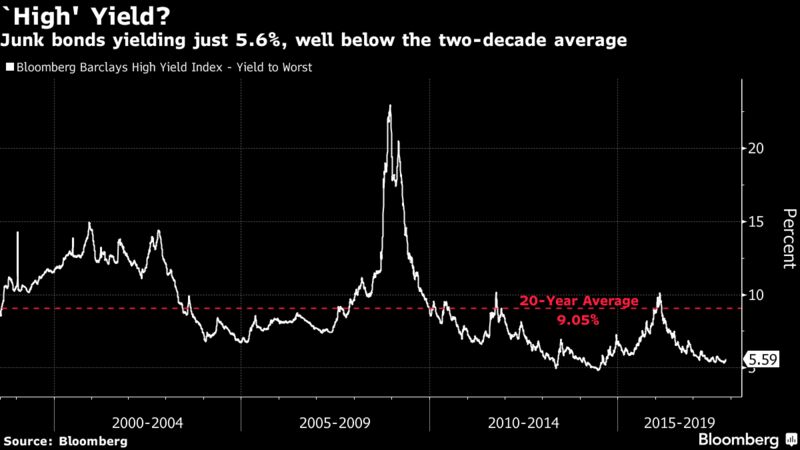 Meanwhile, the much-anticipated Republican tax plan is coming into focus. 
The Senate version would delay the corporate rate cut until 2019, Bill Cassidy, a Louisiana Republican, said Thursday. And House Republicans have proposed reducing interest deductibility, a key benefit for the junkiest of borrowers. About 40 percent of the high-yield market could feel the pinch, Bank of America Corp. strategist Oleg Melentyev said in a Nov. 3 report.  
But not everyone is ready to bail just yet.
"There's stress in significant pieces of the markets, like health care and telecom, and I am not ignoring them," Ken Monaghan, director of global high yield at Amundi Pioneer, said in an interview. "But we aren't seeing some sort of cataclysmic event on the horizon, and I am not expecting many sleepless nights anytime soon."
Still, even if the sell-off doesn't devolve into a rout, many investors are holding back and watching the action a little more closely.
"In size and scale it's not gargantuan, it's a drop in the bucket," Henry Peabody, a money manager at Eaton Vance Corp., said in an interview. "But that's how corrections start."
Read more: www.bloomberg.com