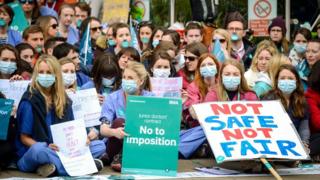 While the placards and politics of the junior doctors' strike have dominated the news, what matters more for patients is the care they receive.
The BBC has spoken to patients and two first-time fathers about how the strike affected care in England's hospitals.
---
Liam Walker, from Blackheath, south-east London
The 35-year-old and his partner Catalina became parents to baby Ruan at 13:00 BST on Tuesday – while the strike was in progress.
Catalina, 33, had a caesarean section at St Thomas' Hospital in central London after doctors had tried to induce the birth.
Liam said: "I couldn't have been happier because there were more consultants on board. Because there were so many of them, decisions were being made straight away. It was brilliant.
"After they made the decision to do a C-section, she was in surgery within 10 minutes.
"We got informed the day before there was going to be a strike and that lots of consultants were on call. For my partner's C-section, there were three consultants in surgery – that's unheard of.
"I fully support the junior doctors. But in my opinion the hospital was actually running a bit better. Everything was straight forward. It's one of the main hospitals in the country so they would have to have everything running like clockwork."
---
Maureen Gaunt, from Dewsbury, West Yorkshire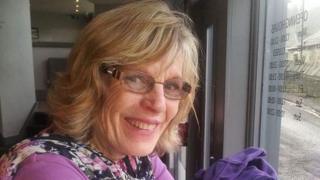 Retired nurse Maureen Gaunt, 68, was bitten by a dog she was walking on Tuesday and was told to go to A&E at Dewsbury and District Hospital after attending her local GP surgery.
She said: "The bite was a bit of an accident – I was walking a dog and had him on a lead, but he's not very good with other dogs and when he saw one, he was yapping and then my leg got in the way. It was quite a nasty bite though.
"I went to my GP surgery but they sent me straight to A&E. My first thought was that it would be chaos when I got there, but it was so quiet it was unbelievable.
"The care was excellent. I probably waited 20 minutes to see the nurse practitioner and he was very good. He sent me for an X-ray and arranged for a consultant to take a look at it. I was there for a couple of hours and didn't notice any difference after the strike finished. It was extremely quiet and the nurses said it had been quiet all day.
"I was very pleasantly surprised. You wouldn't have known anything was going on.
"I can understand where the doctors are coming from – I just feel disappointed they felt they had to strike. I felt, as a nurse, you couldn't strike because of the patients. But I fully support them in what they're aiming to do."
---
Michael Timoney, from Watford, Hertfordshire
His first child was due on 14 May – but due to his wife Natalie having developed gestational diabetes, doctors decided to induce labour.
She was taken into hospital on Thursday. When the baby still hadn't arrived by Sunday, the couple opted for a procedure to bring on contractions so the baby would be born the following day – rather than the next day when the strike would be in progress.
"We had that fear in our heads," he said. "They promised the care would be fine, but as an individual you have to make that call. We decided to mitigate the risk. And also, my wife was absolutely shattered."
Their son was born at 11:00 BST on Monday, with mother and baby remaining in hospital on Tuesday and Wednesday.
"We had wonderful care throughout," said Michael. "It was amazing and the midwives were great. My wife said to me she hadn't noticed anything different. They are all professionals and did a good job in the circumstances."
He added that he "supports the walkout, without a doubt".
---
Catherine, from London
Catherine had to attend A&E at St Thomas' Hospital on Tuesday for what she described as an "urgent but fairly minor problem".
"I was told my problem would normally be dealt with by a junior doctor but today I saw a consultant instead," she said.
"No extra delays. There's lots of consultants around and extra nurses. All seems to be running smoothly, contrary to what [Health Secretary Jeremy] Hunt and co were implying."
Read more: www.bbc.co.uk