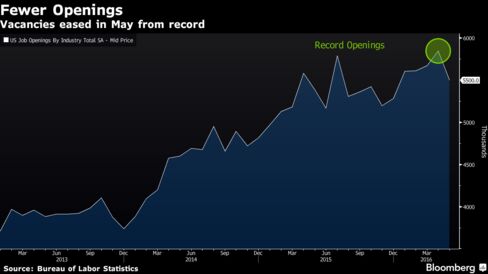 Job openings in May dropped from a record high and hiring cooled, a Labor Department report showed Tuesday, giving a more tempered assessment of the U.S. job market following the blowout payrolls numbers reported last week.
Key Points
Number of positions waiting to be filled decreased by 345,000 to 5.5 million (forecast was for 5.65 million), the fewest this year, from 5.85 million in April
Hiring level cooled to 5.04 million from 5.09 million; the hiring rate held at 3.5 percent
Some 2.9 million Americans quit their jobs, down from 2.91 million in April and the fewest since January. The quits rate held at 2 percent — it reached an eight-year high of 2.2 percent in December
Dismissals decreased to 1.67 million in May from 1.71 million the month before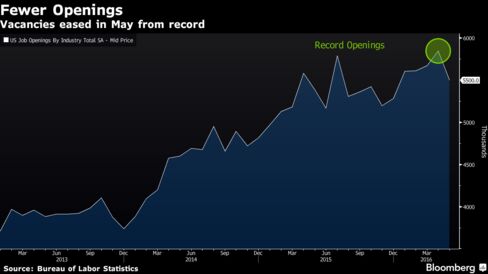 Big Picture
The drop in openings and slowdown in hiring corresponds with the weak employment picture in May that figures from the Labor Department on Friday showed was reversed last month. The decrease in the number of people quitting their jobs, a metric tracked by Federal Reserve Chair Janet Yellen to gauge worker optimism, also points to more subdued labor-market conditions.
Economists Takeaways
While openings declined in May, its roughly at the average level for the past year, which is still a historically high level, said Ryan Wang, an economist at HSBC Securities USA Inc. in New York. It shows businesses still have demand for workers.
Last weeks job report showed the unemployment rate rose to 4.9 percent in June from 4.7 percent the month before as people entered the labor market without finding work. However, the job openings data indicate these folks should feel good about their prospects for being hired, Thomas Simons, a money-market economist at Jefferies LLC in New York, wrote in a note to clients before the report.
Other Details
Openings declined most in financial services and wholesaling
In the 12 months through May, the economy created a net 2.5 million jobs, representing 62.3 million hires and 59.8 million separations
There were 1.4 unemployed people vying for every opening in May, compared with 1.8 when the recession began
The Job Openings and Labor Turnover Survey, or JOLTS, adds context to monthly payrolls figures by measuring dynamics such as resignations, help-wanted ads and the pace of hiring. Although it lags the Labor Departments other jobs data by a month, Yellen follows the report as a measure of labor-market tightness and worker confidence
Read more: www.bloomberg.com