The president-elects chief strategist, Steve Bannon, has been accused of antisemitic views but a Jewish leader says Trump should be given a chance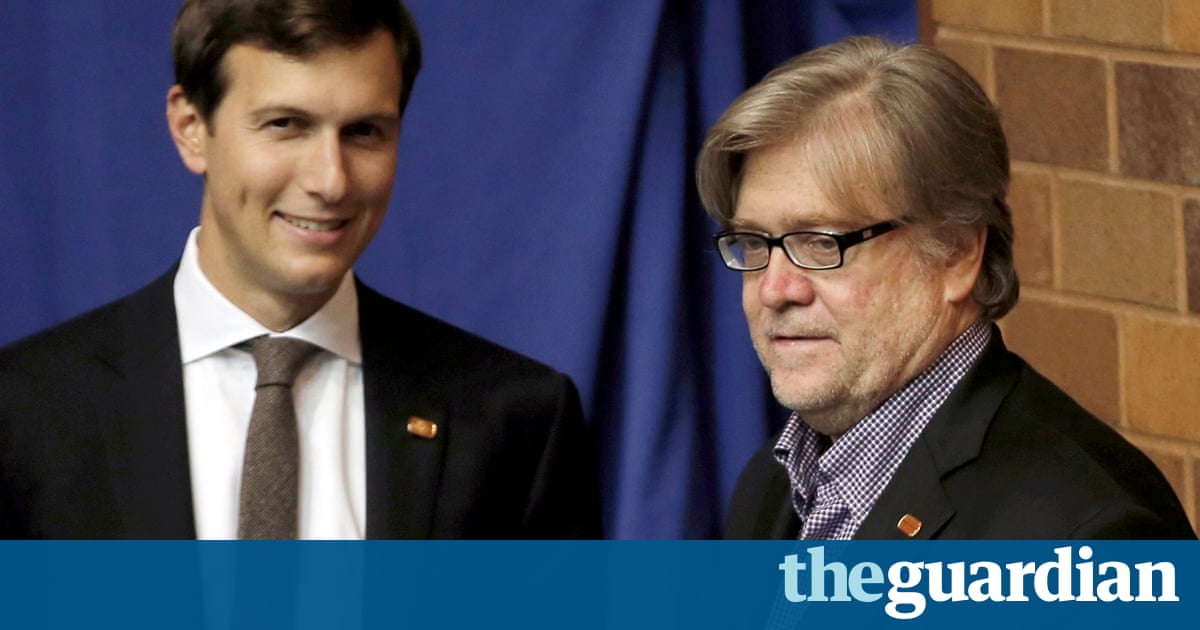 Donald Trump should be given the benefit of the doubt in appointing people associated with the far right, racism and alleged antisemitism, the leader of one of the USs leading Jewish organisations has said.
Jack Rosen, president of the American Jewish Congress, told the Guardian: I think the president has the right to choose his own people and we should take a look-and-see approach.
Regarding Trumps appointment of Steve Bannon, the executive chairman of the far-right Breitbart website who has been accused of stoking neo-Nazism, as his chief of strategy, Rosen said: Im not defending many of the things Bannon has said or the newspaper he worked for. I think many statements are unfortunate. I certainly dont accept any bigotry or racism, Im not defending any of that.
But, he added: You give Trump the benefit of the doubt. He is the president. Every president picks people that we dont necessarily agree with and hold our noses on What you see is many who argue Bannon is not a racist or antisemite, and others who argue strenuously he is. My attitude is let the president choose his people and lets see what the outcome is, and be prepared to speak out if there are any problems.
An ex-wife of Bannon, Mary Louise Piccard, has said that he had made antisemitic remarks almost a decade ago when he objected to sending their twin daughters to an elite Los Angeles academy because he didnt want the girls going to school with Jews, according to 2007 court papers.
Bannon has denied being antisemitic, telling the Wall Street Journal such claims were a joke, and that he was an economic nationalist, not a white supremacist.
Rosens comments come amid fraught debate among American Jews over Trumps election, appointments and likely policies on Israel. While some prominent Jewish organisations have remained silent over the appointment of Bannon, others have issued condemnations.
The Anti-Defamation League denounced Trumps choice, with its chief executive, Jonathan Greenblatt, accusing Bannon of harbouring antisemitic and white supremacist views. It is a sad day when a man who presided over the premier website of the alt-right a loose-knit group of white nationalists and unabashed antisemites and racists is slated to be a senior staff member in the peoples house, Greenblatt said in a statement.
The progressive pro-Israel J Street group said Bannon had an extensive history of championing the views of the extreme right in the United States and around the world. It accused Trump of fanning the flames of hatred by appointing Bannon.
The National Jewish Democratic Council said: We fear that Trumps choice of Steve Bannon is just the first appointment of many individuals who have engaged in, or at least, tolerated antisemitism, racism and xenophobia.
Read more: www.theguardian.com