Tokyo confirms that new anti-ship and anti-aircraft batteries are designed to check Chinese military influence in the region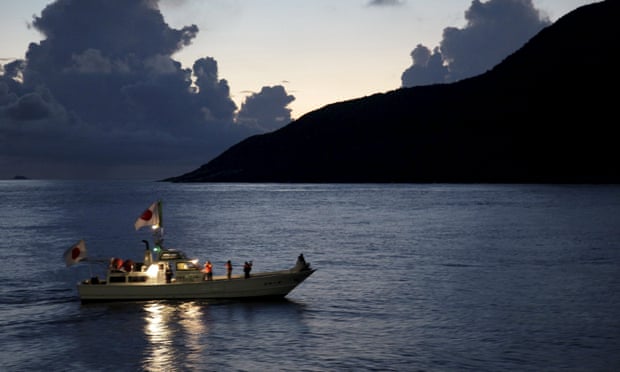 Japan is to deploy thousands of troops and build missile batteries on islands in the East China Sea, as officials confirmed for the first time that the defences were designed to check Chinese military influence in the region.
In response to US pressure to play a bigger role in deterring increasingly assertive Chinese naval activity in the South China Sea and East China Sea, Tokyo is to position a line of anti-ship and anti-aircraft missile batteries along 200 islands stretching 870 miles (1,400km) from the Japanese mainland towards Taiwan.
In addition, Japan will increase the number of military personnel on its islands in the East China Sea by about a fifth to almost 10,000 over the next five years.
While China is not usually referred to by name in unclassified defence documents, Japanese officials stated that a push by the conservative prime minister, Shinzo Abe, to boost Japans military reach was intended to keep China at bay in the strategically and economically crucial Western Pacific.
Once the new military hardware is in place, Chinese ships sailing from their eastern seaboard must pass Japanese missile batteries to reach the Western Pacific, an area Beijing considers vital both as a supply line and for projecting its growing naval power.
While Chinese warships are entitled to sail through the area under international law, they will have to do so in plain sight of Japanese missiles, a government official in Tokyo told Reuters.
Toshi Yoshihara, a professor at the US Naval War College, said the move would enable Tokyo to limit Chinas room for manoeuvre through the East China Sea to the Western Pacific and give the US-Japan alliance more time to respond to a conflict involving China. You could say Japan is turning the tables on China, Yoshihara said.
Concern over Chinas maritime and aerial presence in the East China Sea including around the disputed Senkaku island chain mirrors unease over Beijings construction of manmade island bases in the contested Spratly archipelago in the South China Sea.
Last month, Abe, without naming China, cautioned against attempts to militarise the South China Sea, voicing serious concerns over land reclamation in the area.
Experts believe that boosting defences along a first island chain stretching from Japans East China Sea territory and south through the Philippines could serve as a boundary between US and Chinese spheres of influence in the region.
In the next five or six years, the first island chain will be crucial in the military balance between China, and the US and Japan, said Satoshi Morimoto, a professor at Takushoku University and former defence minister.
The recent thaw in bilateral ties has reminded Japan and China of the need to avoid unintended clashes around the Japanese-controlled Senkakus. They are expected to speed up the formation of a maritime and aerial communication mechanism to prevent an accidental collision near the islands from quickly escalating into war.
At the same time, Japan has stepped up its defence readiness amid Chinas military buildup and its frequent patrols near the disputed islands, which the Chinese call Diaoyu. Only last week, two Chinese coastguard vessels sailed briefly into Japanese territorial waters around the islands, the 33rd time they have done so this year.
Japans increasing sense of caution over Chinese military activity is being reflected in higher defence spending and strategic a shift away from its northern maritime border with Russia to its long and porous southern reaches.
The defence ministry is seeking a record 5.09tn yen (£27bn) in next years budget, including money for longer-range anti-ship missiles, Global Hawk drones and Osprey tilt rotor aircraft.
Read more: www.theguardian.com