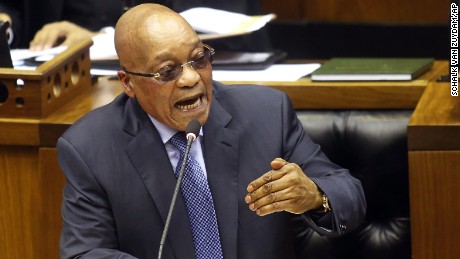 (CNN)Friday couldn't arrive soon enough for South African President Jacob Zuma.
It might qualify as the worst day of his troubled, seven-year presidency.
The nation's highest court would deal him a humiliating blow, ruling that
Zuma violated the constitution
when he used $15 million in state funds to upgrade his private home.
"The constitution, rule of law and accountability is the sharp and mighty sword ready to chop off the ugly head of impunity," the court said.
A politician loathed by many for his administration's arrogance and corruption, Zuma's day would only get worse:
It's time to pay the piper — and the state
Zuma must repay money spent on renovations unrelated to security, the Constitutional Court said.
The National Treasury will determine the amount.
South Africans have been down this road before.
The controversy dates back nearly seven years, when Zuma first took office.
At one point, the Public Protector, an independent watchdog, ordered Zuma to pay "a reasonable percentage of the cost" for upgrades not related to security.
The office left it up to the National Treasury to determine the appropriate amount.
Facing the threat of an unfavorable court ruling, Zuma recently did an about-face. He offered to repay some of the amount spent on the renovations.
The opposition pressed ahead with their lawsuits.
"Zuma must go down," said Julius Malema, leader of the Economic Freedom Fighters, one of the parties that took him to court.
Zuma's troubles finally caught up with him this week — the beginning perhaps of many terrible, horrible, no good, very bad days.
Read more: www.cnn.com