Introducing Donald Trump at the Republican national convention, Ivanka Trump makes clear attempt to win over female voters from Hillary Clinton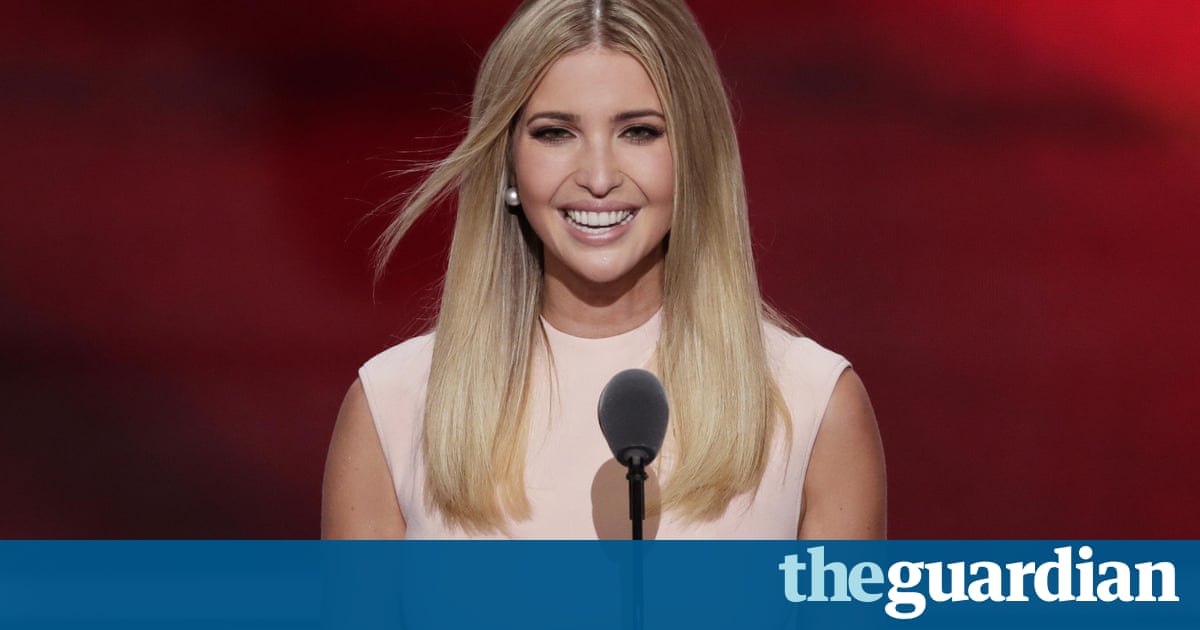 Ivanka Trump addressed the Republican convention on Thursday, vouching for her father with women and minorities two groups the GOP nominee has struggled to win over.
Speaking before she introduced Donald Trumps speech accepting his partys nomination as candidate for president, Ivanka Trump said her father was color blind and gender neutral and hires the best person for the job, period.
Trumps eldest daughter said she had worked with her father for more than a decade and seen him hire people from all walks of life.
Donald Trump has faced criticism for his hiring practices and treatment of women in his businesses. But his daughter says his construction sites are true meritocracies.
She also said Trump would fight for equal pay for women and affordable child care, outlining priorities often associated with Democrats and making a clear attempt to win over female voters who might be more inclined to feel Hillary Clinton would stand up for their interests.
She said motherhood was creating a pay discrepancy for women, that her father would will fight for equal pay for equal work.
Donald Trump would focus on making affordable childcare affordable and accessible for all if elected, Ms Trump said.
Trump has not addressed child care costs or the gender pay gap so far in his 2016 presidential bid.
Ms Trump, acknowledged favorite child and heiress-apparent to her fathers eponymous real estate empire, sailed above the chaotic scenes of the four-day convention with an introduction of the Republican presidential nominee that went some way toward achieving the aims of a campaign that made humanizing Donald Trump the singular goal of the convention.
I am here to tell you that this is the moment, and Donald Trump is the person, to make America great again, Ivanka said of her father. If its possible to be famous, and simultaneously not well-known, that describes the father who raised me.
I have seen him fight for his family, I have seen him fight for his employees, I have seen him fight for his company, and now, I am seeing him fight for our country.
The stakes for Ivanka Trumps speech were high. After Donald Trumps wife, Melania, was dogged by accusations of cribbing her remarks from the current first lady and Texas senator Ted Cruz was booed when he failed to endorse the nominee, Ivanka Trump was her fathers last, best chance at being presented in a flattering light to voters tuning in to the campaign for the first time.
Where her siblings had supplied mere adjectives Donald Trump is kind, Donald Trump is loving, Donald Trump is strong Ivanka revealed anecdotes, vignettes from a childhood unlike any other that attempted to demonstrate, what Donald Trump is like behind gilded doors.
I saw my father tear stories out of the newspaper, about people he never met, who were facing some sort of injustice or hardship, Ivanka said. He would talk to them and draw upon his extensive network, find them a job, and give them a break.
The qualities in Ivanka Trump most praised by her father her gentility, her business acumen, her religious faith are largely absent in him, but by Ivanka Trumps telling, she is nothing but her fathers daughter.
When you have my father in your corner, you will never have to worry again about being let down. He will fight for you, every day, all the time, every time.
The Associated Press contributed to this report
Read more: www.theguardian.com