ST. STEPHENS CHURCH, Va. — Cathy Hess likes that Sen. Marco Rubio (R-Fla.) is finally standing up to real estate mogul Donald Trump.
"I'm not against it because it shows you've got a set of balls, that you can do it when it's appropriate," Hess, 58, told The Huffington Post as she was closing up a U.S. post office on Saturday. "Now, if he goes on and on, if he's nasty like Trump," Hess added, trailing off disapprovingly, before noting that "the biggest put off for me is the way Trump talks."
The two Republican presidential candidates are engaged in an increasingly acerbic and juvenile war of words — most recently over various body fluids and the length of bodily appendages — ahead of Virginia and nine other key Super Tuesday primary contests taking place this week. The clash has deepened divisions between the establishment wing of the party and hardline conservatives, some of whom have vowed never to vote for Trump even if he succeeds in winning the nomination later this summer.
But as to the larger task of defeating the Democratic nominee in November, which is increasingly looking to be Hillary Clinton, Republican rank and file voters may decide to stick with Trump regardless of his brash demeanor or his seemingly fatal deviations from GOP orthodoxy on domestic spending, immigration and trade policy.
"If you ask who I'd like to see do it, then it would be Rubio," said Hess, a self-described conservative who backed Mitt Romney in 2012, when asked about who could win the White House. "Who's capable of doing it? It might only be Donald Trump, which is a sad thing to me."
Indeed, residents of the Commonwealth appear to be in agreement about the businessman's prospects. Trump currently holds a double-digit lead over the Florida Republican among likely voters on the eve of the state's primary.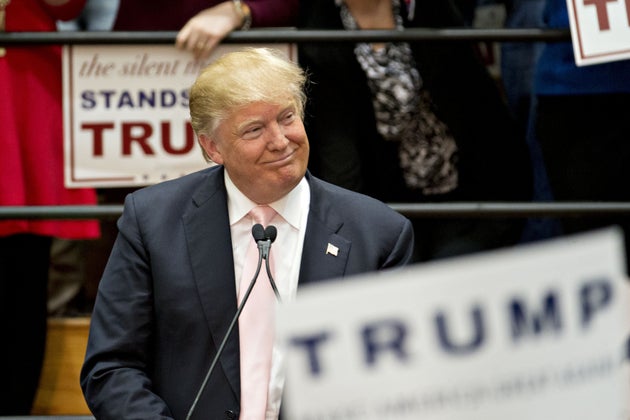 A sense of resignation about Trump's candidacy was evident among the more than two dozen voters HuffPost spoke to over the weekend in Virginia's King and Queen County, an elongated stretch of mostly empty farmland on the outskirts of Richmond, a traditionally conservative stronghold that is seen as favorable terrain for Trump's campaign.
"I like Rubio but I'm afraid we're going to get Donald Trump," said Newtown resident Melissa Ball, a self-described Republican who leaned libertarian.
While sparsely populated, King and Queen is a swing county in a swing state that could decide the fate of the general election come November. In the 2004 election, the county backed George W. Bush. Four years later, its residents sided with Barack Obama by a margin of 155 votes. In 2012, it again swung back to the GOP and former Massachusetts Gov. Mitt Romney by just 120 votes.
While not nearly as populous or affluent as sections of Northern Virginia, whose increasingly diverse population helped put the state in the Democratic column, King and Queen does have a sizable African-American population — 27 percent according to the 2010 census — a slightly higher proportion than the state as a whole. The demographic is key for Clinton, who has framed her campaign in part as a defense of Obama's legacy, and who recently notched an impressive victory in South Carolina with the aid of an overwhelming majority of black voters.
A racial divide was clearly discernible in candidate preference among the voters in St. Stephens Church, a small, unincorporated community of homes dotting the Virginia countryside, where both Democrats and Republicans alike wore camouflage and carried concealed firearms on their bodies.
Nearly every African-American voter interviewed for this story said they supported Clinton, believing her to be the Democrats' best candidate who could defeat the GOP nominee in November. They liked that she was experienced, knowledgable about foreign policy, and that she would look out for the middle class by expanding health care.
"I have a wife at home and she's on Medicaid. The coverage that she has is good, but it could be better. Medicare is not going to cut it. We need something else. But it shouldn't cost us a fortune," said Robert Wyrmley, a resident of King William County. "Trump is just a con artist. He's always talking about his money. What about the country?"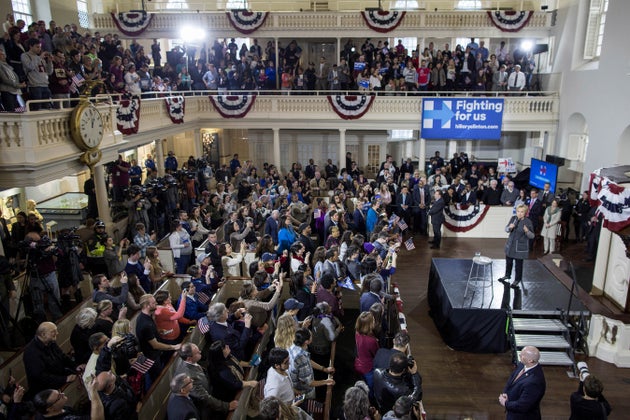 Demaryius Palmer, an undecided voter from nearby Tappahannock, said that he liked some of the things Trump said. The ominous anti-immigrant rhetoric, however, was a step too far for him.
"I just don't like the fact that he'll send back all the foreign people, does he plan on sending me back to Africa?" Palmer asked incredulously.
Over a dozen Republican and Republican-leaning voters in St. Stephens Church who were interviewed for this story said they supported Trump for being "pretty good to his employees," having good business sense, and being a political outsider who shunned corporate contributions. Many said they were even willing to overlook his harsher edges for a straight-talking agent of change who could stun Democrats with a resounding victory.
"Some of the things Trump says, I think, Goddamn, why is he saying that? But it's working," said John Williams, a retired service-member from Owenton.
Working-class whites like Williams make up a large portion of the Trump coalition currently making its voice heard across the country. It is a group of disaffected voters, like those in rural Virginia, which has suffered from economic decline, population loss and urban decay. It also includes a good chunk of less educated Americans who do not have a college degree, and who feel like they've been ignored by Washington.
Trump's rhetoric also resonated with Bradley Barry, a retired farmer in Newtown, who saw Obama as the main source of the country's ills. After using a racial slur to refer to the president, whom he blamed for raising taxes and "taking up for the black people," Barry said Trump's wealth could prove helpful to winning office.
"I would think Trump's going to get it. I heard he's all right. He's a rich crook, so it might help him," he said. "All his damn slot machines."
While Trump is no longer in the casino business, there is some concern among Democrats that his populist vows to protect Social Security and Medicare could appeal to working class voters across the Rust Belt and the Upper Midwest that the Democratic Party has safely relied on for years. Coupled with the prospect of low voter turnout in the general election — turnout for Democratic primaries has been noticeably lower than that of the GOP — and Trump could end up a serious threat.
One Newtown resident who was supporting Clinton said he could understand Trump's appeal, and cautioned that she ought to take nothing for granted.
"You never know, the way people are today," Russell Wormley said. "They like the damndest and the dumbest and the craziest."
Read more: www.huffingtonpost.com