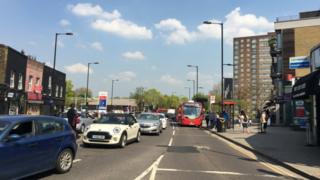 With its Tudor beams, scone-filled tea-rooms and a second-hand bookshop, Sutton House is just what you would expect from a National Trust property.
But the 16th-century house isn't in a quaint countryside village. It's on a busy main road in Hackney – one of the most deprived boroughs in London.
It's also in a prime position to target people from urban areas. That's something the National Trust's new boss Hilary McGrady says the charity needs to focus on as it adopts a "radical" new direction.
So how does the 123-year-old organisation change its traditional image?
What's the perception?
"People think National Trust is a crumbling pile in the country. People think that London isn't a National Trust place" – so says Sean Curran, one of the managers at Sutton House.
The charity, which had a record 24.5m visitors at its paid-for-entry properties last year, owns more than 500 historic houses, castles, ancient monuments, gardens, parks and nature reserves – most of them in rural parts of the UK.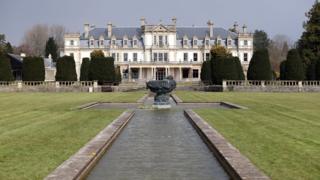 Mrs McGrady says it needs to be more relevant to town and city dwellers, saying "the days of walking into one of our beautiful houses and saying a family lived here – that's not going to do it".
"We need to think about what's relevant – why would someone in the middle of Birmingham say that's interesting?"
Just 17% of the UK population lives in rural areas, according to government statistics. And less than half of these people are under the age of 45. By contrast, 60% of people living in urban areas are aged 44 or younger.
Hackney's oldest house
Sutton House began life in 1535 as a home to merchants and sea captains, although it briefly housed squatters and was used as a music venue in the 1980s.
The Grade II listed manor house on Homerton High Street is the oldest property in Hackney.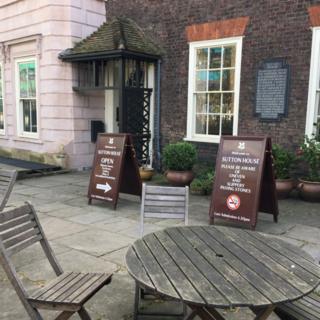 Sean Curran, 33, Sutton House's community learning manager, says he is "well aware" that many local people can't afford to pay to get in – it's £7 for adults – but that the local community gets involved in other ways.
"It's not free and isn't going to be in the budget for a lot of working families," he said. "We want the local people to come here and we accept that there are barriers."
"We're in a very unique place. It gives us the opportunity to be creative.
"It's not the typical twin set and pearls here – although we get that too. But that's not our community."
Some of their free activities, he says, include LGBT events, art workshops, history projects for refugees and a group called the Recycle Teenagers – mostly made up of women from the Caribbean community aged over 55.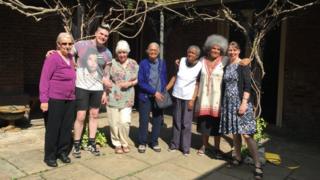 He said: "Even though there's no LGBT connection to the history of the house, we've held drinks nights and exhibitions – we wanted to challenge people to think about what a National Trust house could be."
It also has what it regards as another unique selling point: "We're the first National Trust house to have a gender-neutral toilet".
Gus Carrera, 28, who has lived and worked in Hackney for years, said he hadn't heard of Sutton House before.
"I don't think the National Trust is for people living in cities – it makes me think of big, grand places in the countryside," he said.
But it has made its mark on his colleague, Lucy Snowdale, 38, who said she found out about it when it was recommended to her by an older neighbour.
"I know Sutton House well, I've been there several times with my children," she said. "It's not too busy, like some other places, and has lots of events in the holidays."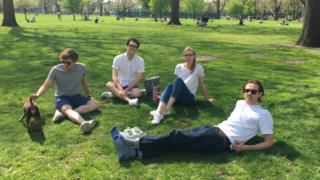 And a short walk away…
A mile down the road is a popular non-National Trust attraction – Hackney City Farm, which was set up in the 1980s to give people experience of animals.
It has free entry, and was bustling with people enjoying the unseasonably hot April weather.
Chris Pounds, who has managed the farm for nearly 20 years, explains how it gets the community involved.
"We've made ourselves into a hub for other activities, so it's not all about going to a farm – there's a local tenants' group who meet here, and a group of cyclists who help people fix bikes.
"It's kind of like dropping a pebble and getting a ripple effect.
"One person comes to the farm, then they say it to a friend – all these people started coming to us and using us as a hub.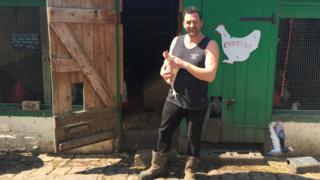 He says it will be "really hard" for the National Trust to overcome an image of being about grand houses.
"The cost probably does put people off the National Trust," he added. "But money is important for the National Trust, and for us, and you have to work with your budget."
Annual membership costs £69 for adults, £34.50 for young adults aged 18-25, and £10 for children – but daily prices can be expensive. A visit to Cragside in Northumberland, for example, can cost £19.80 for an adult ticket.
Trust's inner-city success
Planning a day out in Birmingham, it might surprise you to discover that sitting at the top of Tripadvisor's "things to do" in the city centre is a National Trust attraction.
Birmingham Back to Backs, as it is known, gives an insight into what life was like living in houses built back-to-back around a communal courtyard – and is based in the heart of the city.
Mukith Miah, learning and volunteer manager for the property, started an initiative eight years ago to make it more accessible and attract more people who represented the local community, as well as younger visitors.
He explains that the building is surrounded by four different communities – Chinese, Afro-Caribbean, LGBT and Irish – but when he joined Back to Backs those communities were not reflected by its volunteers or visitors.
He said: "We actually started to take the National Trust out to these groups, piggybacking onto their events.
"When you're looking at attracting a new community, when you present a (volunteer) role profile in front of them which is really academic, it's quite alienating.
"So we changed our language and the way that we presented ourselves."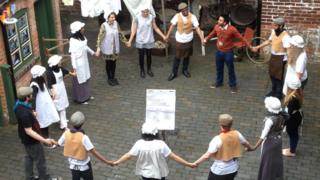 He says it took about 18 months to see a gradual change in the volunteer demographic, which in turn started to bring in more visitors from the local community, as they started to "feel a sense of belonging".
The property began a programme to encourage young people to become volunteers and it also targeted inner-city schools.
He wanted to make "history come alive" for young visitors. Children get to experience what life was like for a Victorian child, with activities including wearing costumes, topping and tailing in the beds, and lighting fires.
"Why would people want to come to the place? You have existed for a number of years. It doesn't matter if you're rural or in the city centre. You can make it happen – if you think creatively.
"You have to get out there and really engage," he said.
He says the National Trust is making some "headway" in becoming more accessible but the organisation's boss, Mrs McGrady, has "hit the nail on the head" by saying it needs to be more radical.
It needs to bring together people, he says, who "don't necessarily feel that the trust is a place for them".
Read more: www.bbc.co.uk