Marco Rubio and Jeb Bush have been jockeying to eclipse Trump and Cruz, and a failure to win over conservatives here could see them pushed out completely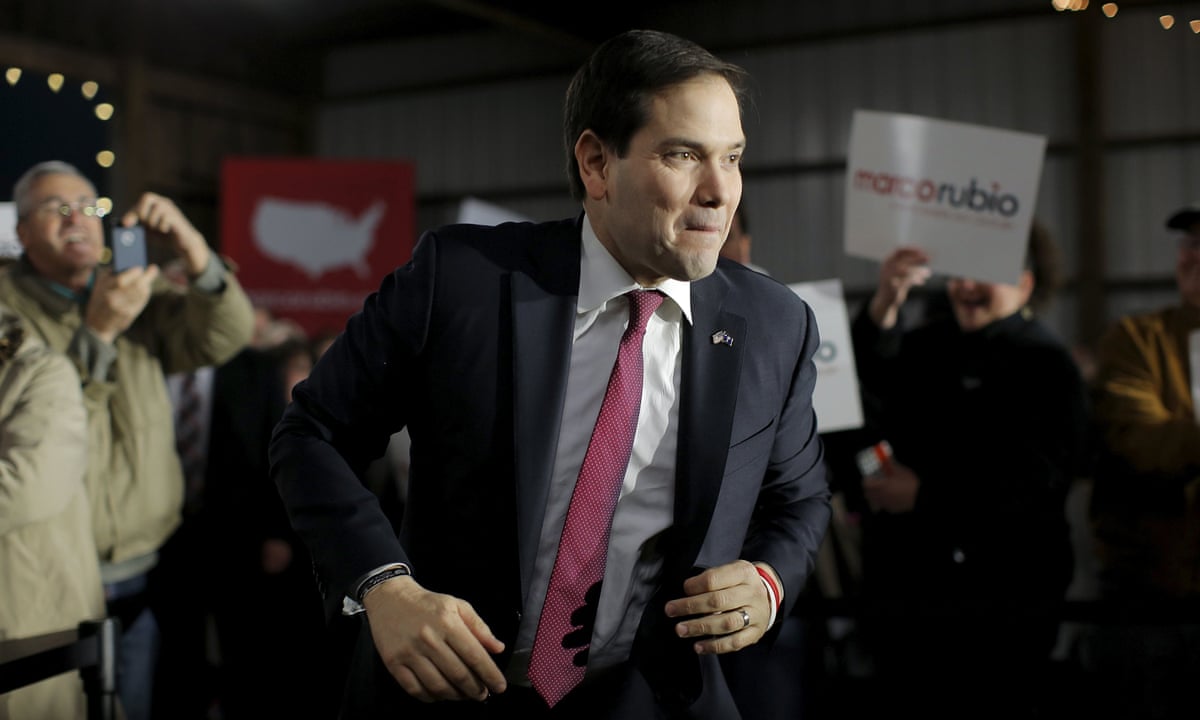 While Marco Rubio took the stage inside a barn flanked by two South Carolina lawmakers who like him were once seen as the future of the Republican party, two hours south-east in North Charleston Jeb Bush focused on the past, with his brother George W Bush joining him for the first time on the campaign trail.
The candidates jockeying to emerge as an alternative to Donald Trump and Ted Cruz have struggled to break through in a primary season that has thus far rewarded anger over optimism, and a failure to win over South Carolinas conservative electorate might cause the race to winnow down to a two-man contest between deeply polarizing figures regarded as unpalatable by the partys top ranks.
In searching for ways to seal the deal with those voters still willing to give them a look, Rubio and Bush arrived in the state attempting to create sharper contrasts to underscore what is at stake, focusing on their opponents lack of civility, dirty campaign tactics and, in Trumps case, perceived lack of religious conviction.
I promise you, if youre a parent, you are not going to have to put your hands over the ears of your children at any time today, Congressman Trey Gowdy told a couple hundred people who had packed into a barn on a tree farm in Gilbert to see Rubio. The crowd, recognizing immediately the reference to Trumps recent headline-grabbing use of profanity, hooted in agreement.
When Rubio grabbed the mic moments later, he looked anything but diminished despite a disappointing fifth-place showing in New Hampshire. Criss-crossing the state with Gowdy and Senator Tim Scott in tow, Rubio hit the trail encouraged by positive reviews for his most recent debate performance on Saturday a much-needed return to form after his now-infamous encounter with New Jersey governor Chris Christie in the previous debate.
Theres a reason I get attacked by every other Republican, Rubio had explained to voters at an earlier town hall in Rock Hill. Because we draw voters from them, because we can speak to every part of our party.
The Florida senator emphasized what he said was a 15-year record of applying conservative principles in public service. And, on the other side of town, George W Bush similarly touted his brother Jebs conservative bona fides as the candidate continued to attack Trump.
George W Bush echoed his brothers criticism of the Republican frontrunner on Monday, telling the crowd: I understand Americans are angry and frustrated. But we do not need somebody in the Oval Office who mirrors and inflames our anger and frustration.
The elder Bush brother also rejected the label of establishment that his brother along with Rubio and Ohio governor John Kasich has been identified as belonging to.
If being president of the United States makes me part of the establishment, Bush said, well, I proudly carry that label.
Quoting his father, former president George HW Bush, he added: Labels are for soup cans.
Cruz and Trump are riding high after resounding victories in Iowa and New Hampshire, respectively, and Trump is leading the polls in South Carolina, with Cruz second. At the other end of the spectrum are Jeb Bush and Kasich, facing an uphill battle in terms of resources and the ability to expand their appeal among the more conservative wing of the party; Kasichs decision to start the week campaigning in the more moderate terrain of Michigan instead of South Carolina seemed to be an acknowledgement of this.
Meanwhile Rubio, seeking to revive the momentum he lost in New Hampshire, continued to claim a spot somewhere in between.
Despite his disappointing performance in that primary, the senator insists he is uniquely positioned to bridge the gap within the party and win the general election.
Speaking to reporters aboard his campaign bus on Monday, Rubio took aim at both Cruz and Trump as candidates whose support has a ceiling.
Ted is not someone who can bring the party together; hes not someone who can grow the party, Rubio said, adding of Trump: Hes obviously got a message thats resonated with some people … but ultimately you also have to be able to unite our party.
We have to be able to take our conservative principles not water them down but convince more people to vote conservative.
He echoed one of his themes from the stump, warning voters what the consequences might be if the party allowed itself to be engulfed by Republican-on-Republican violence rather than keeping its sights focused on retaking the White House after eight years.
We cannot lose this election, and we cannot win if we are divided against each other, Rubio said. The Democrats would pay us to continue to fight against each other well into October. When I am our nominee, I will bring the party and the conservative movement together.
Blair Shropshire, a voter who came to see Rubio in Rock Hill on Monday morning, was mostly convinced. For him, it was down to the Florida senator or Kasich even if the governor was not competing strongly in the southern states.
He has a very good track record in Ohio, and I like his unifying message, Shropshire said, while adding his appreciation for the fact that neither Kasich nor Rubio appeared to attack their rivals unless prompted.
I think Rubio has the best shot of defeating Hillary [Clinton], he said. I just hope he can overtake Trump and Cruz.
Read more: www.theguardian.com