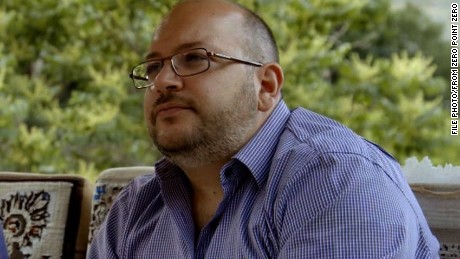 (CNN)Iran has freed four prisoners from the United States, including Washington Post journalist Jason Rezaian, Iran's semi-official FARS news agency reported Saturday, citing Tehran's prosecutor.
Senior U.S. administration officials confirmed the release as part of a prisoner swap involving seven Iranians held on sanctions charges. The deal comes after more than a year of secret negotiations, the officials said.
According to FARS, Iran freed Rezaian, Marine veteran Amir Hekmati and Christian pastor Saeed Abedini, who had been held on various charges. FARS identified the fourth prisoner freed as Nosratollah Khosrawi. Details of Khosrawi's case were not immediately known.
"Based on an approval of the Supreme National Security Council (SNSC) and the general interests of the Islamic Republic, four Iranian prisoners with dual nationality were freed today within the framework of a prisoner swap deal," FARS quoted the office of the Tehran prosecutor as saying.
The announcement comes on a day when the U.N.'s nuclear watchdog is expected to announce whether Iran is in compliance with a July deal to restrict its nuclear program.
If the International Atomic Energy Agency certifies that Iran is in compliance, some international economic sanctions against Iran are expected to be lifted.
Rezaian was detained by Iran in 2014 and eventually charged with espionage and other crimes, according to the Washington Post. He was the newspaper's Tehran bureau chief.
The newspaper and the United States have called the charges "absurd." Supporters say he has been denied proper legal representation.
The Post released a statement Saturday saying that, "While we are hopeful, we have not received any official word of Jason's release."
Rezaian's brother Ali also said he had no immediate confirmation of the news.
Hekmati was detained in 2011, weeks after arriving in Iran to visit his grandmother, according to his family's website. The former Marine infantryman and Arabic and Persian linguist was accused of espionage and other charges in 2012.
He appeared on Iranian television and said he was working for the CIA in a confession her mother and the U.S. State Department has said was forced and fabricated.
He was later sentenced to death.
The punishment was later overturned, but Hekmait was later convicted of "cooperating with hostile governments" and sentenced to 10 years in prison, according to a website set up by his supporters.
During his imprisonment, he has suffered from health problems, including weight loss and breathing difficulties, according to his family.
Abedini, an Iran native and convert to Christinanity, was arrested in 2012 and convicted the next year on charges of attempting to undermine the Iranian government. He had been sentenced to eight years in prison.
His arrest came three years after he had been arrested by Iranian authorities and later released after agreeing to stop organizing churches in homes. His 2012 arrest came during a trip to help build a state-run secular orphanage.
The American Center for Law and Justice, a Washington-based group dedicated to protecting religious and constitutional freedoms, reported that Abedini has endured torture during his imprisonment and was beaten by fellow prisoners in June. He suffered injuries to his face during that incident, the center reported.
The releases appear to leave unresolved the fate of Robert Levinson, a former FBI agent and CIA contractor who disappeared after visiting Iran in 2007. As described in Iranian media, the deal does not appear to include Levinson, who is not Iranian-American.
Iran has denied any knowledge of his whereabouts.
Read more: www.cnn.com