As the scandal over international corruption and vote buying for the 2016 Olympic Games escalates the International Olympic Committees myopic response has again left more than a little to be desired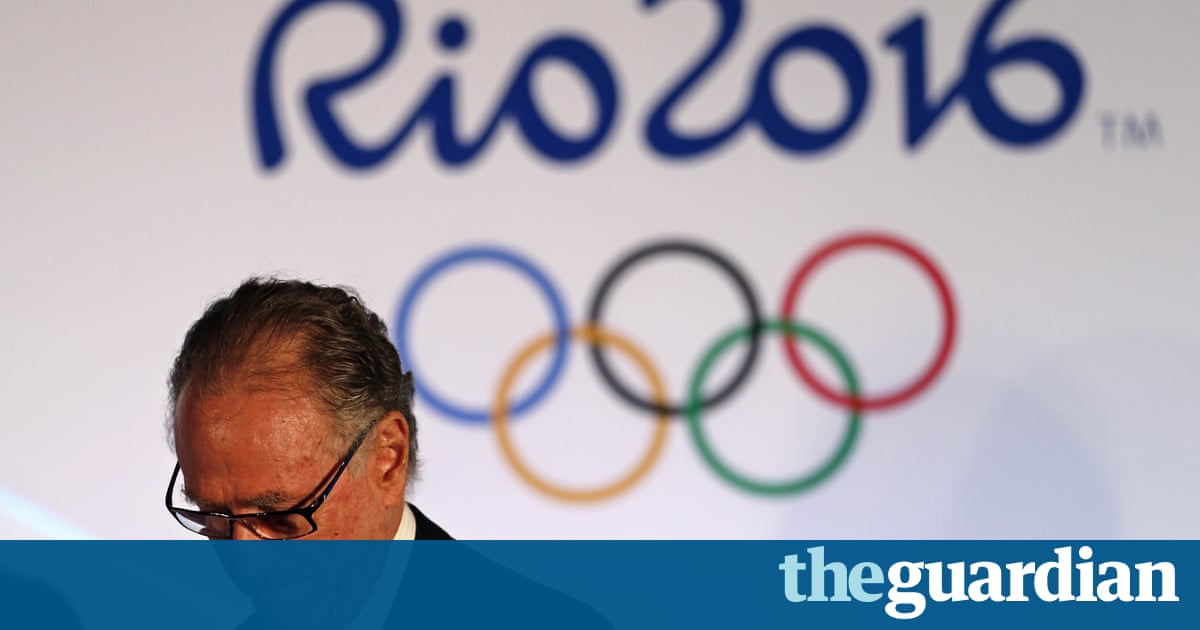 As the Olympic flame was lit before beginning its journey to Rio last year the IOC president, Thomas Bach, intoned: "The Olympic flame means hope to us all." Mr Bach will likely be feeling hopeful now, with the news that the Rio home of Brazil's Olympic committee chief has been raided, along with various other addresses, as part of a major investigation into international corruption and vote buying for the 2016 Olympic Games.
Bach will be hopeful that this is just a cosmic misunderstanding, hopeful that the £155,000 cash the police reportedly relieved Carlos Nuzman of was just one of those classic things everyone keeps in their cupboard, hopeful that the usual horse will ride to the rescue. (Which is to say, hopeful that Fifa – the IOC's Swiss neighbours, and fellow candidates for an international ASBO – will do something even worse to distract attention.)
As for the residents of the Rio favela who demanded water and sanitation and instead saw £22m spent on a cable car … they might be as sarcastically "hopeful" as they ever were. A year after the IOC blew out of town with billions in its coffers, Rio is effectively bankrupt, with public employees from hospital workers to teachers unpaid for weeks. Swings and roundabouts, isn't it? The Olympic flame never goes out, but without federal handouts, the lights in Rio would.
But even back then, it should have been clear to Bach that residents of Rio didn't feel remotely hopeful when a mega-event they could ill afford came to town. If he found the local reaction somehow opaque, for others the clues were fairly readable. The protesters. The stoning of the torch relay. The spectacle of half-empty Olympic venues appearing to fall into disrepair even during the fortnight of competition.
Instead, he preferred not to look too hard. Selective blindness is in many ways his organisation's default position – consider the IOC's failure to ban Russia from Rio despite the discovery of what Wada's former chief investigator called "the most outrageous doping and cover-up and corruption possible". And on Tuesday, as news of the raids broke, the word from Lausanne was determinedly myopic again: "The IOC has learned about these circumstances from the media and is making every effort to get the full information. It is in the highest interests of the IOC to get clarification on this matter."
Why are they always the last to know? Perhaps because the highest interests of the IOC are not in admitting how their tax-free money siphon works, but in ensuring it has new feeding grounds lined up. Details of various bribery and corruption investigations have been seeping out ever since the Rio Games. Mr Bach's priority has seemed to be elsewhere: cutting a deal with Paris and LA, locking in the only cities remotely interested in hosting the 2024 and 2028 Games, and buying himself a bit of breathing space to work out how best to secure his parasitic event's future in a world where you increasingly need to be stupid, corrupt or an ambitious autocracy to even have thoughts of hosting a Games.
Tuesday's raids should at least prove sobering for the man who piously reacted to the Fifa scandal by declaring: "We hope that now, finally, everyone at Fifa has at last understood that they cannot continue to remain passive. They must act swiftly to regain credibility because you cannot forever dissociate the credibility of Fifa from the credibility of football." Quite how much credibility Olympic sport has to lose is a matter of opinion – but Bach's passivity is becoming ever more awkward to maintain.
Lewis Hamilton: poetry in motion
Given the always-precarious state of the journalism game, I was thrilled to discover that Lewis Hamilton writes about as well as I drive. I could easily envisage a professional future where we solve literary crimes together in a gullwinged supercar.
For some, alas, last week's highest profile literary crime was Lewis's poem to Princess Di, which he penned and posted to Instagram on the anniversary of her death. There was much to enjoy in this heartfelt opus, from Lewis's assured couplets "Hearts still full of the love she gave/20 years since she laid in her grave" to the intriguing decision to tag in @vanmorrisonofficial. Arguably more enlightening was the section which ran "The people's princess/Who came to see/The love from a Country /We'd hope she'd lead." I confess I had no idea that Diana had ever been earmarked as a future leader of Britain – much less of Monaco – but if that was indeed the case, it puts a whole new light on things, even after all this time. And, indeed, all this light.
Either way, you can't knock the results of Lewis wearing his heart on his sleeve, next to other commercial sponsors such as Epson and Bose. Indeed, he specifically credits feeling more in touch with his heart with his recent surge of success. "I feel more heart and passion within myself," he explained at the weekend. "I have found more in myself in the last three or four races. Silverstone was an empowering weekend and sparked a forest fire within me and hopefully that reflects in the way I am driving … While I feel like I always drive with my heart, and my heart is the power and force behind what I do, I think my mind is like the rudder and I feel it has been steering me in the right direction."
Can it really be a coincidence that Hamilton is hitting poetic form at the same time? I refuse to believe this is correlated and not causal.
Perhaps there is something for Gareth Southgate to consider. As you will be more than aware, Southgate is leading England's endless search for the precise combination of abstract nouns that will make them much better at football/more appealing than second‑half snifters in a Maltese bar. Heart, pride, identity … perhaps England could begin each international week with a poetry ritiro, where the entire squad is confined to a room until they have written a poem to lament or commemorate something vaguely topical. It doesn't matter how bad it is – indeed, perhaps the worse the better. Really very bad poetry seems to go hand in hand with a performance uptick.
Read more: www.theguardian.com