By one count the president has nine impeachable offenses to his name but the politics of removing him from office are complicated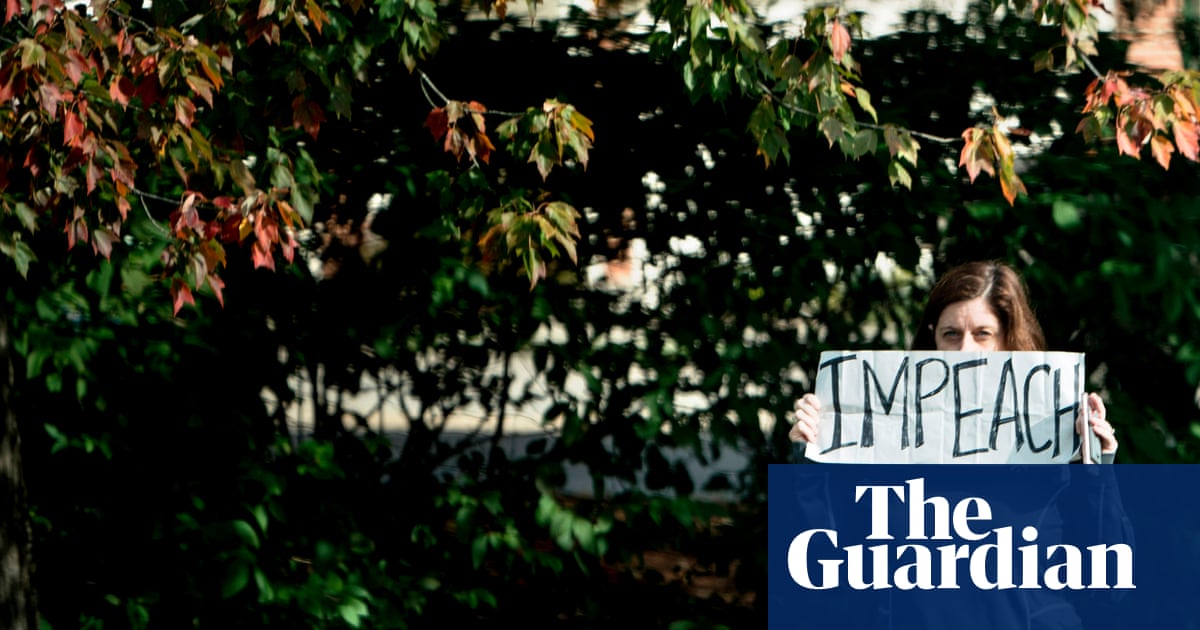 Donald Trump and the Republicans want to talk about his impeachment and removal from office. Democrats would really rather not.
The political paradox was laid bare this week when the president warned on Fox News: "If I ever got impeached, I think the market would crash, I think everybody would be very poor. You would see numbers that you wouldn't believe."
Empirical proof of this dire prophecy will have to wait, but Trump's conjuring of his presidency reaching its ultimate reality TV denouement – the late-night showdown on Capitol Hill, the final defiant speech to tearful staff, the helicopter taking off from the White House lawn – came after his former lawyer and fixer, Michael Cohen, stood in court and directly implicated him in a federal crime.
Pleading guilty in New York to bank fraud, tax fraud and campaign finance violations, Cohen claimed Trump directed him to pay "hush money" to two women who allege extramarital affairs ahead of the 2016 election. The scandal, twinned with the financial crimes convictions of Trump's ex-campaign manager Paul Manafort in another court more than 200 miles away, revived demands for the president's departure.
US internet searches about "impeachment" soared, according to Google Trends. The word was seemingly uttered every five minutes on cable TV. Bret Stephens, a conservative columnist for the New York Times, wrote that he had long been sceptical but "Michael Cohen's guilty plea changes this. The constitution's standard for impeachment is 'Treason, Bribery, or other high Crimes and Misdemeanors.' The standard is now met."
By some experts' reckoning, Trump has now committed nine impeachable offences. If Richard Nixon and Bill Clinton could be forced to face the music, the logic goes, why isn't he? Around the world, observers are left asking: why are Democrats so cautious about this, so milquetoast?
LaTosha Brown, a civil rights activist in Atlanta, Georgia, said: "We're past Watergate right now, we're past Clinton. There's more incriminating evidence. Why does the line keep getting pushed back?"
Yet for Democratic leaders, impeachment is the manoeuvre that dare not speak its name. While they have not issued formal instructions to the rank and file, this week Nancy Pelosi, the House minority leader, declared it was "not a priority" and published a letter urging members to "stay focused on delivering our strong economic message" and "cleaning up corruption to make Washington work".
Their reasoning appears to be both principled and strategic.
Special counsel Robert Mueller's investigation into alleged collusion between the Trump campaign should be allowed to run its course, Democrats argue, especially in the current hyperpartisan environment. Bob Shrum, a Democratic strategist, said: "The only way for it to have credibility politically and not tear the country apart is to let Mueller complete his investigation."
Second, Democrats fear they could be accused of overreach, that pushing for impeachment now would backfire in November's midterm elections, just when they seem poised to retake the House. It might turn out to be the magic elixir that fires up Republicans wary of an attempt to overturn the result of the 2016 presidential poll.
Read more: www.theguardian.com