The fencer missed out on a medal in the womens sabre but by competing as a proud Muslim American she played an important role for her country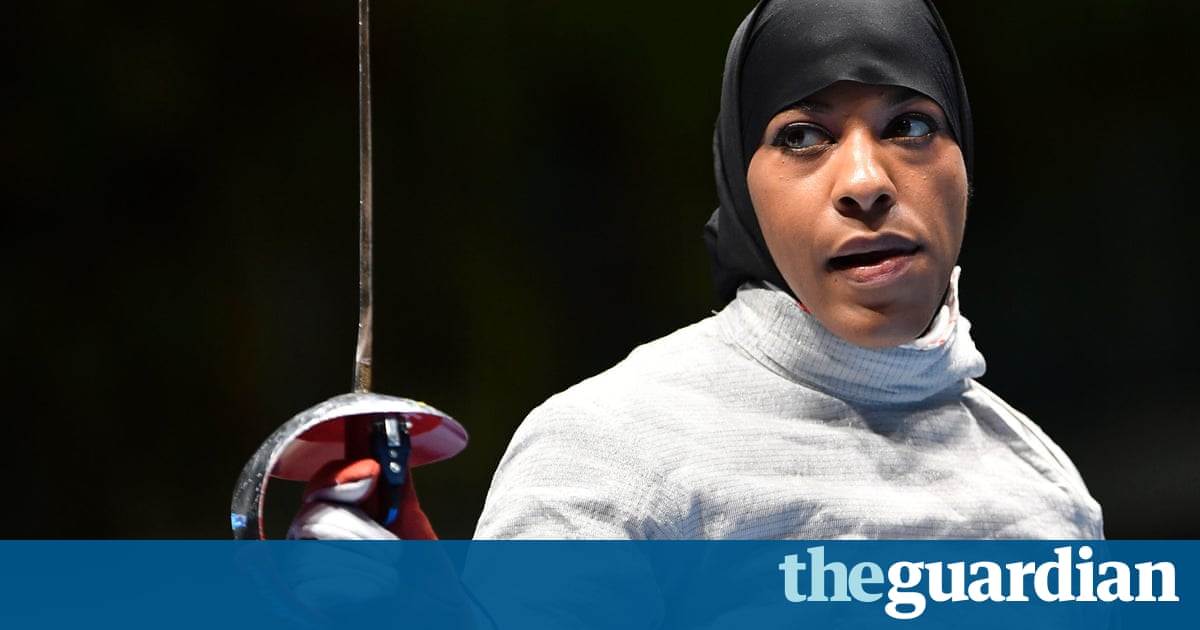 Anyone who thinks that as a Muslim woman Ibtihaj Muhammad is not worthy of every bit of her nations acclaim should have watched her in the Carioca Arena 3 on Monday morning. They should have seen her pull the fencing mask with an American flag over her black hijab and then battle Ukraines Olena Kravatska to a second round Olympics win. They should have watched as she fought back in the third-round against Cecilia Berder of France until she stumbled on the final, deciding point and tears formed in her eyes, and her family and friends shouted USA! USA! USA!
Maybe then they would have realized she might be the most essential Olympic athlete the US has this summer, as a presidential candidate appears to have forgotten what an American looks like.
If Donald Trump needs a reminder she stood in a hallway beneath the arenas stands early Monday afternoon, her eyes wide and clear, her voice strong and words firm. She didnt scream, she didnt plead, she didnt cry. She simply said: I feel proud to represent Team USA even in defeat.
She was here to fence, which is what got lost on the way to her first Olympics. In any other Games she would have been another 30-year-old woman from New Jersey, a mild curiosity as the first American female fencer to compete in a hijab. Her loss would have been a small note on NBC. Mostly her face would have disappeared in the montage of head shots the US Olympic Committee publishes of all 554 athletes who are here, barely recognizable in the mosaic that is America.
But the spring of Donald Trump has melded into the summer of Donald Trump and the words spilling from the campaign back home have made Ibtihaj Muhammad more than just another athlete on just another US Olympic team. She has become one of the best symbols against intolerance America can ever have.
Its almost like how can you not see that Muslims are like any other group? she said on Monday. We are conservative, we are liberal. There are women who cover, there are women who dont. There are African American Muslims, there are white Muslims, there are Arab Muslims. There are so many different types of Muslims. So many Muslim countries have women as heads of state. And there are things I want people to be aware of. I want people to not see just those women but also Muslim women who participate in sports. The Saudi Arabian team, the Kuwaiti team and now the American team.
Muhammad had a message even in her loss. The Olympics, she said, are bigger than her, bigger than any personal ambition or childhood dream. Monday wasnt about her performance, it was about standing before the world and saying that her pursuit is as important as anybody elses, that a loss should be a victory for so many other people who dont have the luxury of competing in an Olympics.
I think that anyone who has paid attention to the news would know the importance of having a Muslim woman on Team USA, she said. Again, its not just any team, its the United States of America. In light of all the political fuss that we hear about, all these things I feel like kind of circle back to my presence on Team USA. And again, its challenging those misconceptions that people have about who the Muslim woman is.
She was asked what those misconceptions are.
That someone is forcing me to wear this hijab, she said. That Im oppressed. That I dont have a voice. Anyone who knows me knows that Im vert vocal, very verbal, and very comfortable expressing myself. Ive always ben like that. I remember being told that I shouldnt fence as a kid because I was black, and its like why? I want to fence, and this is what I want to do.
She said her parents never said her religion or gender should stop her from doing what she wanted. Her father Eugene, a former cop, pushed his kids in sports like any other American father who wanted a family of athletes. He never wanted his daughters to feel they couldnt compete because they wore clothes that were different from the kids at Columbia High School. He found his girls fencing for the same reason he found his son football. She chased her brother through their backyard pool and across sports fields all over town. She wants other girls to feel they can do the same.
I feel like its been a blessing to represent so many people who dont have any voices and dont speak up, Muhammad said. Its been a really remarkable experience for me.
On Monday, Muhammads good friend Isis Washington sat in the second row of the stands with Eugene Muhammad, his wife Denise and other family and friends. As one of Muhammads best friends she has seen things that should fill any American with rage. One day as she and Muhammad walked through Times Square on the way to practice, a man approached them and said: Are you going to blow something up?
I was like: Is this man serious? Washington said on Monday before Muhammads final match.
Washington shook her head. She is not a Muslim and in many ways she is still curious about her friend and her faith. She took a class on Islam in college so she could understand better Muhammads experiences. She has a sense of pride, Washington said. Shes dutiful. Shes very religious, obviously. She just cares more than most people. Shes very accepting.
Washington was asked about Trump and the rhetoric that has spilled from the campaign. She sighed. To be honest its shedding the light on the issue [of intoleranc], she said.
Which is why Ibtihaj Muhammads Olympics have come at the right time. She didnt need a medal on Monday to hopefully change attitudes. Pulling a mask over her hijab and stepping into the worlds biggest sports competition was more than enough.
Read more: www.theguardian.com