Kaleb Dahlgren was on the way to a playoff game when his team bus was involved in a collision that killed 16. Now he is planning to return to the sport he loves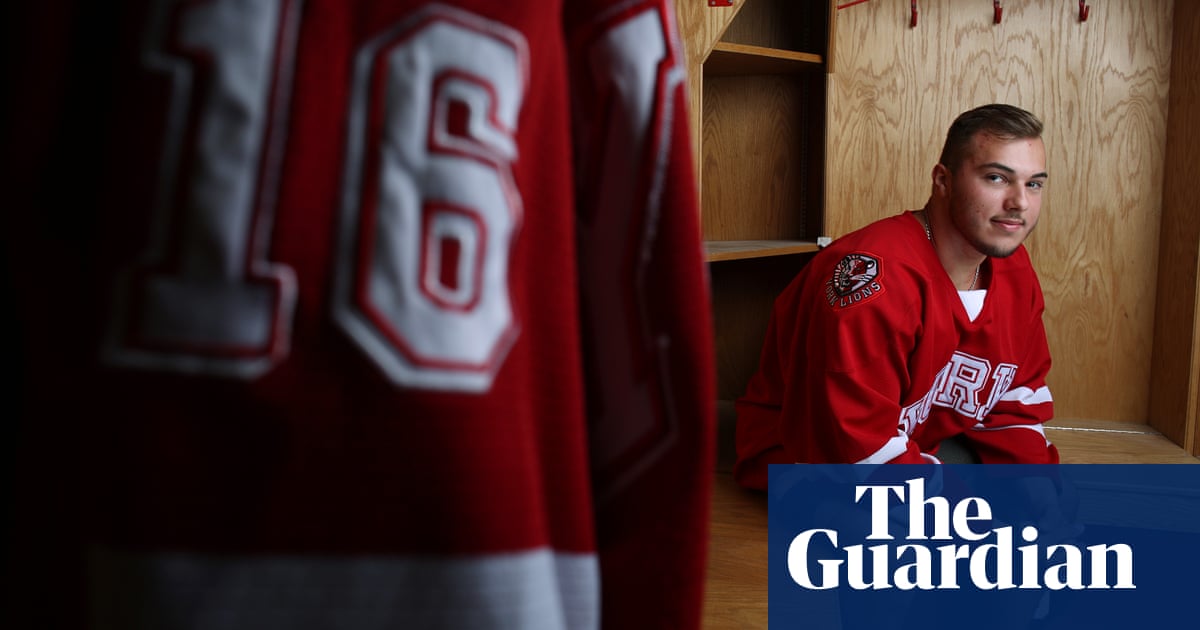 It was a sun-drenched Friday, the last day of August. Fitting because Kaleb Dahlgren was in a sunny mood. He breathed in the warm campus air for the first time as a member of the York University Lions varsity hockey team.
Go back to another Friday, only five months ago, and the scene was very different, more like a horror film.
Dahlgren and his Humboldt Broncos junior hockey team were travelling to a playoff game along a rural road in Saskatchewan, western Canada, when a truck tore through an intersection and smashed into their bus, killing 16 people and injuring 13. The truck driver, Jaskirat Singh Sidhu of Calgary, was charged with multiple counts of dangerous driving causing death and bodily harm.
Dahlgren's recovery has been nothing short of remarkable, although the comeback has been torturous, his life chaotic. And his parents, Mark and Anita, have had to learn how to speak to other parents who have lost kids when their only child survived.
"We want him to live big," his father Mark, a burly, easygoing man, said. "I said never say no. Say yes to everything unless it's illegal or immoral, although a little illegal might be OK." He chuckles.
More than ever, Mark said Kaleb needs to live his life as big as he can for himself and for others who were unable to live theirs.
After a campus tour, Dahlgren was shown into the Lions' dressing room by head coach Russ Herrington. He surveyed the room and, when the coach pulled back a sliding white board to reveal a video monitor, Dahlgren's eyes grew wide. "That's cool," the 21-year-old said.
Dahlgren, who wore No 16 last year for the Broncos, asked for the same number at college, and his request was granted. It's symbolic. Sixteen people died in the crash. And Dahlgren will wear that number proudly to honor the dead.
Although Dahlgren's body shows few visible scars, he suffered a fractured skull, a puncture wound to his head, two broken vertebrae in his neck and four others in his back, as well as a brain injury.
Dahlgren was sitting in the back of the bus at the time of the collision, and, according to the first responders, he was walking around after the crash trying to help others, but he has no memory of that. When he woke up in hospital the next day, he didn't know why he was there. He had thought he got hit from behind during the game and asked, "Did we win?"
Like most Canadian kids, Dahlgren loved hockey and at nine became obsessed with working out and nutrition. He wasn't going to let his dreams die, even though he was living with diabetes like former Philadelphia Flyers captain Bobby Clarke, who came to visit Dahlgren after the crash.
Until he gets medical clearance, Dahlgren will only engage in non-contact workouts with the York Lions, one of the best university teams in Ontario. The goal is to suit up after Christmas, but it's more realistic that his debut will come next fall.
In hospital, Dahlgren was visited by several celebrities, including his favorite player, former Colorado Avalanche captain Joe Sakic, who also was a survivor of a hockey bus crash that killed four players with the Swift Current Broncos in 1986, also in Saskatchewan.
Sakic came to visit Dahlgren late one night. But hospital security warned that visiting hours were over.
"Well, my friend Joe Sakic would like to see my son," Mark Dahlgren said. The guard blanched. "Oh, my God, that's Joe Sakic." She shook his hand and said, "My husband is never going to believe this." Sakic and Kaleb talked hockey for about an hour.
The death of assistant Broncos coach Mark Cross struck very close to home. Cross had played for the Lions from 2011 to 2016 and sold Dahlgren on the virtues of York and the head coach. "I wanted to go to York to honor Mark," Dahlgren said.
At the end of September, the York Lions hockey team will travel to Saskatchewan with Dahlgren to participate in the Mark Cross HumboldtStrong Remembrance Tour, which will include one game in the Broncos home rink, as part of a fund-raising effort.
Herrington had made an offer to Dahlgren even before the accident and wasn't going to back down. "I said [to his supervisors], 'I am still going to extend an offer and I don't care if Kaleb is ever cleared medically to play a game.' I told Mark and Anita that as long as I'm in the position at York, this offer stands."
Dahlgren has every reason to "float" through life, Herrington suggested, but he has become a living example of overcoming extraordinary adversity, something which will resonate with the team.
"We're all going to go through something in life where we won't want to have to turn the page, or it's difficult to turn the page," the coach said. "But to have someone in the room who you can look at and kind of learn from the way he's dealt with it, I think is invaluable."
Dahlgren will continue his work with diabetes awareness. Last year he pitched the idea of "Dahlgren's Diabeauties." At each of the Broncos' home games last November, a child with Type 1 diabetes was featured as a Dahlgren Beauty. The child and their parents received tickets to the game, and afterwards, the family got to meet and chat with Dahlgren.
Next summer, Dahlgren plans to get a tattoo on his arm to honor Humboldt, diabetes awareness and his love for family. He's looking around for artists. "[The tattoo will probably be] a half-sleeve," Dahlgren said. "There's a lot of things in my life that mean a lot to me. My family has helped me through this whole process."
His father was in a serious accident himself about five years ago when his vehicle was struck at high speed in an intersection. A month later, internal injuries surfaced, which affected him for two years.
"When I was in the hospital, they thought I was going to die," Mark Dahlgren said. "I couldn't walk. I couldn't go to Kaleb's games."
With his first team meeting this week, Dahlgren asked the coach if he could address the group. He was rehearsing the speech. "I would just like to say, 'I'm going through things myself. And I'm OK talking about it. You guys don't have to tiptoe around me. I'm a normal dude. Just treat me like a normal guy on the team. If I need help, I'll ask.'"
The coach said Dahlgren's courage dovetails nicely with the team nickname.
"He is a lion," Herrington said.
Read more: www.theguardian.com