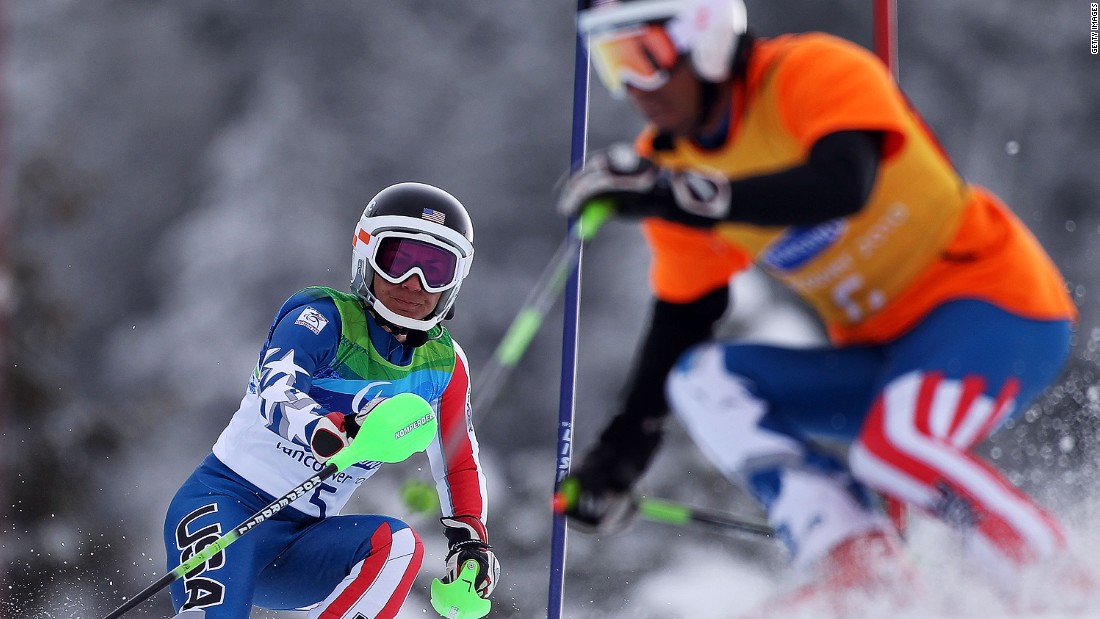 (CNN)Danelle Umstead can't see when she skis down a mountain.
Instead, the visually impaired alpine ski racer relies on her husband and guide, Rob, to get her down safely.
"The fear does creep into your mind and into your heart," said Umstead, who competes on the US Paralympic Team. "You just have to use that mental training and harness that inner strength and let it go."
Skiing changed her life
Umstead grew up with low vision and wore thick Coke-bottle glasses to see. Her vision got worse at 13 when she was diagnosed with retinitis pigmentosa, a degenerative disease.
"I lost all usable vision in my right eye," she said. "It was really tough growing up and getting involved in sports."
Over time, her vision continued to deteriorate. By 27, Umstead lost central vision in her left eye and fell into a deep depression.
"It seemed like my life was just crumbling day by day," she said. "I spent a long time feeling like there was not an easy way out or a way out at all."
Through this difficult time, her dad called her up.
"He said, 'We're gonna go skiing. … I'm gonna be your eyes, and you and I are gonna go skiing,' " she said. "We went down the mountain, and my life changed from that moment forward."
Umstead fell in love with the sport and moved to Taos, New Mexico, to ski as much as she could. It was there that she met Rob.
"I knew from the moment I met him that I wanted to spend the rest of my life with him," she said.
Rob became her full-time guide on the slopes. He skis in front of her, calling the commands.
"I'm basically thinking out loud and telling her everything that is happening," he said. "I'm telling her when I'm starting my turn, when I'm finishing my turn; I'm describing the terrain and changes in the course."
They wear Bluetooth headsets in their helmets to communicate on the mountain.
"We've learned a lot through skiing. I've learned how to trust. I've learned how to communicate," she said. "We ski up to 70 miles per hour … so I'm 100 percent relying on my husband."
Road to the Paralympics
After getting married, the Umsteads trained hard to make the national Paralympic team. In 2010, they captured two bronze medals in the women's downhill and super combined events for the visually impaired at the Paralympics Winter Games in Vancouver.
But later that year, she faced another medical setback after a training session in Colorado.
"I woke up the next morning, and I couldn't feel anything on the right side from my rib cage all the way to my foot," she said.
Rob took her to the hospital, and they found out she has multiple sclerosis.
"I had to learn how to walk again; I had to learn how to jog again; I had to learn how to do sit-ups again," she said. "It put a big wrench in our skiing career, but it put a big strength in our love and my trust and all that my husband has to offer."
Rob was with her every step of the way as she worked with a team of experts, including neurologists and physical therapists, to fight her way back to the sport. She was determined to get back on snow.
"I didn't start living my life until I started sport. And sport has given me the life that I love and enjoy," she said. "So why wouldn't I fight to get that back?"
Despite the diagnosis, Danelle, now 44, and Rob captured another bronze medal in the super combined event at the 2014 Paralympic Winter Games in Sochi, Russia. And they've got their sights set on the 2018 Games in South Korea.
"My biggest goal is to bring my son and my father, who introduced me to the sport, to the Games," she said. "That would be a gold medal for me."
Tell us your story
We love to hear from our audience. Follow @CNNHealth on Twitter and Facebook for the latest health news and let us know what we're missing.
Through it all, Umstead said, skiing has made her marriage stronger.
"Every day is different. Every course is different. Our communication changes, terrain changes," she said. "It's scary. But I like it, and I wouldn't want to do it with anybody else."
She also hopes her story will inspire others.
"I've had many situations in my life where I have given up," she said. "I've had to learn to believe in myself so the rest would fall into place."
Read more: www.cnn.com