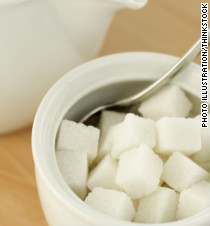 (CNN)Scientists began to uncover a link between sugar and heart disease about 60 years ago, and now, the general consensus among experts is that sugar intake is associated with heart disease risk.
But why did it take so long for researchers to inspect this link?
A group then called the Sugar Research Foundation funded some of the early research on fat as the primary risk factor for heart disease, a "sophisticated" tactic to overshadow other research that placed blame on sweets as a risk factor, according to researchers.
The foundation, now called the
Sugar Association
, questioned the new paper's findings in a response to CNN, saying it's "challenging for us to comment on events that allegedly occurred 60 years ago, and on documents we have never seen." The organization was founded in 1943 by members of the American sugar industry and was dedicated to the scientific study of sugar's role in food, as well as communicating that role to the public.
Schmidt, Kearns and Glantz have done the science community "a great public service" by resurfacing the history of funded heart disease research, said Marion Nestle, a professor of nutrition, food studies and public health at New York University, in an editorial accompanying the new paper in JAMA Internal Medicine.
"As George Santayana famously said in 'Reason of Common Sense' (1905), 'Those who cannot remember the past are condemned to repeat it,' " she wrote.
Just last year,
Coca-Cola was exposed
funding health research to claim that exercise can mitigate the effects of excessive consumption of its products, according to a written statement from Dr. Jim Krieger, founding executive director of the nonprofit Healthy Food America. Krieger was not involved in the current study.
"We have to ask ourselves how many lives and dollars could have been saved, and how different today's health picture would be, if the industry were not manipulating science in this way," he said in the statement. "Only 50 years later are we waking up to the true harm from sugar."
Read more: www.cnn.com