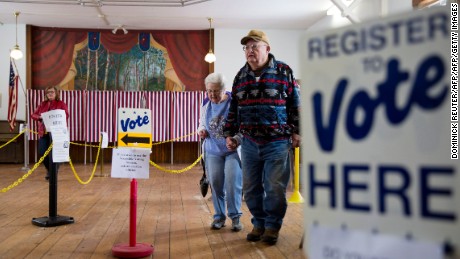 (CNN)This story was reported by Dana Bash, Gloria Borger, Abigail Crutchfield, Jeremy Diamond, Chris Frates, Noah Gray, Ashley Killough, Betsy Klein, Elizabeth Landers, Phil Mattingly, Dan Merica, Sara Murray, Mark Preston, Manu Raju, Gabe Ramirez, Maeve Reston, Lauren Selsky, Sunlen Serfaty, Cassie Spodak, Gregory Wallace, and Jeff Zeleny.
There was more than a hint of irony in Donald Trump's win in New Hampshire Tuesday night.
In a state that has always been known for giving new political life to the hardest-working candidates, he swept the field. He lapped his closest challenger, Ohio Governor John Kasich, by double digits, and he notched his first win in this presidential contest by acting more like a traditional candidate.
Trump's victory speech was gracious and restrained with a long list of thank yous for family members and campaign staff. He acknowledged that he had learned the lesson in Iowa that the ground game matters, and paid more attention to turning out his voters in New Hampshire. Most striking, he had nothing but compliments for his fellow rivals.
In fact, Trump had been a mere spectator in the biggest brawl of the week — the showdown between New Jersey Gov. Chris Christie and Florida Sen. Marco Rubio that recast the Republican race.
Entering New Hampshire after the Iowa caucuses last Monday, Rubio had been the candidate to beat, but Trump didn't even touch him. It was Christiewho demolished Rubio, halting his momentum during Saturday night's debate in a moment that could go down in history as one of the toughest exchanges of the GOP primary campaign.
Though on the sidelines, Trump underscored the power of the moment during the commercial break as Christie walked across the stage to see his wife. Someone grabbed Christie's arm from behind, and the New Jersey governor turned to see none other than the taunter-in-chief Donald Trump.
"Oh my God. That was brutal," Trump muttered to Christie on the debate stage, according to someone familiar with the exchange. "Tremendous."
Perhaps staying out of the fray this week (with the exception of a vulgar swipe at Ted Cruz on the eve of the election) helped Donald Trump. He swept a range of demographic and ideological groups, appealing to six-in-ten New Hampshire voters who said they were looking for an outside candidate.
The commanding victories in New Hampshire by two outsiders Trump and Democratic winner Bernie Sanders reinforce the tremendous vulnerability of the establishment in the 2016 presidential race. Insiders in both parties are struggling to find their footing in a year when voters are fed up with the status quo. Democrat Hillary Clinton is looking toward the March contests as her firewall. John Kasich is trying to capitalize on his moment after climbing to second in New Hampshire. Jeb Bush is hoping to hang on by engineering a strong performance in South Carolina.Chris Christie has headed home to assess his chances amid indications that he will soon end his bid, according to two sources. And Marco Rubio is trying to regroup after a humiliating defeat.
Becoming more emboldened over time, Bush tried to cast his attempted takedowns of Trump as an act of valor, going so far as to call Trump a "whiner" and "a liar" in one of his final tweets the day before the primary.
"I'm defending the honor of people that I really respect," Bush told CNN's Dana Bash in an interview Monday. "I'm a joyful warrior. There's a difference between sitting back and watching someone try to hijack a party that I believe will allow people to rise up again."
Like Christie, Bush also became increasingly willing to go after Rubio in the final weeks. He offered his most pointed criticism of the Florida senator in an MSNBC interview Friday, shrugging when asked what Rubio had accomplished in the Senate: "Nothing," he said. "He's a great guy. But he's not a leader." And he refused to apologize for the attack ads by Right to Rise. "Politics ain't bean bag," he told reporters.
At his final rally in Portsmouth on Monday night, Bush reminded attendees that he'd gone to nearly every nook and cranny of New Hampshire, including about 15,000 different Dunkin' Donuts. His ground game was sophisticated and well-funded — particularly after he had shifted resources and staff from his Miami headquarters to the Granite state.
"You're from New Hampshire, you can change the course of anything," Bush told voters in Portsmouth Monday night. "If you don't think the pundits are right, the obituaries that have been written about all the candidates, including me…. if you disagree with that you can reset this race tomorrow. You have that power. No one else does. It's an extraordinary responsibility."
Kasich's New Hampshire surprise
In one of the ironies of Tuesday night's race, it was Kasich's sunny campaign that ultimately notched him a second place finish behind Trump.
Kasich's advisers had always believed that he had a strong chance here because of his moderate record and potential appeal to New Hampshire's undeclared voters. And they invested in data to help target those late-deciding independent voters in the final hours.
Throughout the process, Kasich had also chafed at what he viewed as unfair attacks on his record. After an event earlier this week, he complained to reporters that his campaign had millions of dollars spent against them.
"They can't even build mailboxes big enough to put all the negative advertising in from all these campaigns," he said. But he believed his ground game would "insulate us from all these attacks."
As Rubio stumbled, Kasich's strategists saw an opening, bringing in some 500 out-of-state volunteers to help them canvass and make phone calls in the final days.
He was one of the few candidates who looked like he was having fun on the campaign trail — taking a break between his 99th and 100th town hall in Hollis, New Hampshire, Friday to engage in a snowball fight with reporters and aides.
"If we win, I think it will send a powerful message," Kasich said a day earlier, "because I think now is the time to be positive."
He touched on those themes in his victory speech after coming in second to Donald Trump, asserting that there was "magic in the air" and describing his campaign as an effort "to restore the spirit of America" while "leaving no person behind."
"Maybe we are turning a page on a dark part of American politics," he said, "because tonight the light overcame the darkness."
But the path ahead remains cloudy for the establishment: With a jumbled mess of candidates still vying for third late Tuesday night, the brutal battle in New Hampshire that was supposed to clarify the race ultimately may have simply led to stalemate.
Read more: www.cnn.com