The red-and-white costume from Margaret Atwoods novel has been donned by women from Ireland to Argentina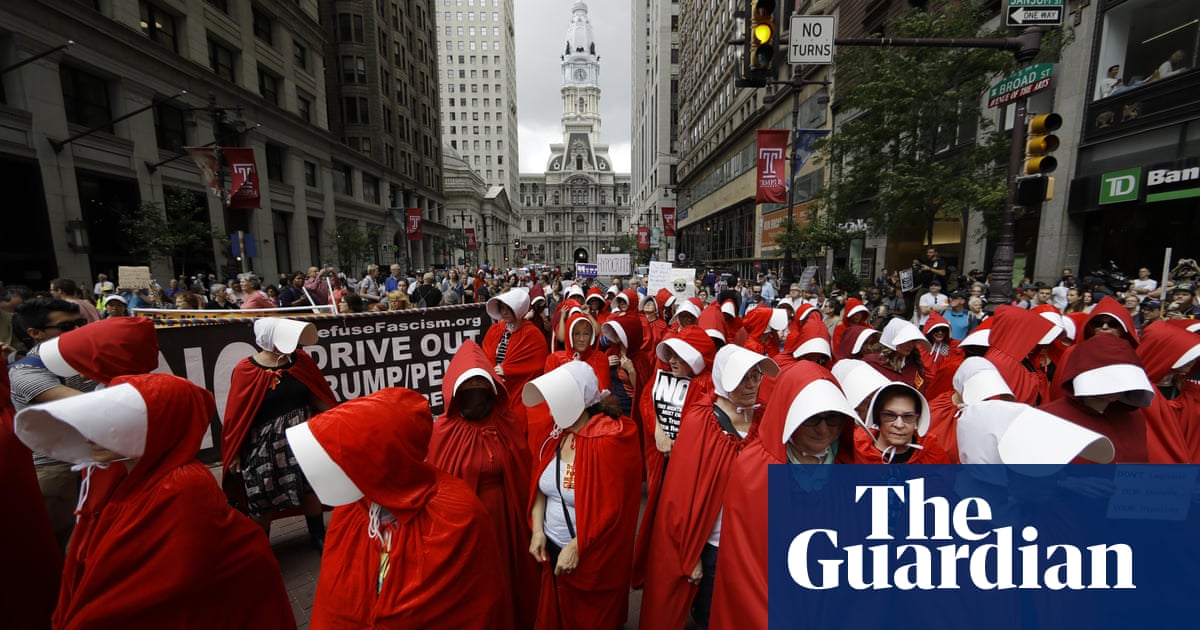 When US vice-president Mike Pence visited Philadelphia on 23 July, he was greeted by a now familiar sight: a wall of women dressed in scarlet cloaks, with oversize white bonnets obscuring their faces.
The outfit worn by Margaret Atwood's handmaids in her 1985 dystopian novel The Handmaid's Tale and its recent TV adaptation has been in evidence from Argentina to the US, the UK and Ireland, and has emerged as one of the most powerful current feminist symbols of protest, in a subversive inversion of its association with the oppression of women.
It has been donned by pro-choice protesters during Ireland's successful referendum to revoke the eighth amendment of its constitution and by abortion rights campaigners in Buenos Aires.
In London, protesters put on the cloak and bonnet to protest against Donald Trump's visit to the UK and the policies of his administration.
Why the handmaid's uniform has come to represent a constellation of issues affecting women is as telling as the phenomenon itself, with Atwood among those reflecting on why the costume she imagined as the most visible articulation of the subjugation of women by the imaginary state of Gilead has become such a potent medium for dissent.
The Canadian author believes the use of the handmaid's uniform is both flexible and powerful, allowing women to protest in locations where they do not have a right of audience.
"The handmaid's costume has been adopted by women in many countries as a symbol of protest about various issues having to do with the requisitioning of women's bodies by the state," she told the Guardian.
"It has even been used on posters in the context of the Trump-Putin relationship, with Trump as the handmaid. Because it's a visual symbol, women can use it without fear of being arrested for causing a disturbance, as they would be for shouting in places like legislatures.
Read more: www.theguardian.com