The long read: For years, she has accused French journalists of bias against her family and her party. Yet Marine Le Pen has managed to lead the far-right Front National into the political mainstream and she couldnt have done it without the press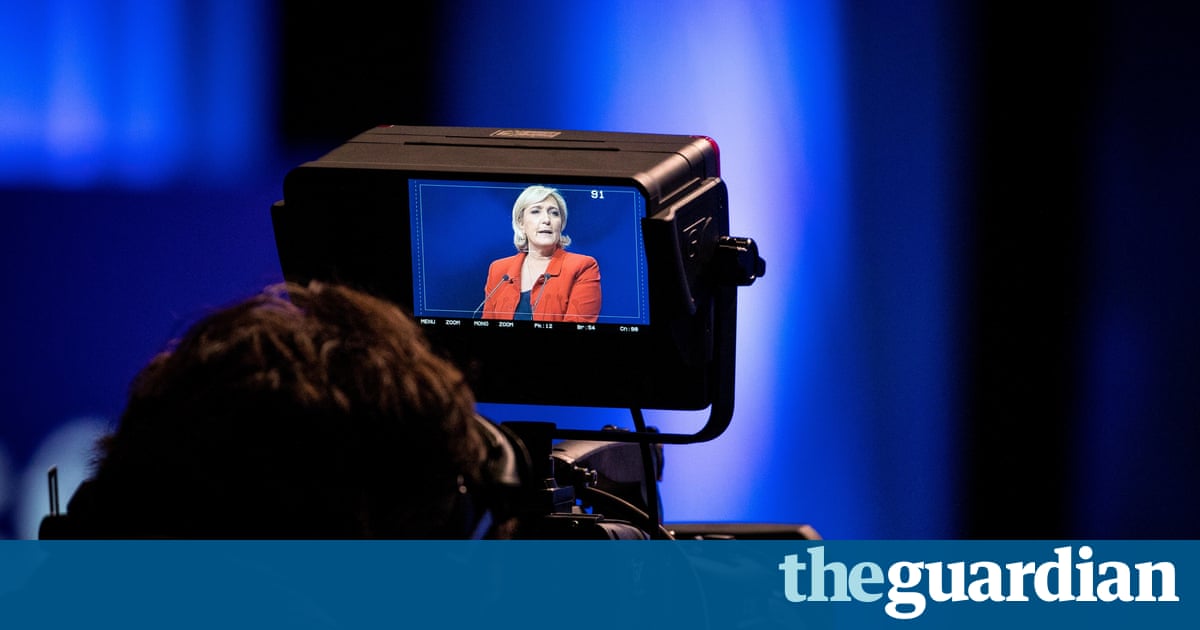 Like most serious political reporters, Olivier Faye, of Le Monde, professes little desire to please the people he writes about, and even less expectation that he will. This equanimity has been of particular use in his current assignment covering the Front National, the clannish party of the French far-right, which has been warring with the news media for four decades. Faye and the other reporters assigned to the FN make light of the hostility aimed their way by the party and its supporters, and have adopted some of the cleverest insults as their own. They call one another journalopes, for instance a mashup of journaliste and salope (whore) or members of the merdia.
The Front National has fashioned itself as the patriotic victim of a bankrupt political establishment and the corps of bourgeois journalists allegedly beholden to it. Marine Le Pen, the FNs vituperative leader, often refers to her opponents as the media-political system or, more succinctly, la caste. This tactic of populist martyrdom is a sort of trap, one that lures the media into the stance of an adversary, called to defend both themselves and a frequently indefensible political class. For years the French press plunged into it with what, in hindsight, appears a heedless and self-righteous sense of mission. Throughout the 1980s and 1990s, there were media boycotts of various sorts against the party; yet it only rose in the polls, citing the medias hostility as evidence of both the conspiracy against it and the potency of the truth it was preaching.
Faye, 29, with ruddy cheeks and modish round glasses, conducts himself with a friendly but slightly fervent air that is common among French political reporters, who constitute an informal elite within French journalism. He fits a longstanding type, but neither he nor his colleagues endorse the old condemnatory approach to the FN. Theres no attitude thats more counterproductive, I dont think, he said. Today people dont want to be held by the hand, to have someone tell them, Watch out, these are bad guys! I, I the great knower, Im going to tell you what you should do. At Le Monde, the conviction is now that you have to treat this party like any other, Faye said, even though its not a party like any other.
It is fair to say this maxim represents a victory for Le Pen. Upon succeeding her father, Jean-Marie, as the FNs leader, in 2011, she began a strategy of ddiabolisation, or de-demonisation, a broad effort to soften the partys image and normalise its portrayal in the press. The following year, she won 17.9% of the popular vote in the first round of the presidential election, the FNs best-ever result. This year, she is expected to take more than 20% and thus qualify for the final runoff. The words Front National appear nowhere in her campaign propaganda.
Ddiabolisation is almost entirely a matter of appearances the party platform has undergone hardly any revision and Le Pen and her lieutenants thus scrutinise their press coverage with particular intensity. She is known to call editors to complain, though with Le Monde she tends to call Faye directly. She once left him a voice message admonishing him that she had not dressed down a party official, as he had contended in an article, but had quite simply expressed her disagreement. I see the games havent changed, its a shame, she said, affecting a tone of weary exasperation. Call me back if you think she paused, as if summoning her acid youve behaved in good faith. Au revoir!
In early September, Faye and four of his editors invited Le Pen to an off-the-record lunch to discuss the upcoming campaign. Such lunches have long been common for French journalists and politicians, though only more recently for the FN. They met at an upscale Danish restaurant on the Champs-lyses. Faye and his editors were seated at the far end of an enclosed terrace. Le Pen, an imposing woman with platinum blond hair and an ashen scowl, arrived with her bodyguards, who waited at the door, and her longtime media advisor, a bemused and friendly man named Alain Vizier. Le Pen sat facing Faye; Vizier sat at his side.
Le Monde, an afternoon paper widely held to be the countrys publication of record, is the object of particular resentment for many at the Front National; they scorn it as an emblem of the system, but seem to crave its approbation nonetheless. After a brief round of pleasantries, and before the journalists had had the chance to begin on their questions, Vizier placed a stack of printouts on the table. Le Pen looked at Faye. Ive printed out the last 20 articles you wrote, she said, as Faye recalled it. Theres one that talks about real issues, and 19 that have nothing to do with politics.
She had underlined, in red ink, various words of which she did not approve. You have a nice little tone of disdain, of condescension, Le Pen said, her voice rising to the low, imperious bark that is her standard register for interactions with the media. A little ironic tone that I dont like. Surrounding conversations grew hushed; diners seemed to cease chewing, and stare. Le Pen took particular exception to an article about the Front Nationals highly publicised recruitment of elite civil servants, after years of attacking them as the embodiment of a blinkered governing class. The article began: Most political parties cart about their share of contradictions, and the Front National is no exception. Marine Le Pen, who presents herself as the megaphone of the people and a paragon of common sense, ceaselessly denounces the consanguinity and collusion of the elites, who no longer defend the common good.
Le Pen did not like the use of the word paragon. She leaned back on the banquette and drew on an electronic cigarette, and left Faye to defend himself. (Sometimes I use irony, Faye acknowledged later. Its a way of marking a bit of distance, its true. After the lunch, he learned that the stack of articles and the 19 out of 20 accusation form a set piece that Le Pen has used more than once.)
Le Pen went on for about 30 minutes. She gave us a whole speech about how we were her enemies, because she knew we were going to call for people to vote against her, recalled Caroline Monnot, Le Mondes top political editor. And I told her, Yes, were undoubtedly going to call for people to vote against you, probably, but thats not a big discovery for you.
Le Pens purpose, it became clear, was to convince Le Monde to publish an op-ed she had written, and she threatened to restrict the papers ability to cover her campaign if it did not agree. Thats where things are screwed up with them, Monnot said. Thats just not how it works. Its not, Up until now I was a pariah, now Im going to be able to set my own conditions. We dont let anyone set their own conditions.
Though it sets out to cover the the Front National like any other party, Le Monde does maintain a rule that is particular to the FN. It remains the papers policy like that of various other publications to refuse to publish op-eds written by FN officials. The problem we have, honestly, is that if we open the door to taking her op-eds, then were helping her put the finishing touches to her banalisation, Monnot said, and we dont want to be in that position. To refuse on principle is also an imperfect solution, however, accrediting as it does the partys claim to ostracism and victimhood at the hands of an unaccountable elite themes that remain the central feature of the partys politics.
Theres a pretty perverse and complicated game you have to play with them, Monnot said. Theyre constantly trying to drag us into this system versus anti-system confrontation. Which we have to constantly avoid getting trapped in. She offered a metaphor for Le Pen. Theres a theatre play, and she absolutely wants us to act in this play with her, she said. And how do you go about not acting in it? Once the media have been pulled on stage, whatever they do is part of the show, whether they like it or not.