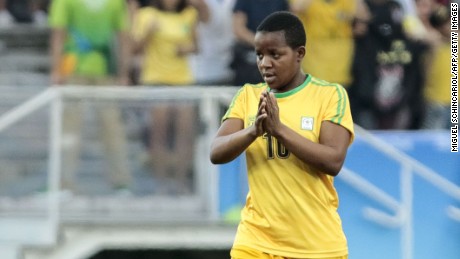 (CNN)From the very beginning of my life, the odds were stacked against me. As a child, I was abandoned on the side of the road by my biological mother. If not for the grace of a Good Samaritan and the SOS Children's Village in Bindura that he brought me to, I would not be where I am today.
Twenty years after being left on the side of the road, I am representing my country, Zimbabwe, in the Rio Summer Olympics.
And I've even scored a goal.
Often times, economic struggles place such a burden on a family that children have to work just to help feed their relatives. This should not be the life that any child should have to live.
Without the help of my SOS mom and family in the village, I undoubtedly would have suffered the same fate as so many orphaned children today. So my hope this summer is to shine a light on the importance of a solid family structure in a child's life.
Those in the village recognize this, and strive to support vulnerable families who are at risk of breaking apart and children who are no longer able to live with their parents. The difference this made in my own life is indescribable.
So, as I laced up my sneakers and stepped onto the pitch this week, I hope the world was able to watch as I fulfilled my lifelong dream of playing in the Olympics. Watch as I beat odds that were so heavily stacked against me. And watch as I tried to give hope to the millions of orphaned children around the world, showing them that their dreams are very much achievable.
Read more: www.cnn.com