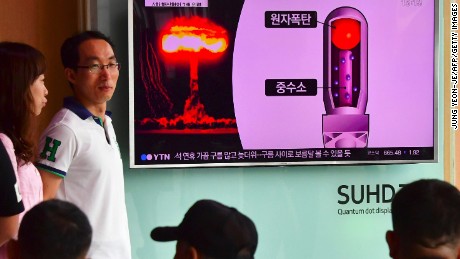 (CNN)North Korea has carried out its fifth nuclear test, and Kim Jong Un is smiling.
After a breathtaking run of missile and nuclear tests this year, the North Korean leader is now promising
miniaturized warheads.
With the country's nuclear potential seemingly realer than ever, Pyongyang television sets are relentlessly beaming out the image of their Supreme Leader's grinning visage.
There's no escaping the fact that Kim Jong Un's North Korea presents a complex challenge to a fragmenting world.
Why did the test happen now? What is North Korea hoping to get out of it?
While there is a huge amount of bluster and untruth spun out of Pyongyang, sometimes when North Korean state organs talk, they mean precisely what they say.
For supposedly being ignorant of the outside world, the North Korean leadership is fairly astute when it comes to timing the tests. This new test should inject fresh momentum behind North Korea as a campaign issue, regardless of what NBC anchor Matt Lauer did or didn't ask the candidates.
It's becoming apparent from its actions that North Korea wants not to negotiate its nukes away, but to have them recognized, and to look forward to victory — which it might define as relaxation of US conventional and nuclear military pressure on it.
How far Kim will go between now and the US Presidential inauguration will depend as much on resources as it will on his own whims.
Like the US or the Soviet Union in the late 1940s, there is by no means an inexhaustible supply of nuclear bombs at his disposal. Kim Jong Un's regime has shown a remarkable resilience in resisting sanctions, but there are limits, too, to the resources he can marshal from of Maoist-style
Chollima campaigns
or "loyalty contributions" from North Koreans making money overseas.
In the meantime, the North Korean people themselves must be exhausted after what is often backbreaking manual labor to feed their country's nuclear weapons progress. Political culture and the dictatorship in Pyongyang require that they smile as they work.
As Kim Jong Un looks out at the world today, he may very well feel stronger than ever.
Read more: www.cnn.com