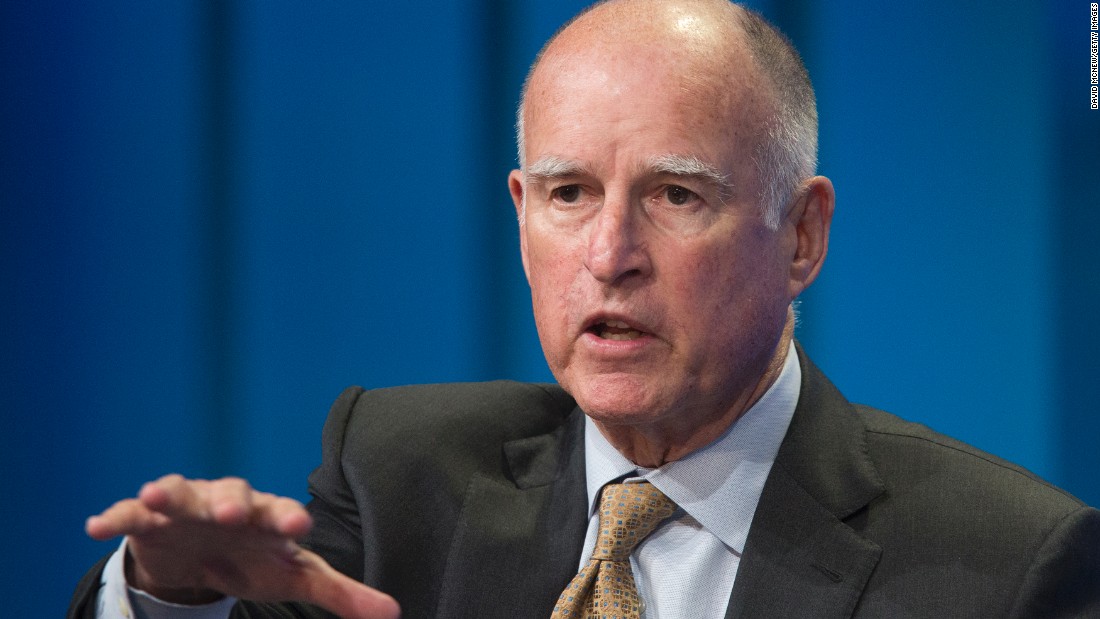 (CNN)For the California economy, surf's up. And that could hasten the end of a long drought for the state in presidential politics.
These powerful measures of economic recovery could fuel a revival for the state in national politics. California hasn't produced a truly top tier presidential contender from either party since Ronald Reagan won the Republican nomination (and the presidency) in 1980 and Jerry Brown — incredibly the governor back then as well –mounted a dynamic eleventh-hour bid for the 1976 Democratic presidential nomination that ultimately fell short to Jimmy Carter.
That seems about to change. Even with very limited national experience, Democratic party insiders generally consider first-term California Sen. Kamala Harris a potentially serious competitor for the presidential nomination in 2020 — and a pre-eminent contender for the vice-presidency even if she skips the race or doesn't capture the top prize. Los Angeles Mayor Eric Garcetti is openly exploring what would be a more long-shot presidential bid. And if Democratic Lt. Gov. Gavin Newsom wins the California governorship in November, he would instantly become a potential future competitor, though most likely after 2020.
The profusion of possible presidential candidates is only one manifestation of a much larger shift in the state's political identity. Since the late 1990s, conservatives have argued California's economic and state budgetary struggles show the failure of a "blue-state" model that includes relatively higher taxes, tougher regulation of business, more public investment in education and social programs, and a systematic effort to promote low-carbon energy sources such as solar and wind power.
But in the past several years, California's has generated significantly more jobs and overall economic growth than Texas, the state that Republicans most often tout as the paragon of a "red state" model based on lower taxes, less spending and regulation, and the aggressive development of fossil fuels.
And just as Texas led a coalition of conservative states in pursuing legal challenges against an array of domestic initiatives from former President Barack Obama, California is now spearheading the legal resistance from blue states to Donald Trump on issues from the environment to immigration. State Attorney General Xavier Becerra is engaged in well over two dozen lawsuits against the administration.
In all these ways, California has now become the de facto leader of left-leaning America — and the clear progressive counterpoint to Texas on the right.
As Manuel Pastor, a University of Southern California sociology professor, writes in State of Resistance, his new book on California, "Texas was once determined…to boast that it is the true national alternative going forward. But its model — based on cheap energy, urban sprawl, and political disenfranchisement [of minorities] — does not seem like a recipe for the national long haul."
Instead, Pastor argues, "What California is stumbling toward…is a path to a new American future, one in which the nation becomes more prosperous and more sustainable, more diverse and more cohesive, more engaged and more agreeable."
As Pastor and other observers are quick to note, California has hardly solved all of its challenges. The state suffers from uneven regional growth, high levels of income inequality, continuing concentrations of poverty that isolate many African-American and Latino families from opportunity, and above all, soaring housing prices that have strained family budgets and spurred a steady migration of middle-income residents to other states.
"The biggest hurdle [for the state] is housing," said F. Noel Perry, the founder of Next 10, a San Francisco-based think tank that studies economic and energy issues in the state. "What we've learned is more people are moving out of California than moving in and the data absolutely suggests that this exodus is being driven by the fact that the state has the highest housing prices in the country."
California's economy vs. Texas' economy
Yet even with those formidable remaining obstacles, California's economic performance in recent years has been dynamic. Since 2014, California has created jobs at an annual rate of nearly 2.6%, according to calculations by the Brookings Institution's Metropolitan Policy Program. That's far more than the 1.8% annual gain in Texas. That reverses the ranking from 2010 through 2014, when Texas, buoyed by those years' boom in natural gas production, created jobs at a significantly faster clip (2.8% annually) than California (2.2%).
The trend is the same in overall economic growth. Texas increased its gross domestic product by nearly 40% from 2009 through 2014, compared to only about 23% for California, according to figures from the federal Bureau of Economic Analysis. But from 2014 through 2017, California increased its total output by 16%, more than three times the rate in Texas, the federal figures show.
That growth spurt recently allowed California to pass the United Kingdom as the world's fifth largest economy, after the state had fallen to tenth in that global ranking as recently as 2012. Only the United States itself, China, Japan and Germany generate more output than California.
Democrats pushing progressive policies without crushing the state economy
What makes this revival especially striking is it has come even as Democrats, operating with complete control of state government, have pursued an array of policies that conservative critics have long charged would strangle growth. Those initiatives have included a substantial tax increase on high-income earners; an increase in the state minimum wage to $15 an hour; a shift in state funding policy to direct more educational dollars toward schools in low-income neighborhoods; an array of policies to protect and integrate undocumented immigrants (from state drivers' licenses to the so-called "sanctuary state" policies limiting cooperation with federal immigration enforcement); probably the most aggressive effort of any state to implement the Affordable Care Act; and a succession of carrots and sticks — tax incentives and regulations — meant to reduce carbon emissions, improve automotive fuel efficiency and generate more of the state's electricity from renewable sources led by solar and wind power.
As Next 10 noted in
its latest
annual "California Green Innovation Index," California now generates more economic output for every unit of carbon emitted than any economy in the world except for France (which relies heavily on carbon-free nuclear power for its electricity.) "In terms of climate we have been a leader over the last 10 years and longer," says Perry. "The various policies that we have created have become a model for different parts of the world."
Even the common conservative narrative of middle-class exodus from California no longer tells the full story. While the state does suffer a net out-migration rooted in high housing costs, Next 10's
research shows
that more working-age adults with at least a four-year college degree are migrating into the state than out from it. From 2006 to 2016, the group calculated, the number of international immigrants to the state with college degrees has likewise increased by almost two-thirds, while the number with a high school degree or less has fallen by about one-third. The steady influx of highly educated new arrivals belies the argument that high taxes are driving away the state's most productive workers, Perry notes.
Rob Stutzman, a long-time California GOP strategist, points out some stains on this otherwise attractive picture. While the Democrats' liberal local initiatives haven't stymied economic growth, he acknowledges, California has grown more slowly over the past year than some of its neighbors, including Washington, Nevada and Arizona, according to BEA figures.
"You can't really argue it's optimized," he says, especially because the growth is so concentrated in the state's coastal regions. And the acute problems in housing affordability and homelessness, he says, loom as a major challenge for any California Democrat who hopes to tout the state's recovery in a presidential campaign: "This is the state where people can't afford to live," he says.
A state already transformed racially and economically
But on most fronts, Pastor argues, California has a good case that it has already gone through the same wrenching transitions that later powered Donald Trump's rise — and developed a vision very different from his insular and racially-tinged nationalism on how to surmount that turmoil.
During the early 1990s, Pastor notes, the state suffered a severe deindustrialization in which it accounted for nearly half of the nation's total job losses and shed about one-fifth of its manufacturing jobs in just four years — as high a loss, in percentage terms, as Michigan experienced from 2007 to 2010. But now, as Perry observes, the state is generating a significant number of jobs at all wage levels: low, medium and high even while continuing to reduce its carbon emissions.
When California passed the UK in total output recently,
state officials noted
the gains came across a wide array of industries, ranging from real estate and finance, to information technology, to manufacturing. "There are still a lot of problems," said Pastor, who directs USC's Program for Environmental and Regional Equity, "but we figured out how to jump start a very different kind of economy going forward."
California was also ahead of the nation in its demographic transition toward a population where whites no longer constitute the majority. That generated years of racially-tinged political turmoil during the 1990s, including successful ballot initiatives to ban affirmative action, deny public services to undocumented immigrants, bar bi-lingual education and increase penalties on repeat criminal offenders.
Now those conflicts have significantly abated. "The demographic change in California between 1980 and 2000 is America's demographic change between 2020 and 2050," Pastor says. "That 20-year period in California's history was very bumpy but we have arrived at the end of it, where this is not paradise or utopia, but the level of tensions on a daily level between ethnic groups is pretty low. And the recognition that we should not be over-criminalizing black and brown youth…and the acceptance of immigrants, is pretty high."
Democratic control of the state isn't going anywhere
With unfettered control of state government, Democrats always risk tilting policy too far toward the demands of their most ardent supporters. Republicans hope to gain in the mid-term election from grassroots opposition to both a 2017 gas tax increase and the so-called "sanctuary state" statute.
But even with those potential openings, the GOP has virtually no chance of electing the replacement to Brown as governor, or beating Democrat Dianne Feinstein for Senator. In fact, under the state's top-two primary law, Republicans face a real threat of being excluded from both races in November — which could compound their risk of losing several of the seven GOP-held U.S. House seats in districts across California that voted for Hillary Clinton over Trump in 2016.
With so many seats at stake (Democrats even have an outside chance of beating some other California House Republicans in districts Trump carried), the state stands near the epicenter of the 2018 election. That could be just a preview, though, of its expanded role in 2020 and beyond.
American politics, as
I've argued before
, has become a collision between the parts of the US most comfortable with the demographic, cultural and economic changes remaking the nation (what I call the "coalition of transformation") and the forces most resistant to all of those changes (what I call the "coalition of restoration").
Trump in 2016 won with a message that looked to an earlier economic and racial order for inspiration ("Make America Great Again") and drew the most support away from the coasts and outside the major metropolitan areas. Now, for the first time in years, California is reclaiming its position as the dynamic capital of the American future. And that means it is increasingly likely to produce the ideas and political leaders that define the Democratic alternatives to Trump's backward-facing vision of American renewal.
Read more: www.cnn.com