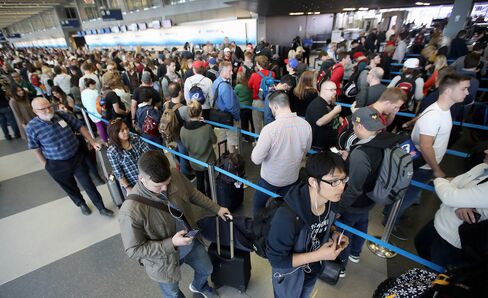 Tens of thousands of travelers standing in interminable security lines this holiday weekend will, at least momentarily, entertain fantasies of revenge against the Transportation Security Administration. Airports could actually do something about the hated agency, and a few are weighing a radical option: firing TSA screeners and hiring private replacements.
The frustration over queue timeswhich have topped two and three hours at airports in Atlanta, Chicago, Charlotte and Denverhas prompted new attention by airport executives to the TSAs little-known Screening Partnership Program, in which the federal agency solicits bids for a contractor to handle airport screening. The contractors must follow the same security protocols as federal officers, with similar wages and benefits.
At Phoenix Sky Harbor International Airport, where screening glitches sent 3,000 checked bags to a parking lot earlier this month, administrators are discussing a variety of options, including replacing the TSA with a private contractor, said Deborah Ostreicher, assistant aviation director at the airport. Sky Harbor officials have considered their TSA service less than satisfactory for many months, she said. The Phoenix airport is a hub for American Airlines Group Inc., which has blamed the TSA delays across the country for causing more than 70,000 passengers to miss flights so far this year.
The former general manager of Atlantas Hartsfield-Jackson Airport wrote a letter to the TSA in February warning that the worlds busiest airport was conducting exhaustive research into privatized security screening. The airport manager, Miguel Southwell, was fired on May 20. The airport did not respond to a request for comment on its screening plans.
The power to replace TSA employees with private screeners dates to the birth of the agency in 2002, shortly after the Sept. 11th terrorist attacks. Congress designated five airports at the time to offer screening by private firms as a way to compare the federal approach. Another 17 smaller airports have since joined the original five. The most recent to make the switch to private security screeners, Punta Gorda Airport in Florida, expects to finish the transition next week. San Francisco International is the largest U.S. airport with private screeners.
Now other large airports are researching private-sector alternatives. Ive talked to a number of airports and I know theyre inquiring and doing their homework, said Ian Redhead, deputy director of the Kansas City Aviation Department, which operates Kansas City International Airport, one of the original five with private screeners. I dont think its an idle threat. Airport directors dont make idle threats like that because it really doesnt accomplish anything.
Commissioners at the Port of Seattle spent much of a meeting this week learning about the private security program and whether it would improve passenger flows at Seattle Tacoma International. The port is spending $3.3 million over the next four months on 90 contractors to help manage TSA lines, which have snarled passenger traffic at SeaTac terminals since April. Commissionerswho also heard from several TSA officers who opposed private screeningasked airport executives to collect further data on the program.
Jeff Holmgren, the TSA federal security director at the Seattle airport, told the commission there is no statistical difference in terms of effectiveness or efficiency between federal and private screeners. Thats the official position of the TSA, which argues there is no correlation between security wait times and the use of federal or contracted screeners.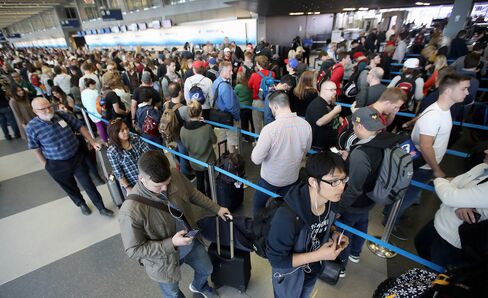 The handful of larger airports with private screeners dont offer proof that the change would improve the travel experience. The Kansas City airport has seen longer lines and a spike in missed flights this spring due to staffing levels in a new contract with New Mexico-based screening firm Akal Security. The amount of staff is controlled by the contract, Redhead said. Screening firms cant just go and increase to X number of bodies.
The TSA budget, which covers federal staff and private contractors, is the critical component in security wait times. Trade groups for U.S. airlines and airports this week called for Congress to stop removing $1.25 billion in annual airline ticket funds from the TSA budget. In 2013, lawmakers diverted a portion of the $5.60 Sept. 11 security fee on each flight segment toward deficit reduction. That revenue diversion decision has come home to roost, Airlines for America said in a news release.
Security experts say more screening officers, more travelers enrolled in the TSAs PreCheck program, and greater use of dog sniffersallowing passengers to retain their shoes and beltswould do the most to unclog the long lines at airports. TSA Administrator Peter Neffenger has called for an additional 5,400 staff at airports.
Still, airports that have switched to private firms say they consider the contractors more responsive and better able to adjust staffing to address traffic surges and lulls. Its a difficult balancing act because it is balancing customer service versus ensuring security and safety, said Brian Sprenger, director at Bozeman Yellowstone International Airport in Montana, which began private screening in 2014. We now have a little bit more say in ensuring that the customer service side is a little more elevated in the process.
Some airports that opted out of TSA-staffed screening did so in part because airport officials did not believe the nations transport security regulator should also be the one providing that service, viewing the dual roles as an inherent conflict. Youre essentially regulating yourself, Fredrick Piccolo, president and chief executive of Sarasota-Bradenton International, said of TSA-staffed checkpoints. When you run into issues, how do you criticize yourself? The Bozeman airport also saw that arrangement as problematic, Sprenger said.
Christopher Bidwell, vice president of security for Airports Council International-North America, faulted the TSA in the past for making it difficult for airports to switch to private screeners, regularly denying airports applications for the program. The trade association considers the current situation a crisis, Bidwell said, but does not endorse either private replacements or TSA screeners as the superior method.
After Congress stepped in, the TSA began processing applications for privatized screening within four months and completing transitions within 12 months. The TSA said it has no current airport applications for the private program. Any airport wishing to switch must be pass a security and cost analysis by the TSA to demonstrate that hiring private contractors will not harm the agencys budget or compromise security.
Bidwell said the 12-month transition period gives many airports pause about applying for private screening because of the uncertainty involved. What kind of security experience will happen during the transition? Will the airports relationship with the TSA be damaged? Airports are also not allowed to participate in the bidding process with private firms nor do they have any control over the contract.
The largest carrier, American Airlines, is focused on trying to manage the problem through the summer travel season and has not advocated for any airports to consider the private-screener program, said spokesman Ross Feinstein. A spokeswoman for Delta Air Lines Inc., Elizabeth Wolf, said the company is collaborating with the TSA to address the problems. American, Delta and United airlines will spend as much as $4 million each hiring extra workers to manage the lines at this busiest airports.
As travelers and airlines endure a summer of security waits, and the TSA advises passengers show up two hours early for domestic flights, its clear that some airports will try something different.
The one option that at least makes the TSA pause is that these airports could opt out," said Sprenger at Montana's Bozeman airport. For travelers, however, any difference private replacements might make wouldnt be evident until Memorial Dayin 2017.
Read more: www.bloomberg.com