Joey Gibson, a far-right activist whose political rallies have prompted counter-protests and violence, is running for Congress in a crowded Republican field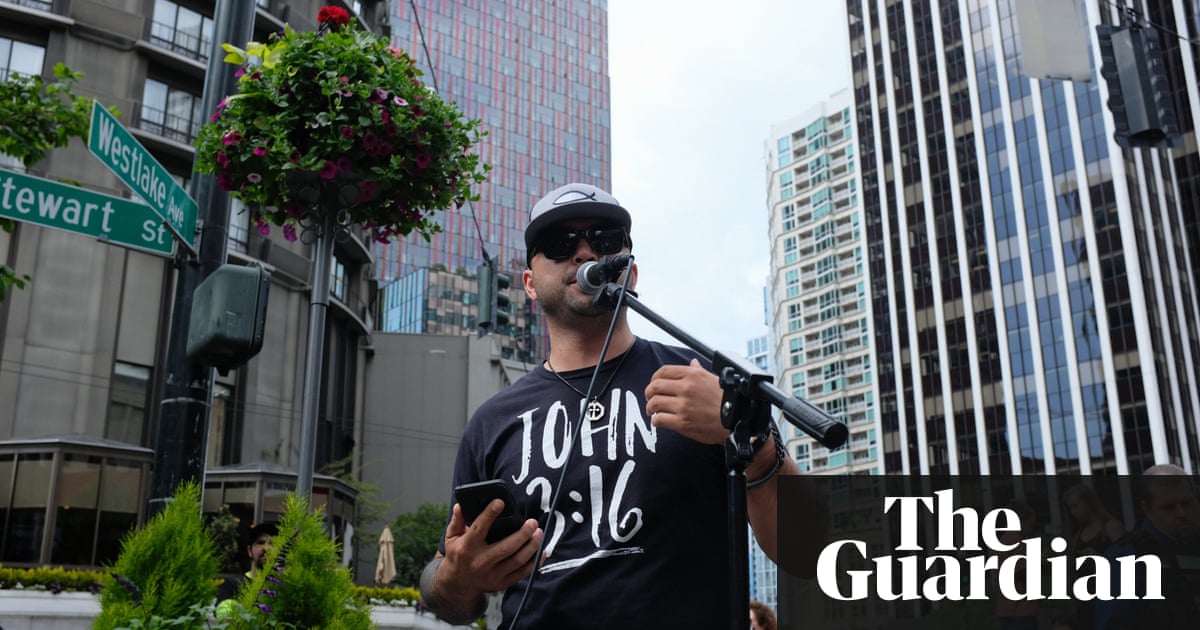 It is unusual for a Republican Senate candidate to find themselves handcuffed and face down in a parking garage. But that was what happened recently when Joey Gibson was detained by University of Washington police.
Gibson, 34, is a far-right activist who has come to prominence under the Trump presidency, staging political rallies across the Pacific north-west under the banner of his Patriot Prayer group. He is now running for Congress in a crowded Republican field.
Three days after 10 people were killed in a school shooting in Santa Fe, Texas, last month, the officers who arrested Gibson were acting on a complaint from someone on the UW campus in Seattle who said they had seen a man brandishing a gun.
A cellphone video was taken by one of Gibson's companions, Tusitala Toese, a hulking 21-year old who goes by the nickname "Tiny". It showed Gibson and five other men lying on the ground, under the gaze of several police officers.
The police report said the men had three rifles (including an AR-15 assault rifle) and two handguns. All but one of the weapons were in one of two cars. One handgun, a Springfield XD, was in a holster carried by Ethan Nordean, 27. The police report named the group and carried pictures of symbols of the patriot movement that adorned the men's vehicles.
On the cellphone video, one of the men could be heard saying: "We're Proud Boys." The Proud Boys, of which Nordean is a member, is an all-male "western chauvinist" group led by Vice Media founder Gavin McInnes and designated a hate group by the Southern Poverty Law Center. Its uniform – red Trump hats and black and gold Fred Perry shirts – has become a familiar sight at rightwing rallies.
Proud Boys have been a fixture at Patriot Prayer events. In a phone interview with the Guardian, Gibson said "the SPLC makes money out of creating hate groups" and insisted: "The Proud Boys are very diverse. Race has nothing to do with their group. It is about freedom, and being men, and family values. They're hated the same way I am hated. It's deception." Gibson also mentioned his own mixed-race identity and Tiny's Samoan ethnicity.
In the video of the police encounter at UW, which is available on YouTube, the officers explain that Washington state administrative codes let schools and universities make themselves gun-free zones. Gibson still thinks the officers acted outside their authority.
"I know for a fact it's unconstitutional," he said. Asked if he could understand sensitivities around guns being carried on campus, he said: "That's why we're doing it, there's people dying. Gun-free zones disgust me because we're not protecting the kids on the campus. People look at it backwards."
Read more: www.theguardian.com