A crisis of confidence has hit foreign and local-owned companies in Hong Kong following the abduction of five booksellers by Chinese agents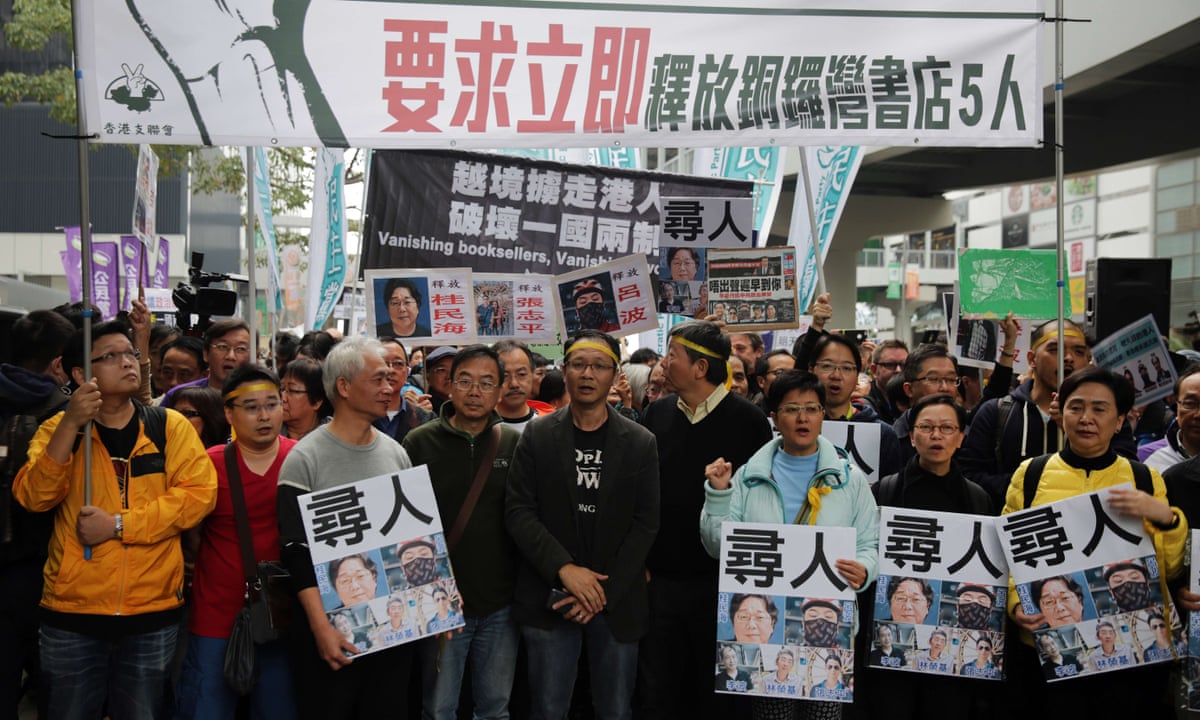 The words were unusual coming from the mouth of a seasoned business figure in the hyper-competitive world of Hong Kong finance.
The middle-class, the professionals, even the accountants: people are just freaked out about what is going on.
But the man, who runs one of Hong Kongs business associations, was not talking about the slowdown of Chinas economy. Instead, he was referring to the recent disappearances of five Hong Kong booksellers, a case that has sent shivers through the territory and raised fears that its one nation, two systems model is under threat.
The situation is so sensitive that he declined to be named.
The booksellers, including British and Swedish passport holders, went missing one by one over the past few months and are suspected of being abducted by Chinese agents from inside Hong Kong and, in one case, from Thailand.
[W]hile many Hong Kong Chinese business directors have their foreign passports, what has happened shows that even these may not be capable of offering any protection after all, he said.
The comments underscore a deepening crisis of confidence among foreign and local companies in Hong Kong. Some of these companies are reviewing their relationship with the former British colony in light of the ongoing booksellers scandal.
The Hong Kong-based booksellers who include British editor Lee Bo and Swedish publisher Gui Minhai are currently in the custody of Chinese security services having mysteriously disappeared last year, in southern China, Hong Kong and Thailand.
Many believe Gui and Lee, who specialised in salacious books about the Communist party elite, were abducted by Chinese agents and spirited back to the mainland at the behest of Beijing.
Lees apparent abduction in particular he is suspected to have been seized from the streets of the supposedly autonomous Hong Kong has sent shockwaves through the former colonys dissident and activist community.
But major corporations and smaller business interests are also showing growing signs of unease about the changing climate in Hong Kong.
At the end of January, an anonymous HSBC insider suggested the situation might influence possible plans to relocate the banks headquarters to Hong Kong.
The situation in Hong Kong appears to be getting worse, the source told Reuters. You have to wonder if the city will remain a suitable base for an independent-minded, top global financial institution.
Concerns about Chinas increasing influence over the financial hub and its independent status were cited as a possible factor in the banks final decision on the relocation of its headquarters.
Four Hong Kong-based chambers of commerce contacted by the Guardian declined interviews on the topic, underlining the increased precautions being taken by the foreign business community in Hong Kong.
But Mark Simon, a senior executive at Hong Kongs pro-democracy Next Media Group, said some investors were now turning their backs on Hong Kong because of the political situation.
We have seen this happen in China, with people starting to get out as the situation tightens. The same is happening in Hong Kong now: even [billionaire tycoon] Li Ka-shing is selling his China and Hong Kong assets Simon said.
Is political instability a big issue? Yes, but there are still not a lot of alternatives to Hong Kong if you want to do business with China.
Nevertheless some seem to be weighing their options as a result of recent events. Steve Vickers, the chief executive of Steve Vickers and Associates, a specialist in political and corporate risk consultancy in Hong Kong, said his firm had had approaches over the past couple of weeks from its clients on the need to review their risk profile in light of the booksellers disappearance case.
Of even greater concern than the booksellers caseis the apparent erosion of the rule of law in Hong Kong.
Vickers said: The Hong Kong government appears to now have considerably diminished autonomy and the [central government] liaison office seems to be strengthening its position.
I think the current action is calculated to cause people to keep their heads down when it comes to producing seditious material as the Chinese public security probably sees it. But it has also certainly sent a chill through the business and social arenas in Hong Kong.
The growing concerns within Hong Kongs business community come against a slowing economic backdrop, with the stock markets having weakened considerably since last year both in China and in Hong Kong, and a growth forecast at its lowest levels in the past decade.
Deeply polarised politics, a weaker economy prompting a probable fall in property prices, and a failure to innovate will erode Hong Kongs traditional reputation as a global business centre in 2016, according to a SVA report on Hong Kong and the current situation.
Freedom from fear is a thing of the past for Hong Kong and this applies to everyone: businessmen or student, said Law Yukkai, of the Hong Kong Human Rights Monitor.
The last bastion of Hong Kongs guarantees is the law. What we have left is our legal system, but people fear that this may be under attack too, the head of the business association said.
Read more: www.theguardian.com