When it comes to the dollar, U.S. Treasury Secretary Steven Mnuchin may soon come to realize that talk isn't always cheap.
The greenback registered its steepest slide since March on Wednesday after Mnuchin said "a weaker dollar is good" for U.S. trade. But history shows that currency jawboning has a limited effect and can even backfire, as former Treasury Secretaries John Snow and Paul O'Neill found out.
While the latest comments may pave the way for more losses, they aren't the key to the dollar's weakness. The currency's decline to three-year lows has been driven more by shifting perceptions of monetary policy and overseas economic growth, according to State Street Global Markets and UBS Wealth Management.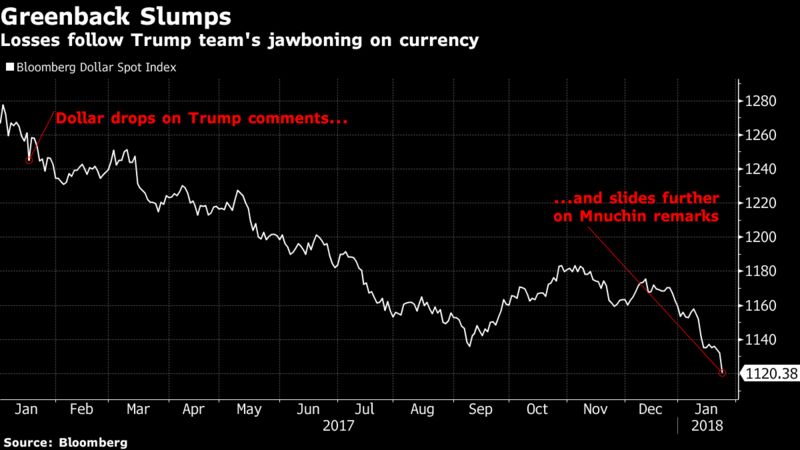 "It comes at a time when the dollar is weak anyway," said Lee Ferridge, head of macro strategy for North America at State Street Global Markets in Boston. "The whole point with jawboning is: Every time you do it, it has less impact."
Ferridge doesn't view Mnuchin's comments as a change in policy signaling a deliberate strategy of weakening the dollar, partly because the remarks echo previous statements. He predicts the dollar will weaken to $1.30 per euro and to 105 yen this year. It was at $1.2390 and 109.37 yen in Tokyo trading Thursday morning.
'Very Stable'
There were already signs of possible damage control from the administration. White House spokeswoman Sarah Sanders followed Mnuchin's comments by calling the dollar "very stable" and reiterated President Donald Trump's support for market-determined exchange rates.
The Bloomberg dollar index is down about 3 percent this year, after a loss of almost 9 percent in 2017, as traders bet on brighter economic growth outside the U.S. The flagging greenback may be welcome news for the president, who said last year that a strong dollar was "killing" the competitiveness of U.S. manufacturers.
Equities investors weren't so gung-ho on the protectionist rhetoric Wednesday. It roiled markets and left the S&P 500 lower on the day.
That mixed reaction was also in evidence in Davos at the World Economic Forum, where Mnuchin made his remarks — with signs of support from the Americans, and angst from the rest of the world, said Mark Haefele, global chief investment officer at UBS Wealth Management.
Two Sides
"Many of the people here are from the United States, and on the U.S. corporate side, they're very bullish about the combination of steps that the administration has taken that will strengthen the U.S. economy," Haefele said from Davos.
"People from other parts of the world are very concerned about these strong comments being the beginning of further protectionism," said Haefele, who oversees the investment strategy for $2.3 trillion. He expects the dollar to weaken to $1.25 per euro in three months.
And there's a risk that other nations could fight back with jawboning of their own or other measures, especially after Trump imposed tariffs this week on solar panels and washing machines.
But the takeaway from attempts by previous U.S. Treasury chiefs to influence exchange rates by verbal means is that the efforts mostly fizzled.
Fraught History
In 1993, Lloyd Bentsen sent the dollar tumbling when he said a stronger yen would help the U.S. with its trade. While Robert Rubin in 1995 began promoting the dogma that a "strong dollar" was in America's interest, Treasury secretaries have tried to tweak the message from time to time, albeit sometimes not by design.
In 1997, Rubin himself said the dollar had been robust "for some time now," prompting a selloff. In 2001, Paul O'Neill told a German newspaper "we don't follow, as is often said, a policy of a strong dollar," though he then returned to the traditional rhetoric. His successor John Snow said in 2003 that he was "not particularly concerned" by a falling greenback.
Risky Business
Talking the dollar lower brings risks largely out of Mnuchin's control. The U.S. doesn't have the kind of vast foreign-exchange reserves that trade rivals such as China and Japan maintain. The U.S. Treasury hasn't intervened in currency markets since 2011, when then-Secretary Timothy Geithner acted in concert with the Group of Seven to sell the yen after it surged in wake of Japan's tragic earthquake and tsunami in March of that year.
Mnuchin's ambivalence to a weak dollar could also turn into a be-careful-what-you-wish-for moment.
If the currency keeps depreciating in a restrained way, the modest inflationary effects could boost import costs and aid the Fed in its struggle to lift inflation to its 2 percent target.
However, if the drop becomes disorderly, the intensifying inflationary pressures might force the central bank to raise rates faster than it otherwise might want to. Should long-term bond yields rise as well, it could potentially slow the economy and make it more costly to finance the nation's ballooning budget deficits.
Even without Mnuchin's weighing in, there are plenty of reasons to sell the dollar, said Brendan Murphy, managing director of global and multi-sector strategies at Standish Mellon Asset Management Co., which oversees $152 billion.
Murphy says the dollar is overvalued, and he sees it coming under pressure as other central banks catch up to the Fed's rate increases. Also, U.S. tax cuts are likely to expand the federal deficit and weigh on the currency, he said.
"It's not necessarily a surprise that they want a weaker dollar," Murphy said. "The fire was already lit, and this is putting more wood on top of it."
Read more: www.bloomberg.com