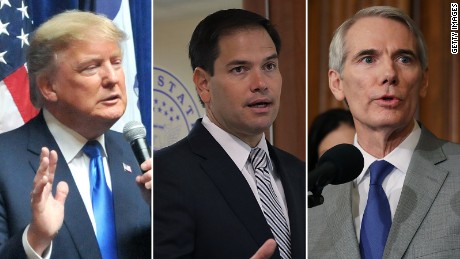 Washington (CNN)Senate Democrats began the 2016 election cycle with a head of steam, hoping that a favorable map and a bitter GOP presidential primary would translate to a new majority in November.
Less than two months until Election Day, Democratic confidence has been shaken, as Hillary Clinton suddenly finds herself trailing Donald Trump in some swing states and a fresh batch of polls show GOP incumbents in the lead.
"Everybody needs to step it up," said Sen. Sherrod Brown, D-Ohio.
In Ohio and Florida, GOP incumbents now have double-digit leads, according to a new CNN-ORC poll released Wednesday, undercutting Democratic efforts to pick up seats once viewed as prime opportunities. In New Hampshire, two polls show Republican Sen. Kelly Ayotte now in the lead after falling behind Gov. Maggie Hassan last month. And in Nevada, Rep. Joe Heck holds a slight edge over his Democratic challenger Catherine Cortez Masto, buoyed in part by Trump's sudden resurgence in their state.
This comes as other seats that once appeared within reach, like John McCain's in Arizona, seem to be a steeper climb. And a prized Democratic recruit in Indiana, former Sen. Evan Bayh, has stumbled on the campaign trail, seeing his once commanding lead now shrinking to single digits.
One thing in common: Trump has all-but-erased Clinton's lead in some of the key battleground states with major Senate races, according to a batch of new public opinion polls. He's up by 5 points in Ohio and 3 in Florida, according to the CNN-ORC poll.
"If I'm a Senate Democrat, you have to start thinking about: Do I run away from her?" Sen. Lindsey Graham, R-South Carolina, said of Clinton.
Senate Majority Whip John Cornyn, R-Texas, said if Trump keeps the margin with Clinton close — even if he ultimately loses the White House — his party will keep the majority.
"I am [concerned] if there's too huge a gap between him and Mrs. Clinton, but that gap appears to be closing," Cornyn said. "Most of our Senate candidates are outperforming a Republican nominee in their various races for the Senate, so that's positive, but obviously there's two months to go and anything can happen."
These developments are worrying Democratic leaders, who are uncertain whether Clinton will be an asset come Election Day. But they are pinning the blame for the tightening poll numbers on the deluge of outside spending helping GOP candidates — much of that cash coming from Republicans who decided not to give to Trump.
"It's more challenging now than it once was. Our candidates I think are quality candidates and are going to win and give us a majority, but it's tougher now because of all of this money," said Senate Minority Whip Dick Durbin, the No. 2 Democrat.
Asked if Clinton would have coattails to help Democratic candidates, Durbin said: "It still remains to be seen what impact Hillary Clinton is going to have on downballot races."
The national landscape still favors Senate Democrats, who only have to worry about losing one seat this cycle while the GOP is trying to hang onto more than half-a-dozen in competitive races. To take back the Senate, Democrats need to pick up four seats if Clinton wins the White House, five seats if Trump wins. The party still has an advantage in winning in Illinois and Wisconsin, while New Hampshire, Indiana and Pennsylvania are well within reach. Moreover, other states once viewed as long-shots are tough but winnable, like Missouri and North Carolina.
But if Trump improves his standing, it will undermine the main Democratic campaign theme of 2016: Tie GOP candidates to Trump.
"I don't care what the polls show," said Senate Minority Leader Harry Reid, whose retirement is creating the race for an open seat in Nevada. "We know that they don't work."
Reid, who has been using his perch as Democratic leader and head of the Nevada Democratic Party to go after Heck, said bluntly: "Trump is going to lose Nevada and Joe Heck deservedly is going to lose the Senate race because of his being a pawn for Donald Trump."
But Republicans say that their candidates have effectively created their own brands in their states, making it fruitless to tie candidates to Trump. Several polls over the summer found that a majority of undecided voters, both nationally and in swing states like Florida, Ohio and Pennsylvania, said that their choice for a presidential candidate wouldn't make a difference on how they voted down-ticket.
In the House, where Democrats need to net 30 seats to take the majority, they need a Clinton landslide to help their party regain control of Congress. Democratic officials say it's far too early to tell if that will occur, arguing that House races won't start breaking until October.
Rep. Ben Ray Lujan, chairman of the Democratic Congressional Campaign Committee, won't predict the Democrats will win the majority. But he argues that Trump is a far bigger liability for the GOP than Clinton is for Democrats.
"What we're seeing across the most competitive congressional districts across America, about two dozen of them, is that Secretary Clinton is still holding a lead over Donald Trump on average," Lujan said Tuesday.
Still, with new polling showing the GOP doing better, Republicans are breathing a little easier, for the first time in a while.
Asked to what he attributed his lead in the polls, McCain deadpanned: "My good looks."
Read more: www.cnn.com