Democratic nominee tells crowd in Ohio she would hold bad actor companies accountable if elected, as the state of Illinois ends investment activity with bank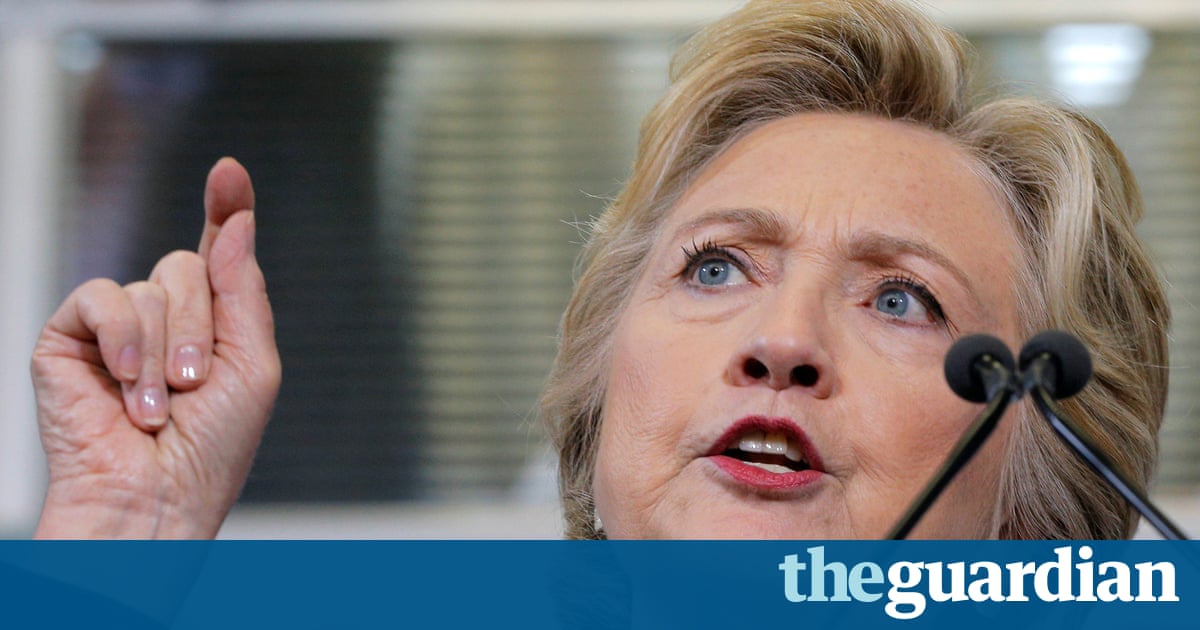 Wells Fargo is guilty of egregious corporate behavior, Hillary Clinton said while speaking at a rally in Ohio on Monday. Her speech came on the same day as Illinois became the second state to cut ties with the bank.
The Democratic presidential nominees criticism was part of a speech focusing on a new proposal that would make it easier for consumers to sue companies that might have wronged them.
Really shocking, isnt it? Clinton said about Wells Fargos sales practices, adding that the bank had bullied thousands of its employees into committing fraud, opening millions of accounts without customers permission and knowledge and misusing personal information. We are still seeing powerful bankers playing fast and lose with the law.
Wells Fargo came under scrutiny from US regulators and lawmakers last month when it announced a $185m settlement for opening more than 2m accounts without customers permission from 2011 to 2016.
The unauthorized accounts were opened in order to meet quotas imposed on the banks employees for generating new business. Bank officials insist the employees acted on their own and that their actions were not part of an orchestrated effort. As of this weekend, Wells Fargo had terminated sales quotas for its retail banking products, such as credit cards, checking accounts and overdraft insurance.
Clinton said that Wells Fargos actions are an example of egregious corporate behavior. She promised that if elected president, she would hold accountable bad actor companies that scam their customers and abuse their employees. One way to do that would be to end to mandatory arbitration clauses that companies often insert into their contracts. These clauses prohibit customers from suing companies and instead mandate that disputes be resolved in arbitration.
Companies like Wells Fargo use these fine-print gotchas to escape responsibility, said Clinton. We are going to rein that in across everybody.
Wells Fargos chief executive, John Stumpf, was asked about the banks arbitration clause last week on Capitol Hill when he testified before the House financial services committee.
If [your customers] want their day in court, will you screw them out of that? California congressman Brad Sherman asked. Stumpf attempted to answer, saying No, but before being interrupted by Sherman, who ended his questioning by calling for the break-up of the big banks.
Clintons speech came just hours after the Illinois state treasurer stood before a room full of reporters and announced that his state was terminating its dealings with Wells Fargo for the next 12 months. Over the past year, Illinois had more than $30bn in investment activity with the bank. The move ensures that millions of dollars in associated fees will go to other financial institutions instead of Wells Fargo.
Illinois is not the first state to impose a year-long ban on investing with Wells Fargo. Last Wednesday, California announced a similar ban. Both states have suspended investments in Wells Fargo securities and use of Wells Fargo as a broker/dealer for purchases of their investments.
When the one-year period is up, both states will re-evaluate their relationship with Wells Fargo and review whether the bank has put in place proper internal controls.
Clintons statements about bankers playing fast and lose with the law were unfair, according to Jamie Dimon, chairman, president and chief executive of JPMorgan Chase.
When people blanket a whole class of people by making statements, I think thats just unfair to everybody. I could do the same thing about media, I could do the same thing about politicians or lawyers. They are just never accurate, Dimon said in an interview with CNBC following Clintons rally. He went on to say that the banking industry is full of qualified, smart and ethical people. People broke the law, they should be punished but lets take a deep breath, he said.
Read more: www.theguardian.com