Doctor reveals presidential nominee was diagnosed on Friday and has been advised to rest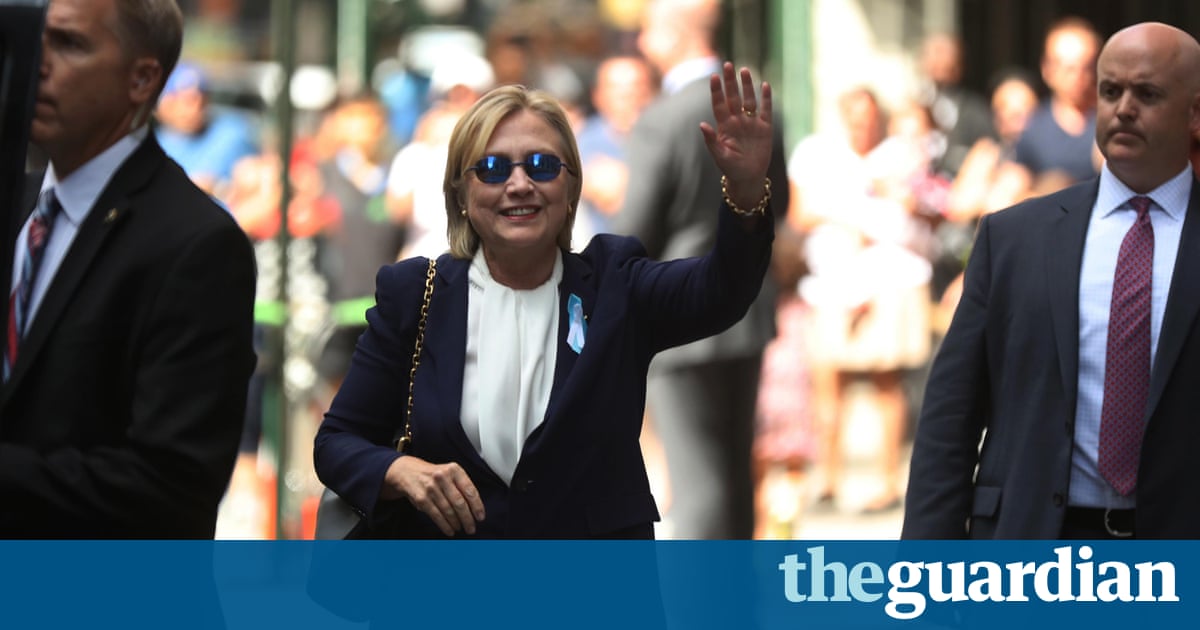 Hillary Clinton has cancelled a trip to California to attend fundraising events after it emerged the Democratic presidential nominee has pneumonia and been advised to rest by her doctor.
An aide announced the cancellation on Sunday night following Clintons abrupt departure from the 9/11 memorial ceremony in downtown Manhattan because, her campaign initially said, she felt overheated.
Clinton was scheduled to attend fundraisers on Monday and Tuesday in California, and tape an episode of the Ellen DeGeneres Show.
On Sunday morning Clinton was helped into a car away from the memorial, where she had been attending a ceremony marking the 15th anniversary of the September 11 attacks. She later travelled to her daughters apartment, and eventually to her home in Chappaqua, New York, before her campaign gave a more complete explanation of what had happened.
Secretary Clinton has been experiencing a cough related to allergies, Dr Lisa R Bardack said in a statement. On Friday, during follow up evaluation of her prolonged cough, she was diagnosed with pneumonia. She was put on antibiotics, and advised to rest and modify her schedule.
While at this mornings event, she became overheated and dehydrated. I have just examined her and she is now rehydrated and recovering nicely.
Clinton left the Ground Zero ceremony after an hour and 30 minutes. Video posted by a bystander to Twitter appeared to show the former secretary of state extremely unsteady and supported by aides, being helped from the curb into a vehicle.
A security official who did not wish to be identified told the Guardian Clinton had walked from the ceremony without support, got into a vehicle and been driven away.
She didnt look great, he said. Maybe she was dehydrated. These guys work 16 hours every day.
A statement from her campaign spokesman, Nick Merrill, subsequently said: Secretary Clinton attended the September 11th Commemoration Ceremony for just an hour and 30 minutes this morning to pay her respects and greet some of the families of the fallen.
Later versions of the statement omitted the word just.
Merrill added: During the ceremony, she felt overheated so departed to go to her daughters apartment, and is feeling much better.
Clintons van and security detail travelled to Chelsea Clintons Manhattan apartment, in the Flatiron at 26th and Madison Avenue.
Read more: www.theguardian.com