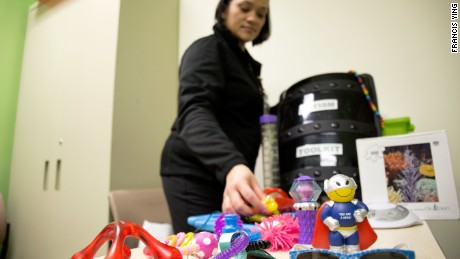 When you head to the emergency room, you almost expect stress — the long waits, the hubbub of other patients and the endless, seemingly discombobulated stream of doctors and nurses.
But for patients with autism, a neurological disorder that affects communication and can make people sensitive to stimulation, that stress can be so overwhelming that it undermines their ability to get the treatment they need.
That's why a small but growing number of hospital ERs across the country are implementing accommodations for these patients, hoping to improve the quality of care they provide while also adding efficiency.
"There's a growing need," said Fareed Fareed, medical director of the emergency department at HealthAlliance Hospital in Kingston, New York. "It's ensuring you're meeting the needs of a segment of the population."
If these changes work, advocates say, they could pay off in other ways. Of autistic children who use the emergency department, almost 1 in 4 are sedated to keep calm. But if giving a squishy toy achieves the same effect, hospitals can drive down the cost of care, patients don't need to be medicated and they might be more receptive to treatment.
Fareed recalled a boy with finger burns, who was scared and hesitant to be touched. Giving him an iPad and a pinwheel helped calm him down.
"He was instantly more relaxed — not as guarded," he said. "It was much easier to examine his fingers and treat the burn."
There's no research yet on how effective these changes are — whether they do, for instance, make patients healthier. So far, it seems even small changes go a long way, Venkat said.
Hospitals like Capital Health-Hopewell in New Jersey, and Children's National Health System in Washington, D.C., are developing studies to measure the impact of their programs. Capital Health launched its program in 2014, and Children's National in 2011. Children's National is moving its efforts to departments beyond the ER.
If emergency rooms can demonstrate these changes are worthwhile — that they improve a patient's perception of the hospital and improve care — that could spur more to adopt them, said Todd Glass, chief of emergency medicine at Nemours.
"Anecdotally, they are improving patient experience, and the likelihood is they're reducing patient harm," Venkat said.
That's what Bella Montalvo, 41, of Orlando, Fla., says. She has a 10 year-old-son with autism whom she's brought into the Nemours emergency department numerous times over the years. Her son has a high tolerance for pain and can't articulate how severe it is or where, precisely, it's located.
Knowing there's a special waiting room with calming toys and her son's favorite TV shows, she said, is a huge relief. "It was a weight that had been lifted off my shoulders."
Plus, the doctors are more knowledgeable about her son's needs.
"There's a better understanding of why the child is behaving a certain way — why the child is not responding," she said. "They know how to handle it better."
Kaiser Health News is a national health policy news service that is part of the nonpartisan Henry J. Kaiser Family Foundation.
Read more: www.cnn.com