Were uniting across party lines to protect our healthcare. Perhaps Congress should take a cue from people like us and put political ideologies aside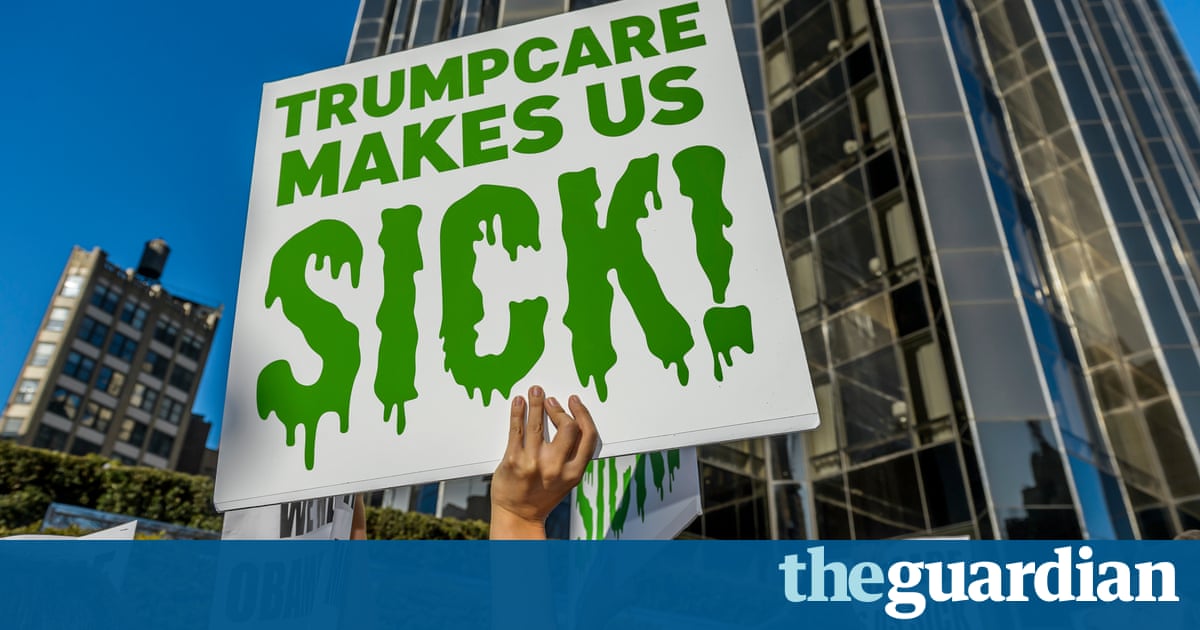 Our names are LeeAnn Howell and Richard Dituri. We have a lot in common. Were both healthcare workers a nurse working at a nursing home center from Washington County, Pennsylvania, and a home care worker from Tulare County, California, respectively. Were both active members of the Service Employees International Union. Yet, as a Democrat and a Republican, we voted for two different candidates in the 2016 presidential election.
Our choices in November Clinton versus Trump reflect the divide fracturing American communities nationwide. But theres one thing that unites us. The Houses terrible healthcare bill which would rip away coverage from 23 million Americans and slash Medicaid funding by $834bn over the next decade must be stopped.
Both of us voted for our candidates because we believed that they would improve the economy and strengthen our healthcare system. Donald Trump, in particular, promised voters that Medicaid funding would stay untouched. This was critical for us both of us have loved ones and clients who have disabilities and depend on Medicaid for healthcare a 9-year-old son with autism, a 23-year-old son with a traumatic brain injury, and a 63-year-old former truck driver with a degenerative spinal disease who depends on Medi-Cal (Californias Medicaid system) for home care.
So were uniting across party lines to protect our healthcare. Perhaps Congress should take a cue from people like us and put their political ideologies aside to strengthen and improve our healthcare system.
Without Medicaid, our family members and patients would lose access to home care, medication and essential therapies. And since most home care services and nursing home care is funded through Medicaid, we would also probably both lose our jobs, along with many of our friends and neighbors.
Experts estimated the most recent repeal bill Republicans wanted to put to a vote would cost the US economy 2.6m jobs. People like us, who work hard and play by the rules, should not lose access to healthcare coverage or job security.
Our healthcare system has room for much-needed improvement, including lowering overall healthcare costs, improving healthcare quality and transparency, and stopping the runaway profits of insurance companies and drug companies. People in working-class communities like ours expect our US representatives Tim Murphy and Devin Nunes to build a healthcare system that works for everyone, not just the wealthy.
Instead, they each voted for a deeply unpopular bill that will destroy Medicaid, weaken the economy, and puts millions of lives at risk. Its inconceivable and unconscionable.
Roughly one in five adults and four out of every 10 children nationwide count on Medicaid for life-saving care. They cannot afford $834bn in healthcare cuts. We must keep fighting, together, to protect Medicaid and ensure affordable, quality healthcare for all. Despite our political differences, we both strongly believe that healthcare is a right. Partisan politics should not jeopardize peoples right to live.
Members of Congress, Democrats and Republicans, must fight for the interests of the people who put them in office above their own self-interests. Were not going to forget how our representatives voted in 2018. We hired them; now we can and will fire them.
It is now up to our Senate. Our Senators owe it to us, their constituents, to find a bipartisan solution that provides quality, affordable healthcare coverage for Americas working families, seniors and people with disabilities.
We will continue to stand up and fight back united, with our patients and our communities because 74 million American lives, Democratic and Republican, depend on it.
Read more: www.theguardian.com