Ann Coulter has warned of a backlash but a sitcoms success with ordinary Americans prompted the president to throw away the script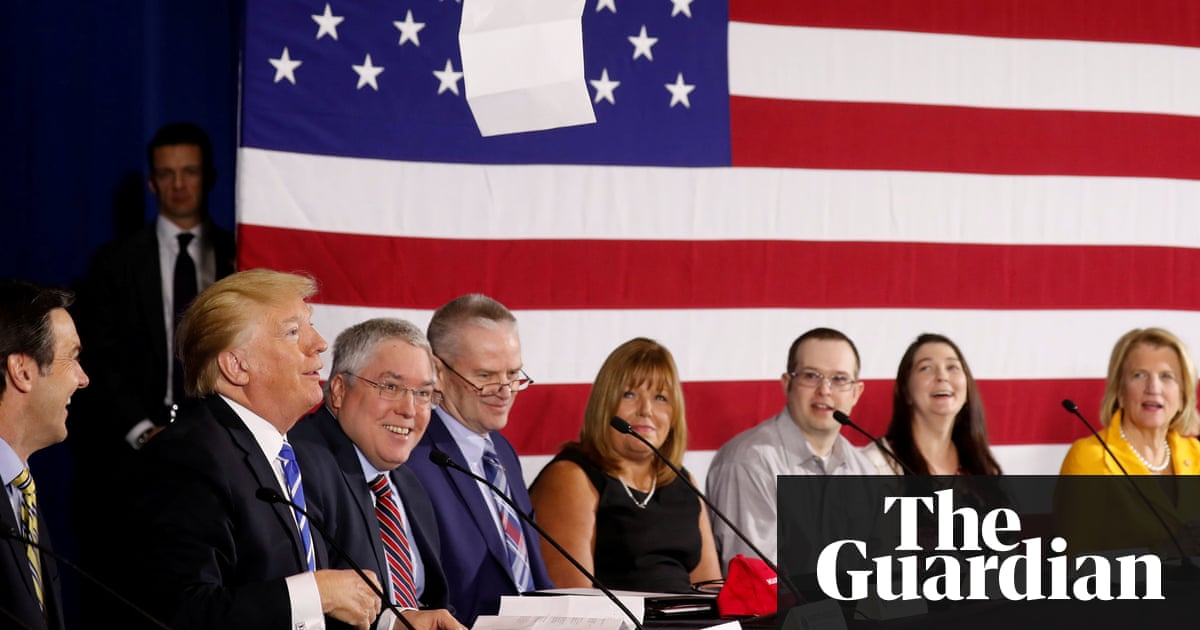 Donald Trump grabbed the page with his right hand and showed it to the audience. "You know, this was going to be my remarks. It would have taken about two minutes but …" He tossed the sheet into the air then ducked as it came fluttering down, waving his hands with contempt.
"That would have been a little boring," he said with sly grin. "No, I'm reading off the first paragraph and I said, 'This is boring. Come on. We have to say – tell it like it is.'"
There may have been a White House speechwriter somewhere who felt a little part of him or herself die. But the audience in White Sulphur Springs in West Virginia laughed and lapped it up. It was the Trump they have come to know and love: norm-busting, improvisational, throwing away the script. Dispensing with expertise in favour of "telling it like it is", purportedly allowing himself to be wholly known.
It was also a Trump that America is having to come to terms with: capricious, erratic on policy, increasingly self-assured, cutting loose from advisers and trusting in his gut instinct. In the past week alone, he has effectively declared a trade war on China (giving the stock market the jitters), announced plans to deploy troops to the Mexican border and flirted with the idea of pulling the US military out of Syria.
To understand how such decisions are made, it is essential to comprehend the bubble Trump now occupies. Dissenting voices in the administration have been purged. Perceived foes ("Fake News Media", Amazon) are insulted and demeaned. Flattering cable news hosts, celebrities and opinion polls are embraced, as are popular culture hits such as Roseanne, which the president believes represents the forgotten tribes of America only he can rescue. It is a case of keep your friends close and your enemies demonised.
"Trump is desperately seeking validation from anywhere he can find it," said Kurt Bardella, a political commentator and columnist for HuffPost and USA Today. "He will cling on to anything or anyone that give him affirmation. It's certainly an interesting way to shape public policy."
Thursday saw his fourth visit to West Virginia, where he beat Hillary Clinton in a landslide and where he could eulogise "clean, beautiful coal" and expound conspiracy theories about migrants and rape without fear of contradiction. Senator Shelley Moore Capito praised him as "an incredible listener". State governor Jim Justice said: "I love him with all my heart, and I'll support him to the death. He's a great man."
Then there was Tony Hodge, a mail carrier, who told the gathering how Trump's tax cuts had saved his family $2,417 this year, allowing them to renovate their kitchen. His wife Jessica, almost in tears, added: "I said I wasn't going to cry. Gosh. I just want to say thank you to you for the tax cuts.
"This is a big deal for our family. I think half of this audience is our family. We really support you. And this is a big deal. These tax cuts are a big deal. Thank you for listening to us. Thank you for fighting for us. Thank you for caring enough to allow us the opportunity to come here and tell you 'thank you' to your face. My little 10-year-old wants to be president one day."
It is testimony like this, not the jabs of TV satirists or the arguments made at demonstrations such as last month's March for Our Lives, that make up Trump's diet and convince him that he is on the right track. Indeed, like a besieged despot, he regularly patronises states that voted for him while generally avoiding hostile territory in the hands of the "resistance". His one visit to California so far was dominated by prototypes for his border wall.
'If he builds the wall, he'll be the Emperor God again'
Read more: www.theguardian.com