A few days after defeating Marine Le Pen in the French presidential election, Emmanuel Macron addressed a group of more than 400 ardent supporters at the Musée du Quai Branly in Paris. Each had been vetted to represent Macron's new party, La République en Marche, or Republic on the Move, in France's fast-approaching legislative elections in June. Among the diverse crowd of mostly political neophytes hoping to win a seat in France's National Assembly was a 50-year-old French-born money manager, Roland Lescure.
"It was amazing," says Lescure, who in April quit his C$2.6 million-a-year job ($1.9 million) as chief investment officer of Caisse de Dépôt et Placement du Québec, Canada's second-largest pension fund manager, to stump for Macron full time. "This guy came in, there was a standing ovation for literally five minutes on the part of people, most of whom had never met him but who had worked their butts off for months to help him get elected."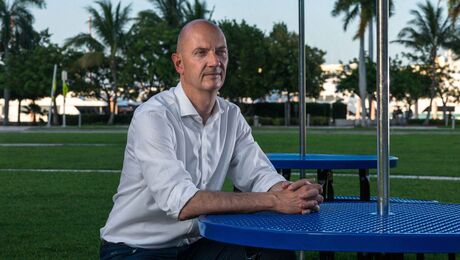 Lescure, who lives in Montreal, is competing for one of the 11 legislative seats accorded France's 1.3 million expatriates. It's an unusual though not unique arrangement—Italy and Romania have similar systems—first used in 2012 to give the French diaspora a greater voice in elections and a link to the homeland.
He filled out an online application to run for deputy on Macron's En Marche ticket in January but received no word from the campaign until the day after the presidential election. Lescure was one of 19,000 who applied, a number that Macron's selection committee whittled down to 526. Candidates with no political experience were given special consideration, as were women (they make up half of the En Marche roster). "There's an Obama moment, a Kennedy moment, taking place here," says Lescure. "And people understand that if we want this to be more than a moment, Macron needs to have a majority in Parliament."
Macron's candidacy was buoyed as much by voter discontent with France's entrenched political parties as by a genuine surge of excitement and hope over the 39-year-old's first run for public office. Without a legislative majority, though, he'll have little chance of delivering the radical jolt he's promised to revitalize political institutions and jump-start the economy. Growth has been anemic for a decade, and unemployment is stuck at around 10 percent.
Lescure is the son of leftist activists. His father was a journalist at the communist newspaper ; his mother, a union leader for the Parisian transit system. Lescure attended the prestigious École Polytechnique and also earned a degree from the London School of Economics. He shares Macron's attachment to the European Union, having spent the 1990s as an intern at the European Commission in Brussels and later at France's finance ministry, where he helped negotiate rules for the future monetary union. After working as a money manager in France, Lescure was recruited to Canada eight years ago. He says his desire to enter politics is connected to the two biggest surprises of 2016: Brexit and the election of Donald Trump.
Lescure says that, if elected, he'll work to bring a U.S.-style entrepreneurial spirit to France. "In North America, I find people more pragmatic than they are in France," he says. "There's certainly a relationship with entrepreneurship and freedom of enterprise and creativity that's more liberated than in France. I want to be the spokesman for ideas that are generated on the ground in North America."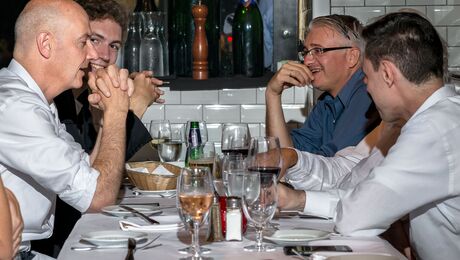 That notion is likely to be met with derision among those in France who view emigration as a "half-betrayal," according to Philippe Marlière, who teaches political science at University College London. Although he's been in the U.K. for 23 years, Marlière is critical of overseas assembly seats. "Citizenship is something you live on a daily basis, with concrete actions and not just big speeches," he says.
Lescure faces 17 opponents in the contest for the seat representing the 200,000 or so registered French voters living in the U.S. and Canada, including the right's incumbent Frédéric Lefebvre. To connect with voters, Lescure has been crisscrossing the continent, with stops in New York, San Francisco, and Chicago. It's an often thankless task: An event held at a bistro in West Palm Beach, Fla., at the end of May drew fewer than 10 people.
Given that 91 percent of French expats in North America supported Macron in the second round, Lescure appears well-positioned to succeed, despite his lack of political experience. Among a lengthy list of supporters on his campaign website are a number of French tech entrepreneurs, including Catherine Barba, an expert in online retailing; Jonathan Benhamou, co-founder and chief executive officer of PeopleDoc Inc., which provides support to human resources departments; and Julien Delpech, CEO of Invivox, an online medical training platform.
Olivier Coste, a French entrepreneur living in New York since 2014, voted for Macron and intends to vote for Lescure. His software startup, Stryng, employs a few dozen workers split about evenly on both sides of the Atlantic. He especially likes Macron's plan to reform French labor laws, which, he says, discourage risk-taking by larger companies. That's because companies aren't able to cut jobs quickly or inexpensively when they run into problems, Coste says. "I have always considered that one of the keys to give a new boost to the high-tech sector in France is the evolution of labor laws," he says. "I was in France last week, and I saw optimism I hadn't seen in years."
While recent surveys show a majority of French voters are in favor of Macron winning control of the National Assembly, the challenge for Lescure and the rest of the En Marche candidates is getting people to head back to the polls so soon after an exhausting and hotly contested presidential race. In the 2012 legislative elections, 57 percent of voters in France turned out for the first round, and only 20 percent in North America. Macron's party will need a stronger turnout than that to beat more established parties.
On May 23, Lescure faced off against five of his opponents at a debate held in the auditorium of a public middle school in Montreal. The candidate hit all the lofty Macron notes. His rivals attacked him for sounding like a polished politician, out of touch with regular people's concerns. The Socialist candidate, Yan Chantrel, chided Lescure for standing at attention, ready to carry out Macron's orders but with few ideas of his own. Another candidate chimed in to say all the audience really wanted to hear were the candidates' positions on the cost of bilingual education, taxes, and retirement. "We came here to debate for the French of North America," he said. "Now we're going off on a national political debate."
 
—
Read more: www.bloomberg.com