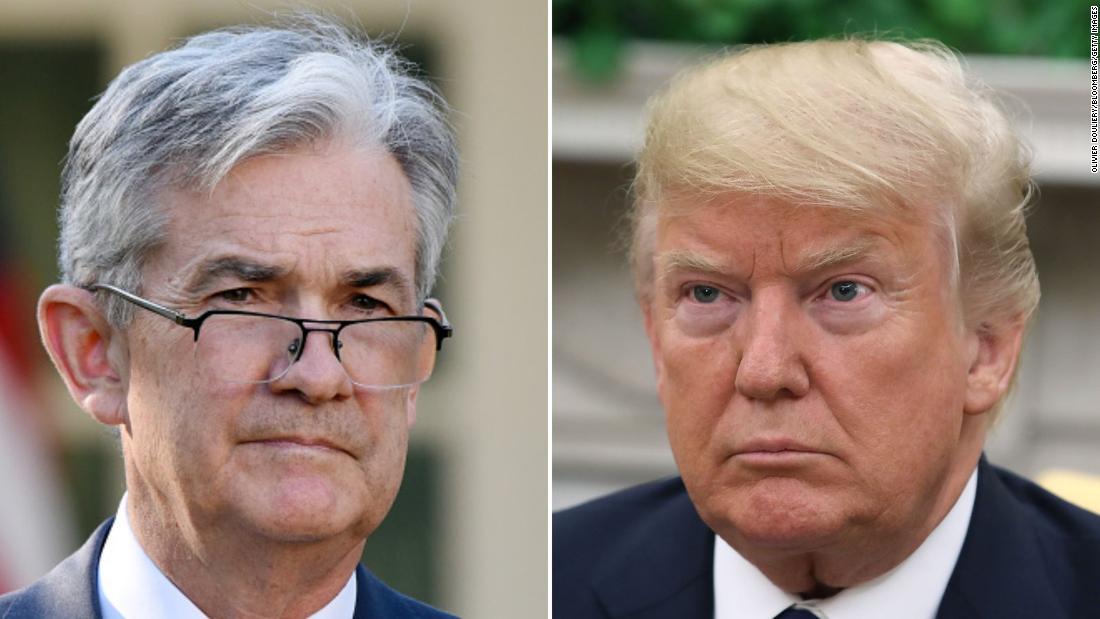 Washington (CNN)The US economy is chugging along — fresh numbers released Friday put growth at 3.5% — but that hasn't stopped President Donald Trump from setting up a scapegoat in case the wobbling stock market is a sign of things turning south: his own Federal Reserve chairman.
Last week to
Fox News
and again this week to the
Wall Street Journal
, Trump described Powell as a "threat" to Republican control of Congress, an unprecedented political attack on an independent policymaker matched only by the President's furious broadsides against his attorney general, Jeff Sessions, and special counsel Robert Mueller.
"The Fed is one of the few dials that he doesn't have control over," said Stephen Moore, a former economic adviser for the President and distinguished visiting fellow at the conservative Heritage Foundation. "And I think he wishes he could. He feels frustrated that everything is going so well and the Fed poses a risk of short-circuiting the economy."
The President, Moore says, wants voters to look at all the positives — tax cuts, deregulation, the booming stock market, a strong labor market — and thinks that steps taken by the Fed to tamp down rising inflation are undercutting the White House's expansionary economic policies at the expense of his own popularity.
"The Fed comes along, and they want to pound it down," said Moore, also a CNN analyst. "I think he hopes they are listening."
"The President is very good at creating a little skirmish with his statements that wind up diverting attention from bigger problems," said David Wessel, director of the Hutchins Center on Fiscal and Monetary Policy at the Brookings Institution. "He's trying to immunize himself if there's a downturn in the economy. It's not the trade war or expiring tax cuts, it's the Fed's fault. He's turning this into Donald Trump vs. Jay Powell."
Built into the President's criticism is a deep-seated belief by Trump that unlike his predecessor, President Barack Obama, he is being dealt an unfair hand as the Fed continually moves ahead in raising interest rates.
"I'm just saying this: I'm very unhappy with the Fed because Obama had zero interest rates," said Trump in the Journal interview Tuesday. "How the hell do you compete with that? And Obama — remember this, it's very important — Obama had zero interest."
After the financial crisis erupted in 2008, the Fed kept rates at historically low levels to revive the ailing economy. It slowly began to raise them again in 2015 as the economy regained strength under Obama, and ithas raised rates six times since Trump took office. Three of those increases were under Powell.
Since July, Trump's repeated scrutiny of Powell has gradually escalated with new veiled threats that he might consider firing his Fed chairman, whom he appointed a year ago after flirting with the idea of keeping Obama's pick, Janet Yellen, in the role.
What's especially unusual about Trump's sharp criticism is by all economic measures the country is firing on all cylinders.
"I wouldn't have imagined it happening so soon, when the economy is doing so well," said Alan Blinder, an economics professor at Princeton University and a former Fed vice chairman under President Bill Clinton.
Yet each time Trump has fired a shot, the Fed has judiciously restrained from punching back.
"They have nothing to gain by engaging with Trump in a verbal tit-for-tat," said Blinder, who also served on Clinton's Counsel of Economic Advisers. "Nothing."
Instead, Fed officials have appeared to shrug off the President's comments, making the point it's business as usual.
Other governors and presidents at the country's dozen Federal Reserve banks have also refrained from weighing in.
A US president could remove a Fed governor under the Federal Reserve Act, which was revised in 1935. However, the statute doesn't clearly define cause. Johnson found out that disagreements over the Fed's policies didn't amount to a valid "cause" when he asked his Justice Department in 1965 if he could fire a Fed board governor after clashing with him for raising the discount rate amid signs the economy was starting to overheat.
Robert Rubin, who served as treasury secretary for the Clinton administration, managed to convince Clinton it would be a losing proposition if he aired his views on the Fed.
"The rule was you don't say anything about the Fed in any public fashion," said Robert Murphy, who worked for Clinton's Council of Economic Advisers and is now an associate economics professor at Boston College. Murphy said Clinton's advisers sold him on the idea by saying: "If you go out there and say, 'They shouldn't raise rates,' they have to in order to preserve their credibility, so it sort of works against you."
Even when presidents understand why the central bank must raise rates to keep the economy on even keel, they're often unhappy about it. It's also ironically one of the reasons why they have enjoyed the Fed's independence, because if the economy goes awry, there's someone else to blame.
"Every president, when convenient, has used the Federal Reserve as a scapegoat," said Edwin Truman, a senior fellow at the Peterson Institute for International Economics who was assistant secretary of the treasury for international affairs under Clinton.
In the early 1990s, President George H.W. Bush's treasury secretary, Nicholas Brady, and Fed Chairman Alan Greenspan halted their tradition of regular meetings after Brady's public criticism of the central bank leaked into newspapers. Once the recession began, the Bush administration made no secret of its displeasure with Greenspan and his policies at the Fed.
So far, Trump's escalating one-sided dispute with Powell hasn't spilled over into an impasse between Trump's treasury secretary, Steven Mnuchin, and the Fed chief, who still meet regularly for breakfasts and lunches.
"That's the President's prerogative, to make comments," said Mnuchin at a news conference during the International Monetary Fund's annual meeting in Bali, Indonesia. "The President has made clear that he liked lower rates as opposed to higher rates and that he's concerned that if the Fed raises rates too quickly that could have an impact on our growth."
But even Moore acknowledged Trump's strategy to pressure the Fed to keep rates low may backfire: "The Fed guards their independence jealously. They don't want to be bullied by Trump."
Read more: www.cnn.com