Paul Pogba, the France midfielder, has been a revelation in Russia, sacrificing his own game for the benefit of the team in a manner rarely seen during his Manchester United career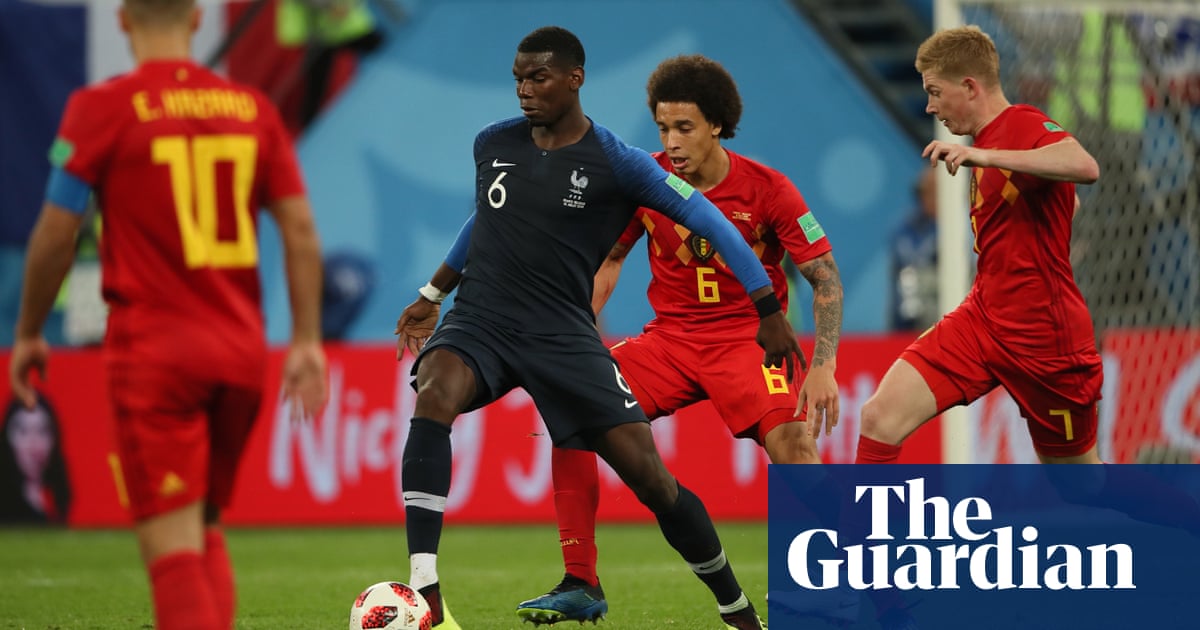 Samuel Umtiti was first up, with Paul Pogba to follow, as France looked ahead to Sunday's World Cup final against Croatia with a press conference out by the magnificent New Jerusalem Monastery to the west of Moscow. If Umtiti had any illusion about his warm-up act status, he was disabused of it within seconds of pulling his chair to the table.
"Ladies and gentleman, I present Paul Umtiti," the France federation media officer said, before wishing he could have his time again. To be fair to Umtiti, who has been in fine form at the tournament, he took it well. The Barcelona centre-half stood straight up and, to no little laughter from the audience, strode off in mock diva fashion. He would return.
Everybody was waiting for Pogba and it was ever thus but particularly so before this World Cup, after his erratic season at Manchester United. What sort of Pogba would turn up? The smart money was on the celebrity midfielder, who must give free rein to his talent and, if that means overlooking the dirtier aspects of the job, then fine. It was the attitude that had driven the United manager, José Mourinho, to distraction and it was one that helped to place a significant wedge between them.
The Pogba that has shown in Russia has been a revelation. It has not been on the same scale as Kylian Mbappé, who has electrified France's progress to a fifth major final in 20 years, but it has been a revelation nonetheless.
"It's a pleasure to defend," Pogba said, early on in his Q&A session and at that point one almost had to rub one's eyes. Mourinho, from his seat as a pundit for RT, has to have been doing the same.
How has Didier Deschamps managed to draw such discipline and balance from him? Or, to put it another way, how has the France manager succeeded where Mourinho has so often failed?
"Pogba played with great maturity," Mourinho said of his performance in the 1-0 semi-final win over Belgium. "When he had to hold his position and keep control of the game, he did. When Deschamps took off Olivier Giroud for Steven Nzonzi, Pogba had more freedom but freedom not to do silly things. Freedom to keep the ball away from the dangerous areas. To keep the ball, to assist Antoine Griezmann for a great chance. He was very, very mature."
The impression has been that a penny has somehow dropped in Pogba but why should it be? How has he come to strip things back to what truly matters, a theme he reinforced when he considered Mbappé's outrageous touch and backheel that almost laid on a goal for Giroud against Belgium? "If you do a great move and it's efficient, it's good," Pogba said. "But if you lose the ball, it's bad."
Perhaps it is the magnitude of what is at stake or, maybe, the effect of having N'Golo Kanté alongside him. It is fair to say that Pogba has not always played with this degree of control in a central midfield two for United. Another theory is that there are 89 million reasons for Pogba to feel he has to turn on the style at Old Trafford – equating to the fee that the club paid to take him from Juventus. Yet another is that it is simply down to greater experience; this is not Pogba's first World Cup, rather his second. Whatever it is, self-sacrifice has been the theme for him.
"It is a World Cup and we have to sacrifice," Pogba said. "We have to defend. It's not what I do best but I do it with pleasure. We have the same objective and it is to win. I think I have become more mature and all the other players help me a lot on that.
"Antoine Griezmann, for example, is a forward but he talks to me. He tells me to go back to defence. If I get better, it's thanks to the team and the coach. The second World Cup is different from the first one. You play against teams with experience, against great players and I also cannot play the same way as I play for my club. We have found a balance with everyone and with N'Golo Kanté.
"We run together, attack together, defend together – it's when we are strongest. Even the critics have helped me to improve but that doesn't mean they should start criticising me! I think the image that people have of me has changed. I am playing as a midfielder now, which is my role. I am being less offensive. I think people judge me now on my role as a midfielder and not as a player who can score goals and make assists."
Pogba is 25 but, according to Umtiti, he has always been a leader. Now, the feeling is more pronounced. Pogba is one of the strongest voices in the squad. His presence fills the room. "Patrick Vieira gave me some advice," Pogba said of the former France captain. "He told me to talk, to give out advice and I do it now. Vieira has always been an example. He is a born leader."
Pogba and France have narrowed their focus. The run to the final has been exhilarating but it will count for nothing if they do not beat Croatia. That is the mentality and it has been shaped by the experience of Euro 2016, when they beat Germany in the semi-final and expected to sweep past Portugal in the final. They would lose 1-0. Over-confidence was their downfall. This time they are determined to see the job through.
"At the Euros we probably thought we had already won it before the final," Pogba said. "When we beat Germany, we thought it was the final. We are aware of that mistake now and we don't want to repeat it. We will prepare differently. The holiday after 2016 was horrible. I still remember it. It was a very bitter taste and no one wants that again. We haven't come this far to lose in the final."
Read more: www.theguardian.com