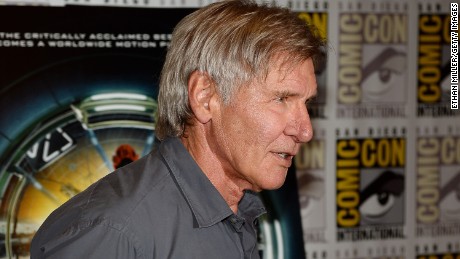 ( CNN) While the rest of civilization is hotly foreseeing Harrison Ford's return as Han Solo in "Star Wars: The Force Awakens, " Republican presidential candidate Donald Trump said the actor's turn as the American president in "Air Force One" is his preferred Ford role.
"My favorite was Harrison Ford on the plane, " Trump told the New York Times. "I love Harrison Ford — and not only because he rents my properties. He stood up for America."
Ford played U.S. President James Marshall in the 1997 flick, delivering the famous line, "Get off my airliner" to a Russian hijacker.
When an Australian morning present host relayed Trump's praise, however, Ford wasn't having it.
"It's a movie, Donald. It was a movie, " Ford told. "It's not like this in real life. But how would you know? "