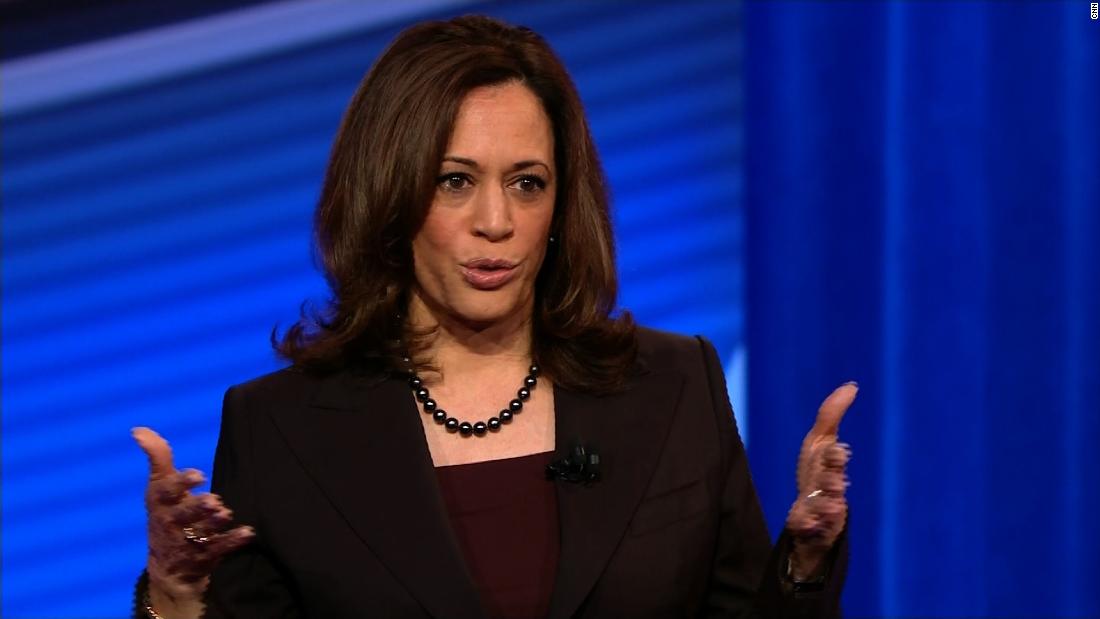 (CNN)Last night's marathon series of CNN town halls offered five hours of conversation with five leaders vying for the Democratic presidential nomination — each intensely interesting, newsworthy, and rich with policy and personal detail.
Her town hall was a chance to clarify her prosecutorial record and convince voters to the left of her authenticity.
Pete
Buttigieg
is the surprising upstart with the wind at his back — the mayor of South Bend, Indiana, the youngest candidate in the race, a married gay man, a military veteran, a devout Christian with Midwest origins and Harvard creds, whose momentum as a candidate was propelled in no small part by the success of his
first CNN Town Hall
on March 11.
His town hall was an opportunity to add policy depth to his ideas, and to reassure voters he isn't a flash in the pan.
But what was clear in Harris and Buttigieg's appearances, and the three others preceding them Monday night, is that everyone's goal is to stand out as the most different and compelling alternative to Donald Trump.
Both Harris and Buttigieg have strong claims to the title.
Harris is the candidate who most aligns with the base of the Democratic Party and its most conventional ways of positioning itself. She's from the biggest blue state, and was a "tough on crime" attorney general, but also framed herself during her town hall as enlightened and progressive when it comes to protecting people of color, the poor, the disenfranchised, the marginalized.
As her town hall kicked off, Harris's first question was ripped from the headlines: Should Congress move toward impeachment? And her response was characteristically balanced. "I believe Congress should take steps toward impeachment," she said. "But I'm also a realist." She cautioned that it was unlikely that the process would lead to Trump's removal, given Republican control of the Senate.
"I said what we have got to do is pay attention to the fact that these children aren't in school and put all the resources necessary to get them in school and give their parents the resources, hold the school districts accountable…" She added: "As a result of our initiative, first of all, nobody went to jail … we improved attendance by over 30%."
"I just thought these neighborhoods are never going to be as safe as we want them to be unless we do something and act fast," he said, pointing to how the program also invested in the community and increased funds for law enforcement. "The number-one complaint that we heard, especially from low- income and minority homeowners in the neighborhoods that we addressed, was what took you so long?'"
But elsewhere, Buttigieg spoke with remarkable clarity and energetic purpose.
It was clear that while Harris grew stronger as her time went on, Buttigieg was in his element from the outset, with the town hall format playing to his strengths as a counterpuncher and policy-immersed wonk — one with a former McKinsey consultant's instinct for reframing negatives as positives, and an ear for the applause line.
Late in his session, when Anderson Cooper brought up a recent gibe at Buttigieg's expense made by Richard Grenell, ambassador to Germany and the most prominent gay appointee in Trump's administration, the mayor promptly responded, "I'm not a master fisherman, but I know bait when I see it, and I'm not going to take it."
The exchange was a reminder of something critical and incredible about both town halls: With Don Lemon as moderator of Harris's session and Anderson Cooper as moderator of Buttigieg's, we have arrived at a moment in history when the mainstream media and political stage can be occupied by two black people and two
out gay
people, in conversation with one another about the critical matters that are shaping the future for all of us. And in that regard, the town halls have made us all winners.
Read more: www.cnn.com